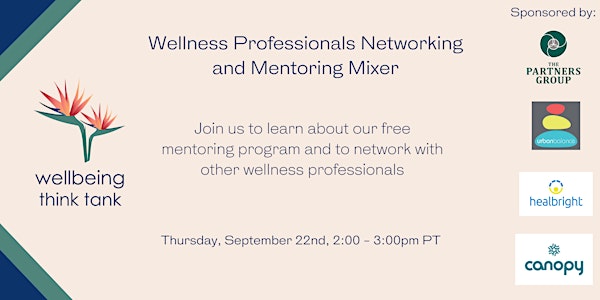 Wellbeing Think Tank Fall Wellness Professional and Mentorship Mixer
Join us to learn about our free mentoring program and to network with other wellness professionals.
About this event
Join us to network with other wellness professionals and learn about Wellbeing Think Tank!
We will kick off this meeting with an overview of Wellbeing Think Tank, networking and learning about volunteer and mentorship opportunities.
What is the Wellbeing Think Tank Mentorship Program?
The Wellbeing Think Tank Mentorship Program connects workplace health and wellbeing, public health students and early career professionals to more senior professionals to help with career and professional development.
How can this program benefit me?
We foresee this mentorship program benefiting both the mentors and mentees. For mentees, the program can have a key impact on career development and future career choices. For mentors, the program will offer the opportunity to support the next generation of health and wellbeing leaders, which can be a rewarding experience, inviting innovative ideas and refreshing perspectives.
Who is the program open to?
The program is open to all workplace health, wellbeing, and public health professionals across the United States. The Wellbeing Think Tank Advisory Board will pair mentors and mentees based on interest and location, when possible. The program does not have formal guidelines as to when or how you meet and will leave this up to the mentee and mentor to determine the best cadence for their schedules and preference. Through this program, we hope to help form connections that will turn into mutually beneficial and longstanding relationships.
How do I apply for the program and learn more?
To apply for the Wellbeing Think Tank mentorship program, please complete our application form here. Upon receiving your submission form, we will be in touch to assist with the next steps in the matching process.
Can I attend if I just want to meet others and not be a part of mentoring?
YES! Our main goal is connect wellness professionals to share best practices and ideas.
Who do I contact if I have additional questions?
Find out more about our upcoming events (including quarterly Mentorship Mixers) and more at the following link: https://www.wellbeingthinktank.org. You can also email contact@wellbeingthinktank.org.