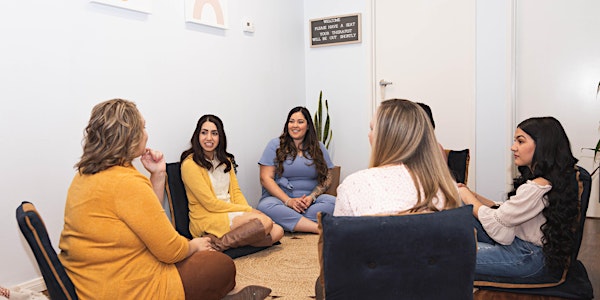 Well-Mamas Self-Care Support Group
Hey San Diego, our in person Self-Care support groups are back! *SPACE IS LIMITED*
When and where
Location
Trolley Barn Park 1943 Adams Avenue San Diego, CA 92116
Refund Policy
Contact the organizer to request a refund.
About this event
Motherhood can already be such an isolating time for some and it's our priority to continue encouraging community care during these uncertain times. We dedicate a whole group to self-care because it's the one thing we mamas need most. Mothering is often all about caring for others, this requires you to be emotionally, physically, and mentally available. Which is why you need time to recover. Self-care is not selfish. Taking time for yourself, to nourish and care for your mind, body & soul, is the best thing you can do for yourself & your family.
The focus of our wellness support group is encouraging real and sustainable self-care practices to support the many roles we experience. We offer a warm and inviting space to share stories where our group leader provides immediate emotional support to navigate real motherhood experiences.
Our support group is semi-structured, meaning we present weekly topics that address motherhood experiences while also holding space for the personal needs of individuals and group members. Our hope is that each participant will begin and end a group series with each other encouraging and fostering mama relationships. Weekly topics address experiences that can be influenced by popular culture, society, technology, partner relationships, careers, baby/child development, and parenting.
Our groups are led by psychotherapists who also identify as mothers.
Where to meet:
We will be meeting at the two picnic tables behind the playground which is located on the west side of the park. Please be aware that there is street parking on Adams Ave. and Carmelina Dr.
FOR MORE INFORMATION PLEASE VISIT www.wellmamascounseling.com
FOLLOW OUR INSTAGRAM PAGE @WellMamas.Counseling
*** Disclaimer***
Participation is meant to be an educational resource and not serve as a substitute for seeking help from a mental health professional in your area. Participating in this support group does not constitute a psychotherapist-client relationship.
If you are considering harming yourself or someone else or are in need of IMMEDIATE crisis counseling assistance, please call the San Diego Access & Crisis Line at 1-888-724-7240, 24 hours a day/7days a week. For life-threatening emergencies, please call 911.
Confidentiality:
While we cannot ensure the practice of confidentiality in support group participants, we ask that each participant embrace the concept of confidentiality by choosing to refrain from sharing and disclosing personal and private information outside of the support group. By maintaining confidentiality, you support everyone's ability to openly share information and receive support from the group.
Cancellation policy:
If you are requesting a refund due to COVID-19 related issues please cancel your attendance to the group at least 2 days prior to the commencement of the support group. This allows us to contact anyone waiting to attend. You will NOT receive a refund if you did not provide notice to Well-Mamas Counseling. Please contact us by email or phone: info@wellmamascounseling.com or at (858) 683-3793. Thank you for your understanding.
COVID-19
Support group meetings will be held outdoors. We highly encourage you to monitor your own health and review the current recommendation of the CDC. If you are experiencing any COVID-19 related symptoms outlined on the CDC website, please cancel your attendance as soon as possible. Please see our cancellation policy if you are requesting a refund. We encourage you to please bring your own blanket or towel, water, or any other outdoor supplies to feel comfortable during the group.