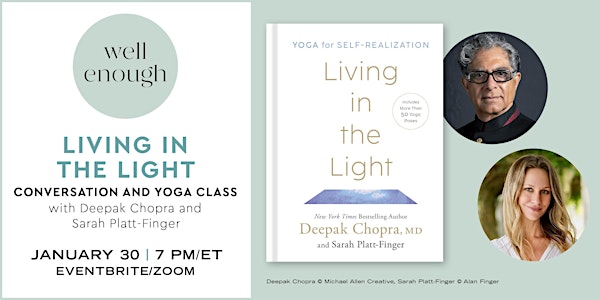 Well Enough: LIVING IN THE LIGHT Conversation & Yoga Class
Join Deepak Chopra and Sarah Platt-Finger for an evening of conversation and yoga!
About this event
In this groundbreaking guide to the philosophy and practice of Yoga, international bestselling author Deepak Chopra and his coauthor Sarah Platt-Finger, yoga director at Chopra Global, share a practical thirty-day program to help you break limiting habits and belief systems, along with fifty stimulating and restorative yoga poses. The result is an inspiring way to unite the mind, body, and soul.
Join us on January 30 at 7:00 p.m. ET for the Well Enough: LIVING IN THE LIGHT Conversation and Yoga Class with Deepak Chopra and Sarah Platt-Finger. The authors will discuss the highest and most important of the yoga traditions—Royal Yoga—and its all-embracing path to personal transformation. There will also be an audience Q&A, followed by a pre-recorded yoga class with a routine to help achieve self-realization, bliss, and wholeness.
The event will be broadcast via Zoom, and each ticket includes a hardcover copy of Living in the Light, in addition to event access. You can register for your ticket and book through our independent bookstore partner, Loyalty Bookstores! Please note books will ship after the event. Your support of independent bookstores is so important and does not go unnoticed!
We can't wait for you to join us!
*Please email pr@randomhouse.com if you have any trouble registering.
**This is a virtual event that will be hosted on Zoom—you will need access to a computer or other device capable of sufficiently accessing the Internet. If you have not used Zoom before, you may consider referencing Getting Started with Zoom.**
By registering for the event you agree to be automatically signed up for the Random House Events and Well Enough email newsletters. (Privacy Policy).