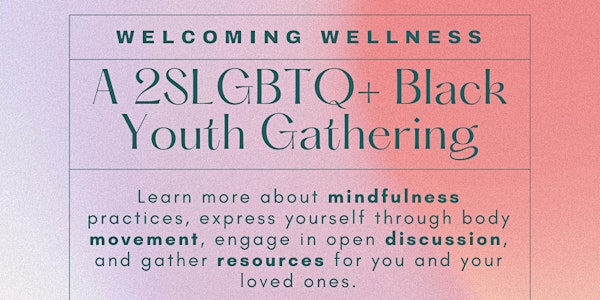 Welcoming Wellness: A 2SLGBTQ+ Black Youth Gathering
Join us for Wecloming Wellness: A 2SLGBTQ+Black Youth Gathering.
About this event
Join Hope and Me and Black Health Alliance: Pathways to Care (PtC) Project on Thursday November 24 from 6:00 PM EST - 7:30 PM EST for a free virtual 2SLGBTQ+ Black youth gathering.
Participants are invited to learn self care strategies. Learn more about mindfulness practices, express yourself through body movement, engage in open discussion, and gather resources for you and your loved ones. Participation incentives available.
This interactive workshop is for you if: you are a 2SLGBTQ+ Black youth. Note: This is a sacred space for 2SLGBTQ+ Black youth only. If you are not a Black youth, please join us at one of our future events.
Hosted by: Saysah
Meet Your Facilitator:
Hi my name is Saysah (sometimes Yas) and I am, first and foremost, trying to get free. As a queer, non-binary person that is ever-evolving and nurtured, I have lineage that is vastly radical, and come from the Afro-Caribbean peoples of St.Kitts and Arsi-Oromo Indigenous people of Ethiopia.I am a person who lives with chronic pain that I have only found relief with through my movement and dance practice. I am a channeler, I am divinely guided by my ancestors including my non-human plantcestors. I am a learner and maker. I am a person who is trying to be in right relationship with this body, land and community. I am a multidisciplinary and multisensorial artist. I am tangled and (un)becoming. I am always decoloniz(ing). Beyond that, I am centering a practice of reflection, care, and emergence in the embodiment of my work. I live on the stolen land of Turtle Island, on the traditional territory of the Haudenosaunee, Anishinabewaki ᐊᓂᔑᓈᐯᐗᑭ, Wendake-Nionwentsïo, and Mississaugas of the Credit First Nation, which is Treaty 13 territory and is land of Indigenous peoples from across Turtle Island since time immemorial. I am always in solidarity with land defenders and water protectors and Black and Indigenous freedom fighters.
Note on inclusivity: Everyone has the right to feel as safe as possible at any event they choose to attend, regardless of age, ancestry, colour, gender identity, gender expression, mental disability, physical disability, place of origin, race, religious beliefs, or sexual orientation, or any other identities. Event spaces, and all spaces, should be nonthreatening and supportive to all attendees. We at Black Health Alliance: Pathways to Care Project are actively and consistently working to ensure that this practice is a reality among our events.
Note on accessibility: This workshop will be hosted on Zoom. Live transcription will be available. An Active Listener will be available for the duration of the workshop.