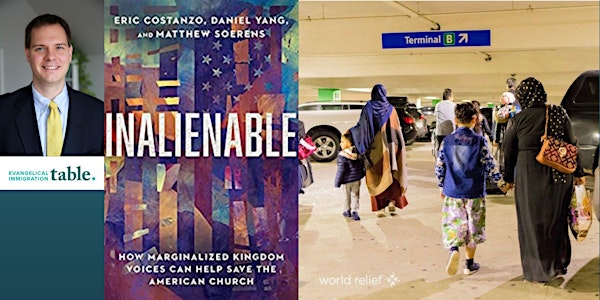 Welcoming the Stranger
Welcoming the Stranger with Matthew Soerens
When and where
Location
1504 Villa Rd 1504 Villa Road Springfield, OH 45503
About this event
In 2022 the global displacement of people hit over 100 million people for the first time. We have seen Afghans fleeing the Taliban, Ukrainians displaced by Russia's war on Ukraine and our own southern border filled with people fleeing the unimaginable.
What can the Church do in light of all of these crises and how can the Bible shape us as we think about refugees?
Join us with Christians from around Springfield and Dayton as Matthew Soerens from World Relief talks about how Christians can approach all of this.
Matthew Soerens serves as the U.S. Director of Church Mobilization and Advocacy for World Relief and as the National Coordinator for the Evangelical Immigration Table, a coalition of evangelical organizations of which World Relief is a founding member. He previously served as a Department of Justice-accredited immigration legal counselor for World Relief's local office in suburban Chicago.
Matthew is the co-author of Seeking Refuge: On the Shores of the Global Refugee Crisis (Moody Publishers, 2016) and Welcoming the Stranger: Justice, Compassion & Truth in the Immigration Debate (InterVarsity Press, 2018). He co-authored Inalienable: How marginalized voices can help save the American church in 2022. He has also written for various print and online publications, including Christianity Today, Relevant, The New York Times, USA TODAY, The Washington Post, The Washington Examiner, FoxNews.com, Sojourners, The Christian Post and The Gospel Coalition.
Matthew earned his Bachelor's degree from Wheaton College (IL), where he also has served as an adjunct faculty member for the Humanitarian and Disaster Leadership graduate program. He also earned a Master's degree from DePaul University's School of Public Service. Originally from Neenah, Wisconsin, he now lives in Aurora, Illinois with his wife Diana and their four children.