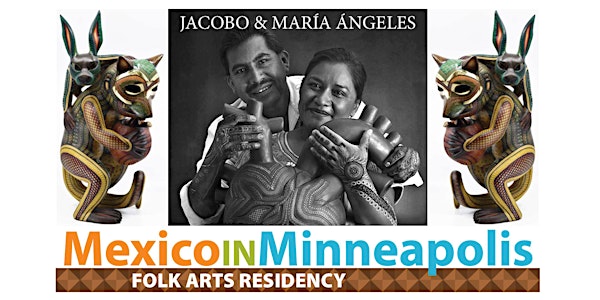 Welcoming Lake Street Community Reception for Jacobo and María Ángeles
Join us in welcoming Jacobo and María Ángeles – two national and cultural treasures from San Martín Tilcajete Oaxaca, Mexico on Oct. 1.
When and where
Location
Midtown Global Market 920 East Lake Street Minneapolis, MN 55407
About this event
Free with limited entry, kindly RSVP by Sept. 28th.
Welcoming Lake Street Community Reception for Jacobo and María Ángeles
The public is invited to meet Jacobo and María Ángeles at a free, welcoming reception. Food and beverages provided. El público está invitado a conocer a Jacobo y María Ángeles en una recepción de bienvenida gratuita con comida y bebidas
Friday, October 1, 2021 | 5:00 p.m. to 7:00 p.m. Program begins at 6:00 pm.
En el evento, los artistas se presentarán con los líderes de la comunidad latina, empresarios, activistas, estudiantes, artistas y a la comunidad en general. Jacobo y María compartirán sus propias historias y experiencias como artistas dedicados a preservar las prácticas indígenas mexicanas en su ciudad natal de San Martín Tilcajete.
About the Mexico in Minneapolis Folk Arts Residency
In celebration of Latinx Heritage Month, the City of Minneapolis Office of Arts, Culture & the Creative Economy and the University of Minnesota's Weisman Art Museum will host a Mexican Folks Arts Residency to strengthen and elevate the presence of and access to Mexican traditional art forms in Minneapolis. Jacobo and María Ángeles, two national treasures from San Martín Tilcajete, Oaxaca, Mexico, are the selected artists who will pass down cultural knowledge to the local community during their residency from Sept. 26 – Oct. 10.
In line with the City's goals to address racial disparities, the effort invests in mentoring local Latinx artists and reconnecting Mexican immigrants to their traditions and cultural heritage. Jacobo and María Ángeles will train four Minneapolis-based Latinx artists in particular types of ancestral art forms practiced in México. Their residency will involve focused sessions with the following Minneapolis-Latinx artists: Gustavo Lira Garcia, Pablo Helm-Hernandez, Alondra Garza, and Gustavo Boada. A workshop for Spanish speaking families and a presentation at select Minneapolis Public Schools are also planned for the artists to engage with local communities.
The two Master artists have built an international following for their dedicated ability to recuperate Mexican Indigenous cultural practices. Their work is embodied by their creation of intricately carved wooden figures and masks referred to as "tonas" or "nahuales," which are painted with colors derived from organic and natural pigments made in Oaxaca.
Through these various convenings and trainings, the Mexico in Minneapolis Folk Arts Residency seeks to connect members of the Mexican-American diaspora to a richer sense of their cultural skills and identity as practiced through folk art traditions.
This event will follow Minnesota Department of Health COVID-19 safety protocols. Masks will be provided.
Funding for this activity is provided by the Minnesota State Arts Board, the Graves Foundation and the City of Minneapolis.

This activity is made possible by the voters of Minnesota through a grant from the Minnesota State Arts Board, thanks to a legislative appropriation from the arts and cultural heritage fund.