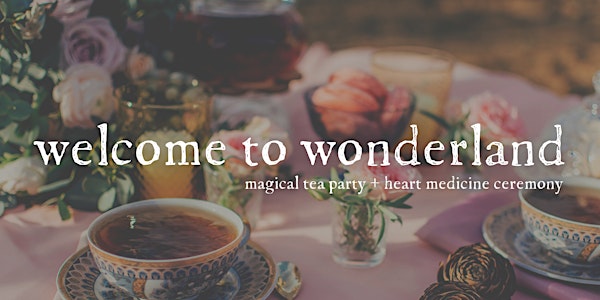 Welcome to Wonderland: Magical Tea Party + Heart Medicine Ceremony
Join our community of lightworkers and self-healers for a magical, mind-opening tea party + heart medicine experience.
When and where
Location
68 Star Dust Trail SE 68 Star Dust Trail Southeast Cartersville, GA 30120
Refund Policy
Contact the organizer to request a refund.
Eventbrite's fee is nonrefundable.
About this event
***Please note that the use of sacred plant spirit medicines and their history are very sacred and the indigenous cultures and farmers are honored and respected within this space.***
Come spend the day with us at stardust retreat center for a magical tea party experience you will never forget. Enjoy handmade herbal teas, vegan, gluten-free hors d'oeuvres, meditation & breathwork exercises, reconnection with nature, networking & playing with our community of high-vibe lightworkers & business owners all while working with the highest quality plant spirit medicines available.
In this unique, modern approach to spirit medicine, you will take part in the most powerful heart-opening experience as you journey deep into your heart blockages, find forgiveness for self and others, enjoy profound states of bliss and connection while you release trauma and restore heart/brain coherence reducing depression, anxiety and symptoms of PTSD.
Come dressed in comfortable yoga attire, bring a blanket, water bottle, a journal, writing utensils, and any spiritual tools that you need or would like to place on the altar.
Although this is a party, this experience will call you inward to do some serious work so there are two ticket options available to you based on your intentions and your healing goals and if you have any questions, please reach out directly. The two different ticket options are as follows:
THE EXPERIENCE
This admission reserves your space within our tea party and ceremony circle and includes an introductory heart-opening medicine dose in a handmade herbal tea designed to break down your heart walls, increase your connection to nature & others and release trauma in the heart space, customized energy medicine + healing treatments, networking with other self-healers and spiritual business owners as well as light refreshments & vegan, gluten-free hors d'oeuvres. Post-ceremony integration sessions are not included. (If you are unsure of this option or have more questions, please reach out to us directly before booking.)
THE COMPLETE EXPERIENCE
This admission includes everything in "The Experience" package PLUS allows you the opportunity to take your medicine + healing experience to a more advanced level as you journey deeper into the heart, connect with your inner child, enhance your psychic abilities, feel forgiveness, rewire trauma and release negative beliefs of self while moving your heart energy into spirit giving you the most complete experience possible in this space. Complete Experiencers will receive 1:1 Siwa Murti Healing for specific areas of discomfort and blockages. *** Post-ceremony 30-minute integration sessions are included in this package. (If you are unsure of this option or have more questions, please reach out to us directly before booking.)