Description
(THE NEW DATE IS APRIL 27 FOR THE SCREENING!)
THE MANKIND PROJECT and FREEDOM WITHIN PRISON PROJECT present
A SNEAK PREVIEW SCREENING and FUNDRAISING EVENT
A film about the "Inner Life of Men"
An all-male support group descends into chaos when longstanding conflicts threaten to destroy the trust between the men.
This groundbreaking new comedy/drama delves frankly into issues of male identity, competition, vulnerability and grief.
Starring an outstanding ensemble cast:
Timothy Bottoms
Stephen Tobolowsky
Terence Rotolo
Mackenzie Astin
Joseph Culp
Ali Saam
Phil Abrams
David Clennon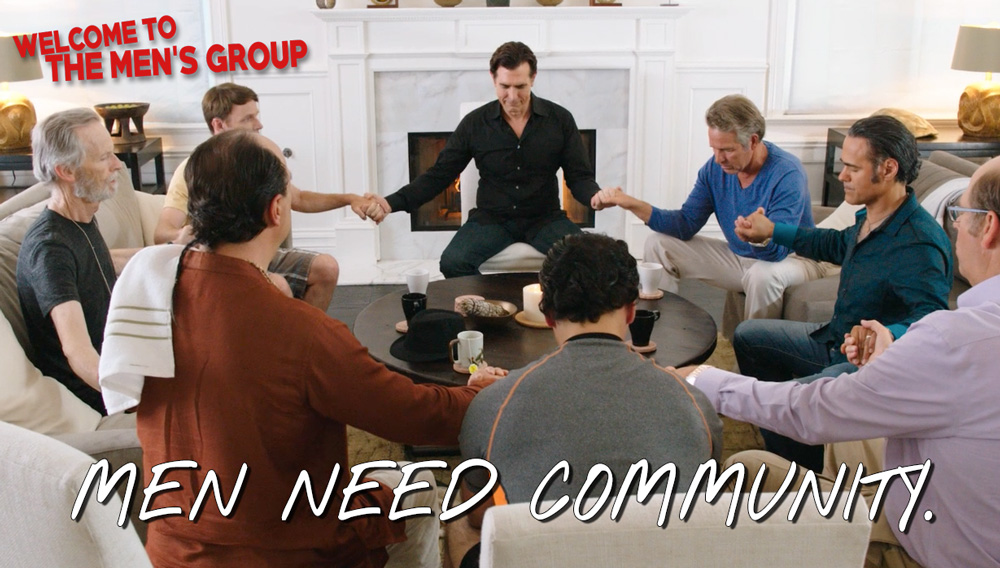 An open discussion about the film and men's issues today will follow the screening with:
Joseph Culp (Mad Men, The Fantastic Four)
(writer/director/co-star)
Join us for a special SNEAK PREVIEW and FUNDRAISER for this groundbreaking new film that explores the complex dynamic of a group of men struggling for integrity, authenticity and what it means to be a man today.
We are also screening a short subject on the FREEDOM WITHIN PRISON PROJECT by Michael Buffo. This important organization promotes men's group work for incarcerated men.
SEE THE FILM BEFORE ITS RELEASE IN 2017!
Some outstanding early reviews on WELCOME TO THE MEN'S GROUP:
"It's hilarious. It's irreverent. It's poignant. It tackles men's issues that most movies these days won't touch, and in a way that you definitely won't see on the TV any time soon." - The Mankind Project
"The story dances through deep questions about spirituality and fatherhood, material wealth and sexual attraction, mental illness and homelessness, and on into ridiculousness and hilarity." - The Good Men Project
FOR MORE INFO ON THE FILM:
NOTE FROM DIRECTOR JOSEPH CULP:
- What is the premise of WELCOME TO THE MEN'S GROUP?
"Men seek spiritual connection and support. It is often quite natural for women to come together and share their feelings, but for most men this is a new idea. Men should have a place beyond the local bar or card game to find out what is really going on with each other. Men must adapt to changing messages of being a man today but where will they share their confusion and their questions honestly? The feminist movement changed a lot for women's roles, and it is still evolving, and men are learning to change as well. How is it if a woman makes more money than a man? Men are taking care of children more and more. The tough persona of the man who does not talk about his feelings is disappearing. John Wayne is long dead. But men don't want to be feminized either – they want to maintain a connection to what makes them truly male. There are men's groups all over the world that are trying to discover that original male energy by coming together to share their stories and support each other in a new way. Men are still caught between the "civilized" man vs. the "savage" man – between intellectual sensitivity and also the impulse for violence. The film is about the need for connection and it shows both the dark and light sides of men. The film has a positive message about the potential for honesty and change. I was inspired greatly by the work of poet Robert Bly who wrote the book "Iron John" , which brought forth the issues of men needing to reclaim a deeper connection to their grief, to mentoring, and to positive male energy. The film has a positive message about the potential for honesty and change. Ultimately the film shows a group of flawed men in a noble, painful and outrageously funny struggle to find their authenticity, healing and a sense of community, and invites us, both men and women, to do the same."