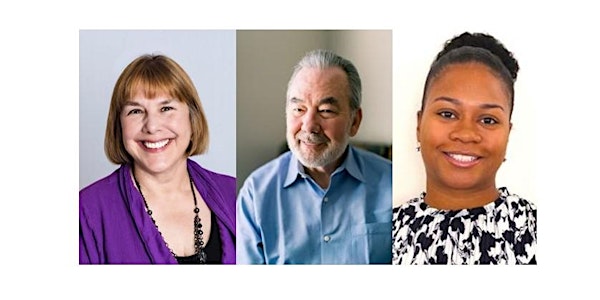 Welcome to Summer: Authors MIKE NEMETH, CHERIE CLAIRE & FATIMA HENSON
Welcome to our Summer celebration. Join authors MIKE NEMETH, CHERIE CLAIRE, & FATIMA HENSON as they discuss their books and writing journey.
By A NOVEL IDEA Author Showcase
Date and time
Tuesday, June 20 · 7 - 9pm EDT
Location
Vintage Pizzeria Dunwoody 5510 Chamblee Dunwoody Road Dunwoody, GA 30338
About this event
ABOUT MIKE NEMETH
Mike Nemeth was born and raised in Appleton, Wisconsin, attended the University of Wisconsin. He is still a die-hard Badger and Green Bay Packers fan. A Vietnam Army veteran and former software executive, Mike lived in Texas, Colorado, Florida, Tennessee and London, before settling in suburban Atlanta with his wife, Angie, and their rescue dog, Scout (yes, that Scout). He holds a private pilot's license, once coached a Georgia state champion AAU basketball team, and is a golf and trout fishing enthusiast.
His three previous novels–Defiled, The Undiscovered Country and Parker' Choice–have won awards for Southern Fiction, Romantic Mystery/Suspense, and Diverse and Multicultural Mystery/Suspense. The Undiscovered Country inspired songwriter Mark Currey to compose the song Who I Am. His short pieces have appeared in The New York Times, Georgia Magazine, Augusta Magazine, Southern Writers' Magazine, Deep South Magazine, Writers' Voices anthology. Creative Loafing named him Atlanta's Best Local Author for 2018. The recurring theme in Mike's novel is that morality and legality are two different things and classic morality has been supplanted by secularism.
In addition to his three novels, Mike has published two nonfiction works about sports: 128 Billion to 1, why no one can predict the outcome of the NCAA Basketball Tournament; and Lies, Damned Lies and Statistics, why the selection committee always chooses the wrong teams to play in the college football playoffs. He also wrote The Missing Ingredient, an article published in The New York Times that explained why college football rankings are always wrong.
ABOUT CHERIE CLAIRE
Cherie Claire grew up in south Louisiana, with mud between her toes and a rabid love of Mardi Gras parades. Born in New Orleans, she now makes her home in Marietta. Cherie is the award-winning author of The Cajun Series of historical romances, the Cajun Embassy series of contemporary romances and a paranormal mystery series featuring New Orleans ghost sleuth Viola Valentine. She's a Holt Award finalist, a Romantic Times Reviewer's Choice Award finalist and received the Louisiana Press Women Book of the Year. Read more at https://www.cherieclaire.net/.
ABOUT FATIMA HENSON
Fatima R. Henson is a native of Atlanta, Georgia. She is a passionate and talented US History teacher and writer with a penchant for dystopian and fantasy storytelling. She is also an alumna of the University of Miami in Coral Gables, Florida, and American University in Washington DC.
Much of her work seeks to swing open the doors of imagination into fantastical worlds where she reveals the deep and intimate lives of young Black characters thriving against persistent and remarkable obstacles.