Description
TICKETS NOW LIVE!
All tickets on sale to the general public Friday, April 26th.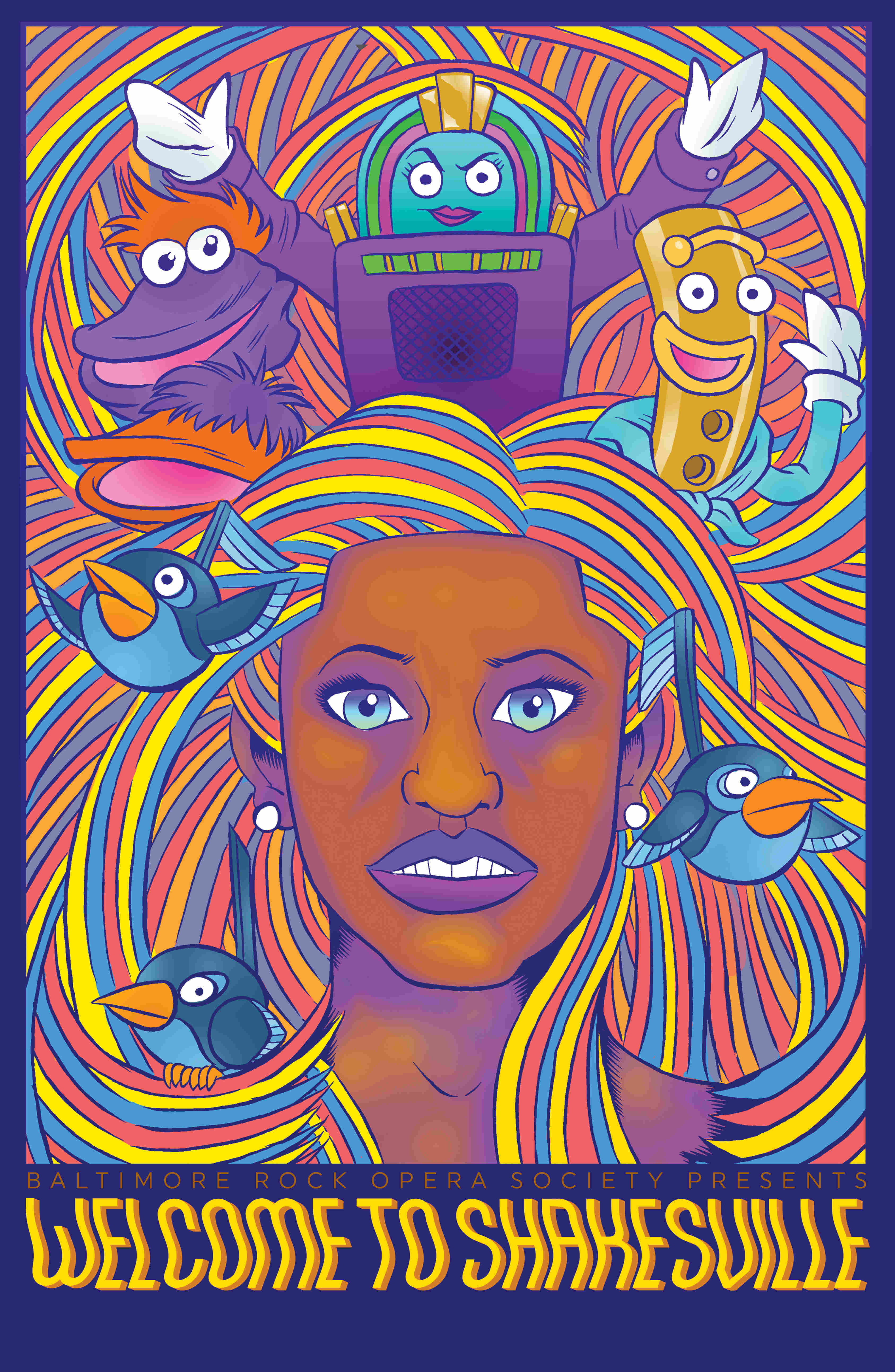 A groovy love letter to the 60s filled with puppets, magic, and rock n' roll!
Grab your board, blare your tunes and boogie down to the Baltimore Rock Opera's Society furriest, feltiest, full-length rock opera yet! Welcome to Shakesville will teleport you back to 1965 and the dawn of psychedelia. Join our unsung heroine, Betty, as she falls down a rabbit hole in search of answers to rock and roll history's greatest mystery: the disappearance of Jimmy Graves! Pulling from some of pop culture's swirliest influences, Welcome to Shakesville tips its hat to the citizens of Lidsville, The Muppets, Yellow Submarine, and more. Featuring a wild cast of people and puppets, it'll have you twisting and shouting all the way home!
Welcome to Shakesville is a hip and trippy journey filled with 1960s-style pop rock that explores the wondrous world of Shakesville; a colorful world where music is magic, but everything is not super groovy. As Betty explores this new world and learns about its troubles, we'll explore the value of creativity as a means of personal expression and the joys of music.
Sponsorship Opportunities
Want to support the next BROS production, but don't have the time to volunteer? Seeking new opportunities to promote your brand or business? Do you believe in the power of ROCK? Consider sponsoring the BROS!
Please review our sponsorship opportunities and feel free to contact Naomi Davidoff, Director of Development, at naomi@baltimorerockopera.org with any questions. Sponsoring the BROS is a great way to get involved, and for your name or brand to reach our community while supporting a great cause!
---
FAQs
When should I arrive?
The lobby is open at 7 PM and we encourage you to come early, have a drink, and get to know the space. The house opens at 7:30 PM. We recommend arriving no later than 7:30 PM in order to find parking and get to your seats by showtime.

What's the refund policy?
Full refunds are available until 7 days before the show curtain time. Email boxoffice@baltimorerockopera.org for your refund. Under 7 days before the event, no refunds are available but you can still transfer your ticket to any show that still has tickets available. Remember BROS is a 501C3 nonprofit, so your ticket donation is greatly appreciated!

Do I have to bring my printed ticket to the event?
Nope! Just show us your confirmation email or give us your name when you arrive. Save a tree!

Can I transfer my ticket to a different night?
You bet! Just email boxoffice@baltimorerockopera.org and if your ticket type is still for sale on that night we will transfer you post-haste!

Where do I park?
There is plenty of street parking surrounding Zion Lutheran Church as well as several parking garages.
Zion Lutheran Church has a parking lot but it is reserved for cast/crew/official church bizness! Please don't park there. Google map with helpful info at THIS LINK.

How the heck do I get into the church? Where is the main entrance?
Enter the church through the beautiful garden at 400 E. Lexington Street (Lexington & Holliday streets). This is also the address you should use for Uber/Lyft dropoff. Check out this map with useful info.

Can I bring my own booze?
NOPE, but you best believe BROS will be selling delicious alcoholic beverages for attendees over 21, including Brewer's Art beer (The CHUGGERNAUT!), Natty Boh and craft cocktails – as well as sodas, water, popcorn and cookies! Support BROS by buying our stuff!

Where can I buy THE CHUGGERNAUT?
The BROS / BREWER'S ART canned beer collaboration will be available to buy directly from BROS front of house in 6-packs to go! After the show take home a 6-pack of the most epic and crushable beer in Baltimore for only $12!
What about kids?
We consider Welcome to Shakesville to be friendly for the whole family, but due to the nature of a theater environment, we consider it appropriate for children ages 8+. For younger children, we are holding a special matinee performance on June 15th that is open for attendees of all ages.