WELCOME TO F.I.T. TRAVEL COLORADO

Thursday, September 18, 2014 at 6:00 PM

-

Sunday, September 21, 2014 at 2:40 PM
Event Details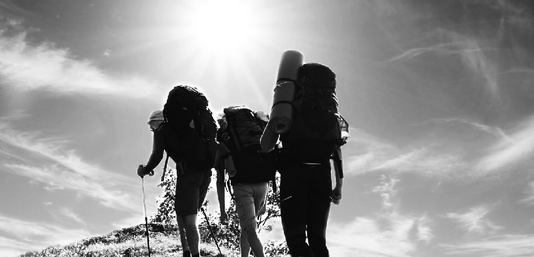 Franklin Inspired Transformation (F.I.T.) Travels combines personal development, adventure, luxury accommodations, delicious fresh cuisine with massages and holistic relaxation treatments to create a truly memorable travel experience. More than just a resort vacation, yoga retreat or a weekend workshop, F.I.T. destinations combine physical and mental fitness, outdoor training, and personality development.  Our team coordinates the end-to-end logistics between the airport, and every destination on the itinerary to provide you with an unforgettable experience that will truly enrich your life.
______
At every F.I.T. Travel destination you can count on heart pounding activities, daily power yoga, and evening guided meditations.  We then combine physical development with breakthrough personal development using specialized reporting tools and trainings that will enhance your Emotional Intelligence (EQ) and help improve your workflow and life management.  The objective for your individualized report is to help you better understand your personality and how you perceive your environment.  Afterward, apply your enhanced self-understanding to capitalize on top performance as you complete the adventures on the itinerary.
___ 
What can you count on? You can count on personal growth, adventure and memories that will last a lifetime. You can count on moments of peace combined with excitement. You can count on reminding yourself of who you are and what you can really do.
_____________________________________________________________________________
Welcome to Camp Colorado
Remind yourself of who you are and what you can really do by leaving it all behind as you climb Mount Princeton of the University Mountains in Winter Park.  Mount Princeton serves as both our luxury destination where we enjoy the comforts of a Hot Springs resort on the Colorado River, and as our personal training grounds where we develop and grow.
Our days will begin with morning yoga then activities from horseback riding to climbing the mountain trails, with an afternoon by the hot springs and gourmet meals. With time for personal reflection and learning developmental topics, you will experience a combination of adventure and relaxation with time to explore, take in, process and enjoy the breath taking scenery.
_________

Packages include transportation to and from the airport and all activities, admission fees, 4 to 5 star accommodations, gourmet cooking, wine with dinner, yoga & fitness instructors, local mountain guides, massage therapists, safety equipment, swag bag giveaways, exclusive play lists and an individualized personality report with training in work life balance
Day 1:  Welcome & Arrival Start your week off right with a scenic drive to our natural Hot Springs training ground.  After you arrive and get settled in, we warm up our program with a walking tour and a deep stretch yoga session.  Then, refresh and prepare for a delicious dinner as we begin the opening ceremonies.  We then conclude the evening with a guided deep relaxation and optional evening social.
Day 2:  Adventure Series 1.0 Wake up in your Cliffside room and get ready for a morning-guided relaxation into a power yoga session followed by a delicious breakfast.  Afterwards, enjoy a mild morning hike and snack.  We then put on our horseback riding caps and enjoy the fresh Colorado air on saddleback.  Once we complete our warm up adventure, we then return to our training grounds to enjoy a hearty lunch and mid afternoon siesta in the hot springs where you may redeem your half hour massage session.  When you are relaxed and rested, we then begin the journey of personal development.  Each participant will receive his or her own personality report that will enhance your Emotional Intelligence (EQ) and help improve your workflow and life management.  The objective for your individualized report is to help you better understand your personality and how you perceive your environment.  We will then reconvene as a group on our yoga mats where we will stretch and breathe deeper to feel a greater sense of personal connection and peace of mind.  Followed by a brief time to prepare for our appetizing dinner and evening program and close out social.
______ 
Day 3:  Adventure Series 2.0 Remind yourself of who you are and what you can really do by leaving it all behind because today we summit Mount Princeton.  Mount Princeton is one of the 14,000 ft tall mountains in the US state of Colorado.  It lies in the Collegiate Peaks, in the central part of the Sawatch Range, just west of the Arkansas River.  Mount Princeton is one of the most dramatic Mountains because it abruptly rises nearly 7,000 feet above the Arkansas valley in only 6 miles.  This powerful summit will serve as a personal development milestone because you are going to have to push past your mind and body to reach for the top.  At the summit, we will immerse ourselves in the breath taking views with a guided breathing exercise and personal reflection moment.  After our day of mountain climbing and adventure, find the luxury of a fine dinner waiting for you at our Hot Springs training grounds.  We will then complete our day two adventures with a creative evening program, hot springs wind down followed by an evening gentle yoga session to stretch, breath and sleep well.
 Day 4:  Closing Ceremony Capture and enjoy the views and the fresh air as we prepare for departure.  We will start our day with a power yoga session followed by a wonderful breakfast.  Afterward, one more visits to the hot springs where you can enjoy the benefits of the natural water or redeem your half hour massage before we end our time.  We will then conclude with a closing meditation and completion ceremony.
_____________________________________________________________________________
FREQUENTLY ASKED QUESTIONS
What is included in this trip? Your single and double packages include:
 
Accommodations
 
~Cliffside white towel room with 2 queen beds
 
~Breakfast. Lunch. Dinner.            
 
~Refreshments. Snacks. Evening Wine.
 
~Access to Hot Springs Natural spa
 
~Steam. Sauna. Cool down pools.
 
~Optional shuttles from the airport (times pre-determined*)
 
______
 
 Personal Development Kit Includes:
 
~T-shirt & lucky bandana
 
~USB Drive: Soundtrack & Sound bytes
 
~Emotional Judgment Inventory E.J.I. Report
 
~Exercise Notebook & Reflections
 
~Designated Pen
 _________
 
Good Karma Swag Bag
 
~Eye mask
 
~Essential oils
 
~Intention candle
 
~Mountain socks
 
~Free reading book
  ____________
 
Activities & Adventures:
 ~Horseback Riding
 
~Mountain Hike Adventure
 
~Daily Power Yoga
 
~Daily Meditation
 
~Deep tissue massage voucher
 
~Hot springs warm up and cool downs
 
What do I need to pack?
16th Travel Arrival Day:
Travel well and stay hydrated; be prepared for altitude increase
 
Clothes: hot springs swimsuit, flip-flops, jeans, long sleeve shirts,    
 
jackets, walking/hiking boots, yoga/fit clothes 
 

17th Day: Horseback Riding & Hot springs Clothes: hot springs swimsuit, flip-flops,
jeans, long sleeve shirts, jackets, walking/hiking boots, yoga/fit clothes 
 
18th Day: ADVENTURE: Head-to-Toe Clothing 
Liner hat

Fleece ski hat

Baseball cap

Goggles

Light-weight long underwear top

Mid-weight long underwear top

Pile Sunglasses sweater

Pile vest

Waterproof/breathable shell jacket

Liner gloves

Insulating gloves or mittens

Shell mittens

Lightweight long underwear pants

Waterproof/breathable pants or bibs

Liner socks

Wool socks (wear one and bring an extra pair)

Gaiters

Boots
19th Day: Course Completion
 Clothes: hot springs swimsuit, flip-flops, skincare jeans, long sleeve shirts, jackets, walking/hiking boots, yoga/fit clothes 
 
What if I've never climbed a mountain before?
Most people have never climbed or summated a mountain but would love too.  F.I.T. Travels provides a powerful organized approach that creates an integrative mind, body and emotionally intelligent program as we guide you throughout this journey. 
 
Are there trail options?                                                                                                                   We provide you with two Adventure options to scale mount Princeton.  We have the Warrior One Run & Warrior Two Dash.   Warrior One Run: enjoy the journey up the mountain with longer breaks a bit more picture time.  Warrior Two Dash:  is a powerful series up the mountain with less pit stops and a quicker pace.
What if I have food allergies? Let us know in advance of any dietary restrictions.
Is this safe? All activities, adventures and preparations are designed and staffed by professionals who are insured experts.
How much does this cost? Single pass $2750 (1 person signup and single room accommodations) Double Pass $3750 (2 person signup, accommodations include 1 cliff-side view room with 2 queen sized beds
Is there trip insurance? Yes, please see terms and conditions.
How long before I can cancel or rebook? Our cancelation and re-booking fees include 50% cancellation fee or 30% re-booking fee.   
Is there an age limit? 18-50 years
How will I get from the airport to the hotel?
Pre-determined shuttle times will be available, option to rent your own car is available
What if I don't want to participate in an activity? While participation in the planned activities is highly encouraged, if you need to step out for personal reasons, we ask that your time spent not negatively impact the group objective of personal development.
What about weather considerations? Alternative activities will be considered if the weather is severe. However, please plan to pack for all four season during our adventure days.
 
Please explain the purpose and the benefits of the report and how it works? Learn to understand your personality and how you perceive your environment. Understand the bigger picture of your life's success and long term sustainability.  Gain the ability to develop friends, relationships and connections that work well together. Capitalize on your top personality performance skills and competencies. Each participant is provided with a link to a set of survey questions that scores your personality.    Franklin then provides you with your printed confidential personality report the day before your summit Mt. Princeton as fuel to drive your determination.
Franklin Drob maintains an Industrial Psychology accreditation for profile scoring using  the 16Primary Factors, a PHD research and developed instrument for measuring personality dimensions ,self leadership, career success and personal development.
Is there anything else I should know? Remember part of this experience is to create a safe opportunity to push past your normal comfort zone and discover new capabilities through our adventure travels. Trust the journey.
MEET YOUR TEAM LEAD AND CO-CAPTAIN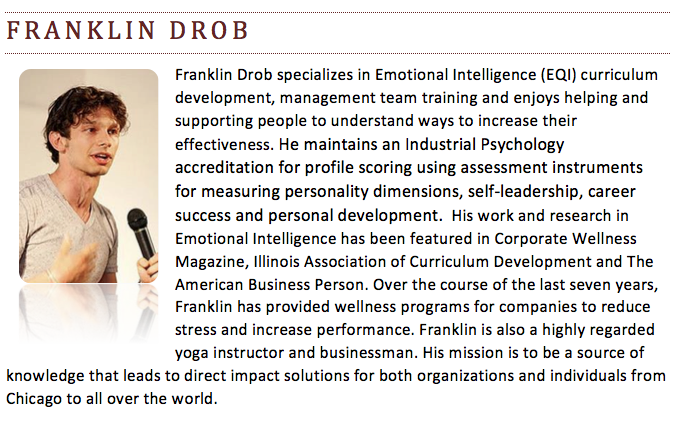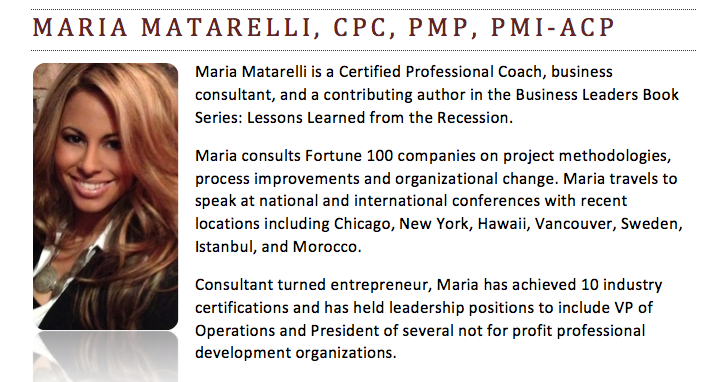 When & Where

.mtprinceton.com
15870 County Road 162
Nathrop, CO 81236


Thursday, September 18, 2014 at 6:00 PM

-

Sunday, September 21, 2014 at 2:40 PM
Add to my calendar
Organizer
Inside Smiles Corp Present F.I.T. FRANKLIN INSPIRED TRANSFORMATION TRAVELS CAMP COLORADO
Franklin Drob is the president of Inside Smiles, Wellness HR Connect and owner of FranklinDrob.com.  He specializes in Emotional Intelligence (EQI) curriculum development, management team training and enjoys helping and supporting people to understand ways to increase their effectiveness. His work and research in Emotional Intelligence has been featured in Corporate Wellness Magazine, Illinois Association of Curriculum Development and The American Business Person. Over the course of the last seven years, Franklin has provided wellness programs for companies to reduce stress and increase performance. Franklin is also a highly regarded yoga instructor and businessman. His mission is to be a source of knowledge that leads to direct impact solutions for both organizations and individuals from Chicago to all over the world.
WELCOME TO F.I.T. TRAVEL COLORADO