Description
FYI: *Important Deadline Date Update!!!!!
!!!!! PRE-TICKET SALES ENDED: CASH AT DOOR FOR ALL EVENTS !!!!

Event #1 - Grown & Sexy Buffalo/ATL Party Hosted by: Cooper, Meeks, True
Date: Friday - 9/29/2017
Time: 9pm - 3am
Location:
The Museum Bar
181 Ralph David Abernathy Boulevard
Atlanta, Georgia 30312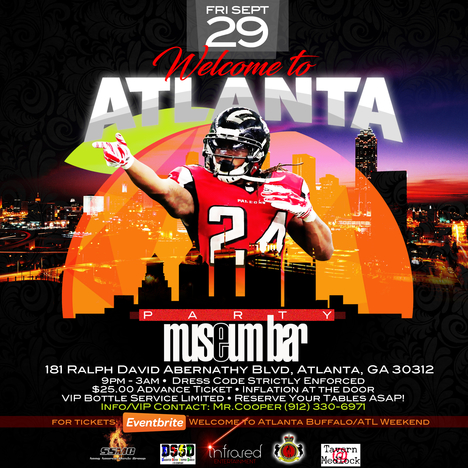 Buffalo's Legendary DJ "Stoney", & DJ "Spin" (Rob Debold) & DJ "Iceberg"
Special Celebrity Guest Appearances
$25.00 advance ticket purchase
surcharge at the door
*VIP Bottle service/tables available (reservations only)
Mr. Cooper (912) 330-6971
*No Timberlands, No Baseball caps, No Sneakers!
*Dress Code Strictly Enforced!!
Event#2 - Buffalo/Atl Weekend Pre-Game PicNic Hosted by: Antoine Meeks & Turk Cooper
Date: Saturday - 9/30/2017
Time: 2pm - 7pm
UPDATE!!!!!
Deadline to purchase tickets is September 29th, 2017.
If you plan on attending the PicNic and eating you must pre-purchase your ticket(s), the 1st 300 tickets will be guaranteed a meal.
Location:
Yellow River Park
3232 Juhan Road Southwest
Stone Mountain, GA 30087
Family & Friends Pre-Game Picnic Fun Fun Fun!
Food* Music* Games* Entertainment*
Fun and Friendly Competitions!
Free to attend!
*$10.00 a plate *Kids under 3 eat FREE
Buffalo's Legendary: DJ Stoney, DJ Spin, & DJ Iceburg
*Special Guest Appearences!
*Advance Ticket Purchase Available - see below.
**Note: Download Uber APP for best way to get around.
Event #3 - Buffalo/ATL Pre- Game Bowling Party -Hosted by: Meeks / Coop
Date: Saturday - 9/30/2017

Time: 10:00 p.m. to 1:00 a.m.
Location: Bowlmor Lanes (formerly 300 bowling alley)
2175 Savoy Dr.
Atlanta, GA 30341
Come get your Bowl on or simply just hangout with us! We will have "Drink Specials", Food, Live DJ's
$20 Cover charge includes food, & bowling
$10.00 just to enter (no food or bowling)
Event #4 - Big Game Day Watch - Buffalo Bills -vs- Atlanta Falcons
Date: 10-1-2017
Time: 12:30 pm to 8pm
Location:
The City Cafe & Bar - Hosted by : LEVELUP ENTERTAINMENT , InfraRed Ent., & Coop
495 Peachtree St. NE
Atlanta, GA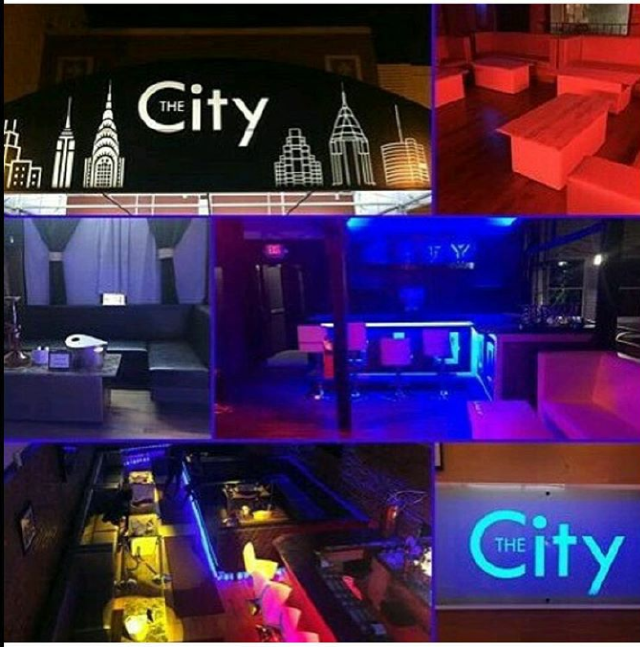 The Buffalo/Atlanta Grand Finale Day Party Welcomes You to the Big Game Day Watch

*Free before 3:00 p.m./ $10.00 cover charge after 3:00p.m.
Come watch the game with us! Great atmosphere for those who are not going to the game.
*Food & Drinks


Event#5 Buffalo Bills Tailgate at Mercedes Benz Stadium Lot G
Hosted by: InfraRed Ent & Coop
On the visitor side of the stadium near Marrietta/Ivan Allen Jr. Boulevard: from 9:00-a.m - 12:00 p.m.
Parking available directly across the street at the (aquarium parking deck) $23.00
BYOB! games, food, live DJ's......(Small charge for food) or bring your own Let's Get it In!
*Buffalo – Atlanta VIP Package
Enjoy all the weekend activities and more... VIP status!
Personally Hosted by Mr. Cooper (Turk) & Cee C Cooper
Leave it to us to make your experience! -
**See VIP Details below**
*Meet & Greet
Registration and Access Pass
Happy Hour
Downtown Hotel lobby & Bar
Complimentary drink & Gift Bag
Friday, September 29th, 4pm-7pm
*Party Scene
Welcome to Atlanta Party:
Museum Bar
Friday September 29th, 10pm – 3pam
Full VIP Access
*Cookout
Atlanta vs Buffalo Pre Game Picnic
Yellow River Park
Live DJs, food (with VIP items) and fun
Saturday 30th, 2pm – 7pm
*Activity
Buff Bowling Party
Live DJ, food, access to full bar
Atlanta's 300 Alley (5 mins away from lounge)
Saturday, September 30th, 10pm-1am
*Cocktails and Lounge
Lux Restaurant & Lounge
Saturday, September 30th, 10pm –until
*Tail Gate- Mercedes Benz Stadium
Catered by Stephanie's Affairs with full bar
Sunday, October 1st, 9am-1pm
*Game Day: Falcons vs Bills
Watch game and After Party
Hosted by Level Up Entertainment
The City Cafe & bar
Sunday, October 1st, 12pm-8pm
*Cost for the above 'All Inclusive VIP Experience Package' - $300.00
****Hotel Reservations: Book Now with Group Rates:
Hyatt Place Atlanta Downtown
330 Peachtree Street
Atlanta, GA 30308
404-589-9680
Group Block: Meeks Sports Team - $139.00 - Per Night - Parking $22.00 daily
Inn At The Peachtree
330 W, Peachtree Street
Atlanta, GA
404-577-6970
Group Block: Meeks Tour Group - $119.00
(includes hot breakfast) parking - $15.00 daily