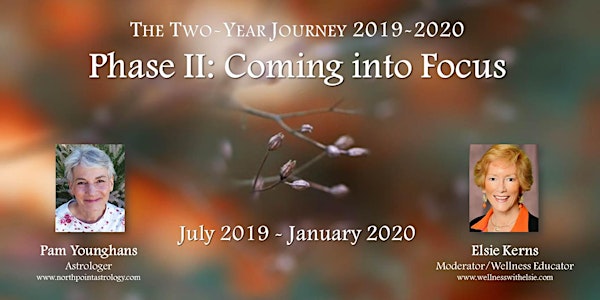 Welcome to Astrological Guidance July 2019-January 2020 with Pam Younghans
When and where
Location
Online Event Marlton, NJ 08053
Refund Policy
Refunds up to 1 day before event
Description

The Two-Year Journey 2019-2020
Phase II: Coming Into Focus
Astrological guidance for July 2019 to January 2020
As we turn the calendar page to July, we enter phase II of a two-year process that began in early 2019. Over the past 6 months, during phase I, we've experienced a deep dive into the heart of issues that are vital to our evolutionary growth. Now, in phase II, powerful planetary events bring those concerns into even clearer focus.
This developmental leap is being driven by a rare astrological line-up: the close proximity of Saturn, Pluto, and the lunar South Node. While Saturn and Pluto conjoin every 35 years or so—usually with dramatic effects—the involvement of the South Node makes this time even more exceptional. The combined energies of this threesome will be very strong through the beginning of October. From there, we start to build to The Big Event that astrologers have been writing about for years: the Saturn-Pluto alignment that perfects on January 12, 2020—when both planets are also exactly conjunct the Sun, Mercury, and Ceres!
During this 90-minute "Coming into Focus" webinar, we'll explore the major astrological influences that will be in effect from July 2019 through January 2020. As always, Pam will do her best to "bring the stars down to Earth," explaining in practical terms what the planets are doing, how they are likely to affect us, and how we can best navigate these momentous times by focusing on the higher purposes and our own capacity for spiritual maturity.
And there's a lot to discuss: We hit the ground running in July with a dynamic Total Solar Eclipse, followed by a pivotal Lunar Eclipse that activates the karmic Saturn-Pluto-South Node influence. From there, highlights are surprises in early August (Jupiter and Uranus both station on the same day), completions in mid-September (final Saturn-South Node conjunction and final Jupiter-Neptune square), and intensification of issues beginning in early October (Pluto goes direct). December and January are the most critical times when all these energies climax: we have a Solar Eclipse in late December, and then a Lunar Eclipse in early January—just two days before the Saturn-Pluto alignment, which means the eclipse is essentially magnifying the effects of that already potent event.
Hang onto your hats—the mighty winds of evolutionary change are blowing!
We hope you can join us! And don't worry if you can't attend live on June 27th -- the class is recorded, and all registrants will receive an email afterward with a link to the replay and PDF slideshow.
Everyone who registers for the webinar will also receive calendars for July 2019-January 2020 in advance. These calendars show all the important astrological events and will make note-taking easier.
Class fee is $33. Payment options and registration may be handled online via PayPal or by check made out to Elsie Kerns, 2007 Rabbit Run Rd., Marlton, NJ 08053.
Questions about registering or payment? Contact Elsie at elsie@wellnesswithelsie.com or 856.988.7426. I am here to help you as Pam gets the online evening event ready for us!