About this event
THE PRESENTERS: Main Event Marketing & Management, The EXECUTIVE TEAM EVENTS & PROMOTIONS, Superior Ent as well as others from across the state
This is a GHOE/Outdoor FESTIVAL
G.H.O.E. (Greatest Homecoming on Earth) is the biggest HBCU homecoming in the country, which takes place in Greensboro, NC. 
This year we are bringing an exciting experience that has NEVER been done before!
:::WELCOME TO AGGIELAND::: will start as our regular GHOE bar crawl that has had thousands of people attending every year. We will feature several bars downtown all walking distance from one another and this year our finale location will be a festival located in a park that can hold up to 3,000 people. 
This will definitely be THE most anticipated and wildest event of GHOE.
WHEN: Friday OCTOBER 29TH 2021
WHERE: DOWNTOWN GREENSBORO
TIME: 2pm-until 
When you arrive at the park we will have live music, live bands, drinking games, vendors, and food trucks. Everything you will possibly need at a festival to guarantee a memorable experience . We are raising the bar for excitement with this event and starting a tradition that can never be duplicated.
_______________________________________________________________________________________________
AGGIELAND OUTDOOR FESTIVAL:
Event will showcase vendors, FOOD TRUCKS, live bands, special performances, 10 of the states best DJ's, and 10 of the states best hosts throughout the day!
DJ's will fill the streets with music as you make your way throughout the park!
VENDOR VILLAGE:
Need a new hoodie or new Aggie themed merch? Our Vendor Village selection of local apparel, art, and cosmetics vendors along with a new assortment of official festival and artist merchandise will be the best that the city has to offer! Interested in being a vendor? Contact info listed below 
AGGIELAND 2021 Vendor Village: 
D CHRISTINE/ LI BOUTIQUE
MY OWN SKIN BOUTIQUE
LUXXE LIFE HAIR GROUP
NO LIES CLOTHING
PEARLS GIRL
TOP TIER GLAM LLC
PLEASURE VIBES
KAI'S DRIP CANDY LLC
THE FREDERICK DOUGLASS FOUNDATION OF NC
FLOSSY BY T
ASH DOES MY HAIR
HOUSE OF LOVE
CLASSY LADY BOUTIQUE
DIVINE MAGIC 223
REZEALENT CLOTING
HIGHCLASS SUBSCRIPTION UPSCALE PEN COMPANY
BENE BEAUTY BY BRI
JEANS DOLLHOUSE
THE HBCU PATCH LLC
ERRRBODY RICH
CI DOVE DESIGNS
VAVICHI CLOTHIERS
ART BY HAZE
PARISTINGZNTHINGZ
IMPERFECTLY ROYAALTY
JEWELRY CONNECTION
ANOINTED GRAPHICS
KCUBED
SASHAY GLOW
PRELOVED STYLES
WAVY WAY ESSENTIALS
ENJOI NATURAL BODY PRODUCTS
BUTTALUVV BODY BUTTERS
SMOKERS STREET WEAR
PRECIOUS CARGO DOULA SERVICES, LLC
QUEENS BEAUTY SUPPLY
SCENTS BY ALAMEEN
ON MY MAMA
BETTERTHANWATER
FORESTE
ANCIENT HOMAGE APPAREL
STITCHED BY SHAYLA
NOVANSI
GRANDMA DOTS CASTOR OIL
GOLDBILLS
BORN 100 CLOTHING
LOYAL ROYALTEES
LUXE FRAGRANCE BAR
BEAUTY RUNN
NICHE ENTERPRISES
SIS X 2
AGGIE EATS:
From food trucks to local restaurants, you'll find some of the best food you will EVER experience at AGGIELAND Festival.
AGGIELAND 2021 Food Vendors:
BRAIN FREEZE
NIKKI'S DELIGHTFUL TREATS
2DOPECHICKS
SIPS & SWEETS LEMONADE SHACK
JAMAICA COAST CATERING FOOD TRUCK
SOUL DE LIT CIOUS
BACKYARD FLAMES
WILLIAMS CONCESSIONS
SMOKE XXI
BIG BUTCH BBQ & SEAFOOD
PASTIRES BY PAIGE
FUNNEL CATERING
EASTER T
DESTINY INTELLECT SKILLS 4 YOUTH
SMOKE CITY COOKING HIBACHI
WHIPPIN W/ LEXX FT KIA'S SWEETS
DE LA VEGAN SOUL
TAY'S CRAVES
SWEET'S TURKEY BBQ AND CATERING
GULLAH Q LOWCOUNTRY BBQ
CAILEE BELLE'S SWEET SHOPPE
PRETTY SOUTHERN SOUL CATERING
FRUITTICKLER, LLC
SHMACK'N PLATES BISTRO
BELIEVE NUTRITION
ASHAKI INTERNATIONAL
VIP VILLAGE:
Enhance your AGGIELAND Festival experience with the comfort and convenience of enhanced viewing areas, dedicated lounge areas, expedited entry, delicious food and more!
LIVE ART INSTALLATIONS:
Enjoy impressive live art installations both on and off canvas by some of NC's most talented artists around the festival grounds.
THE PAVILLION & STAGE:
Large covered stage area with lawn seating for over 2000 people. Starting at 2pm, 10 of the states top DJs & hosts will keep you dancing with alternating sets and music of all genres.  Local performers and live bands are also on the event itinerary for your entertaintment pleasure. 
AGGIE LAND FESTIVAL 2021 featured  DJs:
DJ LOWKEY
DJ Born Finesser
DJ High Demand
DJ TJ
DJ Cuttz
DJ Deron JUAN
DJ On One
_______________________________________________________________________________________________
AGGIE LAND FESTIVAL Featured Hosts: 
Kodine of 102
KEV RICH DREAMS
TICKETS AVAILABLE @:
THEEXECUTIVETEAM.EVENTBRITE.COM
Food Truck And Vendor Inquires Contact: 786.753.1342
For Questions and Info call/txt 336.327.4146 0R 310.770.4427
ALL SALES ARE FINAL!!! REFUNDS WILL BE GIVEN ONLY IF GHOE IS CANCELLED AS A WHOLE BY PURCHASING A TICKET YOU ARE AGREEING TO THESE TERMS.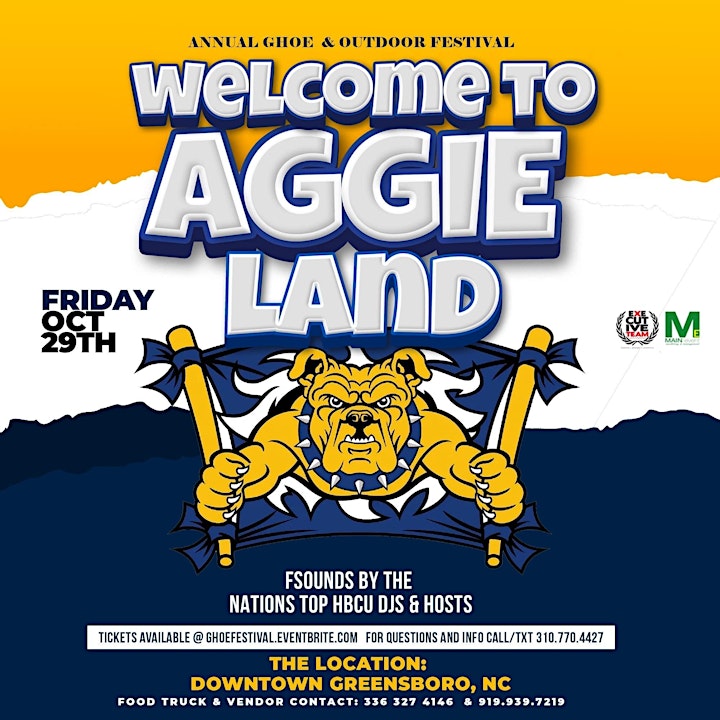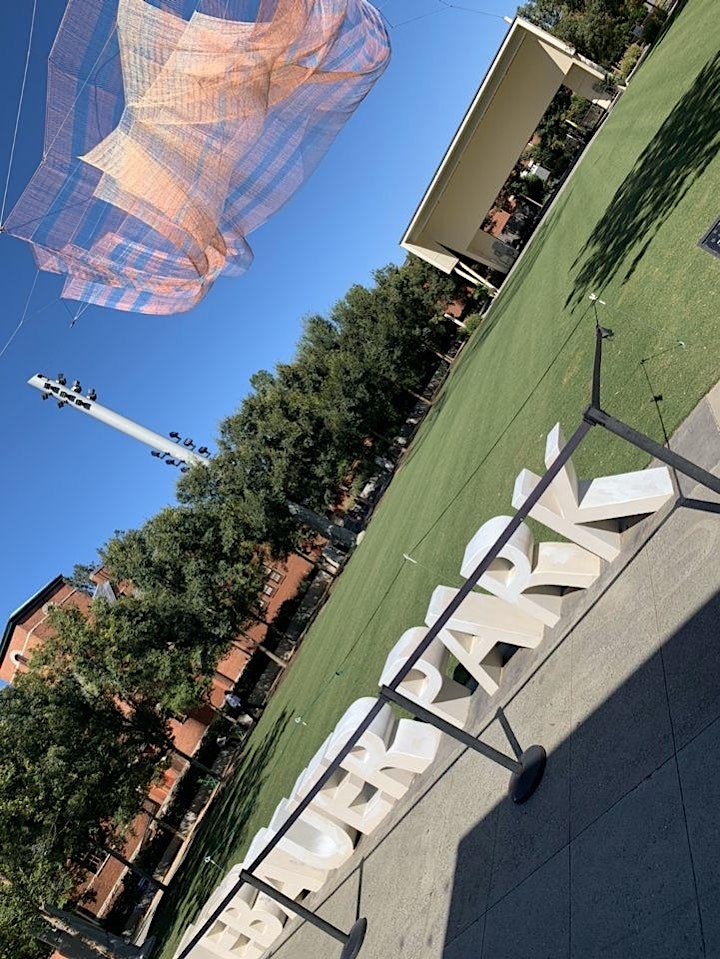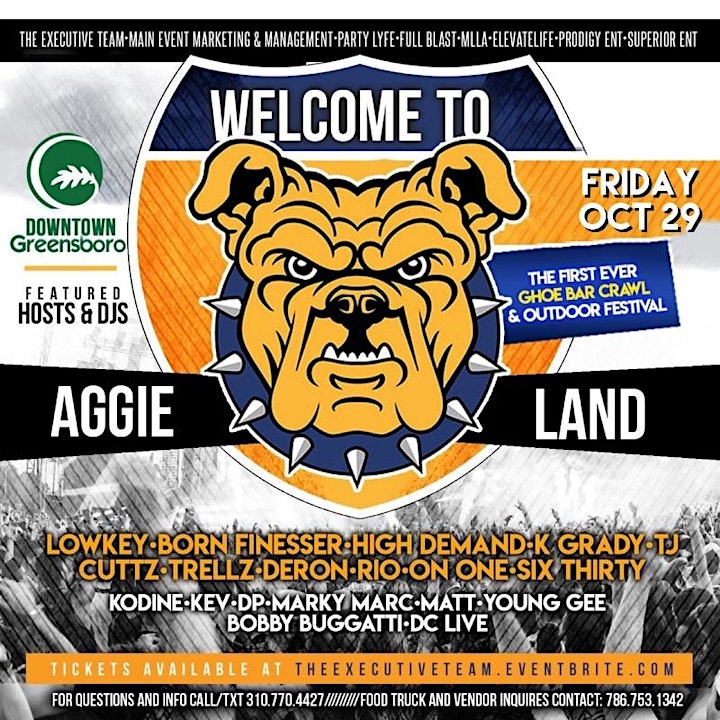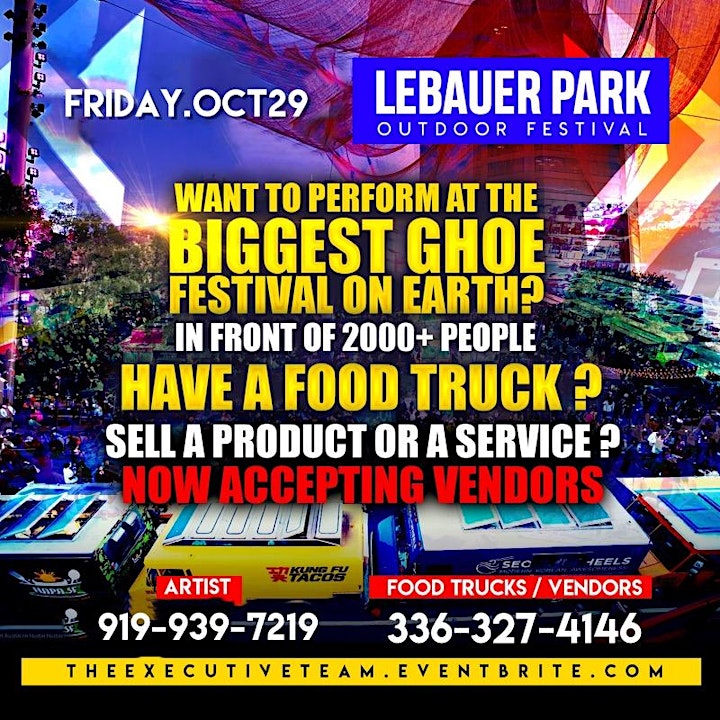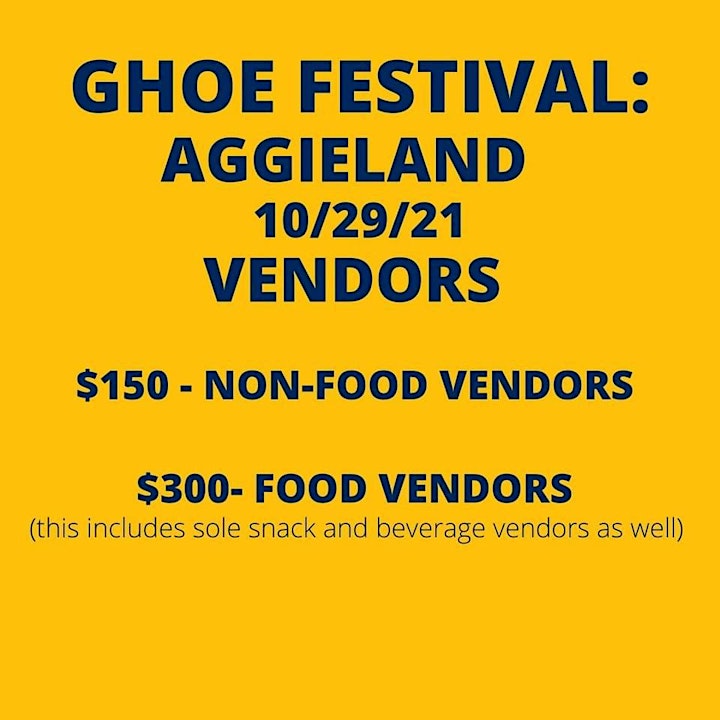 Organizer of :::WELCOME TO AGGIELAND::: GHOE OUTDOOR FESTIVAL & DAY PARTY
Click here to subscribe to our text messages.
We are the Executive Team, a group with expertise in event planning, promotions, and graphic design. Founded in 2004, The Executive Team has shown continued success in developing innovative ideas and ground breaking marketing strategies for events, both large and small. We represent a large demographic group ranging from college going young adults to career oriented professionals. The Executive Team event goers can expect to mingle amongst a culturally diverse, educated, and fashionable group of individuals. For over 12 years, we have provided memorable and entertaining experiences for thousands of North Carolina residents. Our talented production team, coupled with positive relationships with venue owners and local media resources, we are able to produce industry top of the line events. Ergo, The Executive Team is a brand. Promotion, Production, and graphic design at the industries best--