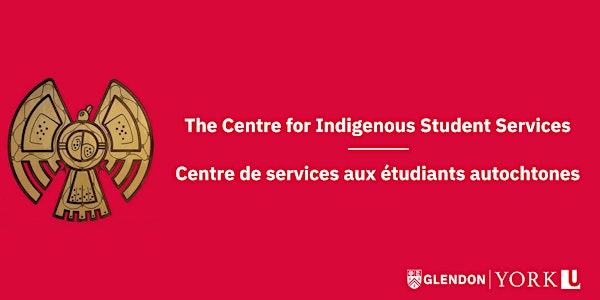 WELCOME SOCIAL FOR INDIGENEOUS STUDENTS AT GLENDON CAMPUS
Join us in the Welcome Social for Indigenous Students at Glendon campus, York University!
When and where
Location
Hilliard D 124 (GWTC, Glendon Campus, York University) 2275 Bayview Avenue Toronto, ON M4N 3M6 Canada
About this event
This Social is an opportunity to meet other students and to provide input to the support and activities you would like to see for indigenous students at Glendon. All indigenous identifying students and students with ties to indigenous communities are welcome. Light refreshments will be served. We look forward to seeing you!
(Hosted by Student Affairs, Glendon and Centre for Indigenous Student Services)
---
Cette activité sociale est une occasion de rencontrer d'autres étudiants et de nous fournir des commentaires sur le soutien et les activités que vous aimeriez voir organisées pour les étudiants autochtones à Glendon. Tous les étudiants autochtones s'identifiant et les étudiants ayant des liens avec les communautés autochtones sont les bienvenus. Des rafraîchissements légers seront servis. Nous avons hâte de vous rencontrer !
(Organisé par les Affaires étudiantes, Glendon et le Centre de services aux étudiants autochtones)