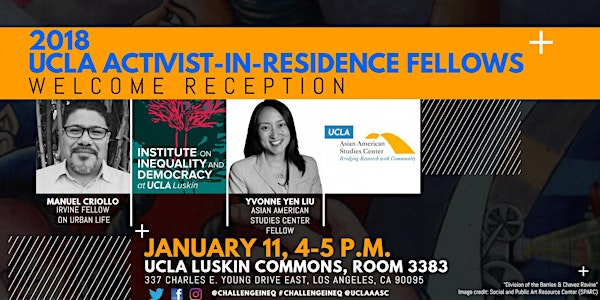 Welcome Reception for 2018 UCLA Activist-in-Residence Fellows
When and where
Location
UCLA Luskin School of Public Affairs, Luskin Commons, Room 3383 337 Charles E. Young Drive East Los Angeles, CA 90095
Description
The Institute on Inequality and Democracy at UCLA Luskin and the UCLA Asian American Studies Center are pleased to announce that Manuel Criollo and Yvonne Yen Liu have been named the 2018 Activist-in-Residence Fellows. Mr. Criollo was selected as the Irvine Fellow on Urban Life and Ms. Liu as the UCLA Asian American Studies Center Fellow. They will both be in residence on the UCLA campus starting in Winter Quarter, January 8, 2018.

The Activist-in-Residence Program was developed by the two research centers to recognize the work of individuals working on community-led social change and to build stronger links between UCLA and the community. Fellows are encouraged to pursue research or reflect on their community work to advance racial, social and economic equity, as well as contribute to creating new models of public scholarship and engagement for UCLA students to develop or strengthen their own commitment to social justice.
Please join us in a welcome reception for the two activist fellows on Thursday, January 11, 2018, at the UCLA Luskin Commons.