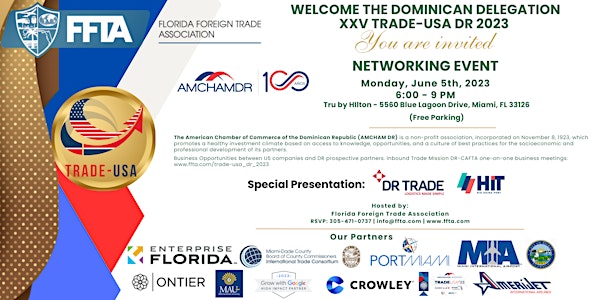 Welcome Networking TRADE-USA DR 2023
Welcome XXV Delegation from the Dominican Republic TRADE-USA DR 2023 and celebrate the 100th Year Anniversary of AMCHAM DR
By Florida Foreign Trade Association / Alliance to Promote International Trade
Date and time
Monday, June 5 · 6 - 8pm EDT
Location
Tru by Hilton Miami Airport South Blue Lagoon, FL 5560 Blue Lagoon Drive Miami, FL 33126
About this event
FFTA, in partnership with Amcham DR and in conjunction with its collaborative partners, Enterprise Florida, Miami-Dade County International Trade Consortium and governmental and private partners aims at developing business opportunities between US companies and prospective partners in selected markets through a program called TRADE-USA, which promotes American products, services and investment as well as increases the bilateral trade between USA and their countries through Inbound Trade Missions.
LET'S JOIN US IN A NETWORKING EVENT ON MONDAY, JUNE 5 AT 6:00 PM. SPECIAL PRESENTATION BY DR TRADE & HAINA INTERNATIONAL TERMINALS - PUERTO RIO HAINA.
YOU MUST RSVP. FOR MORE INFORMATION CALL 305-471-0737 OR EMAIL TO: INFO@FFTA.COM.
About the organizer
The Florida Foreign Trade Association (FFTA) is a non-profit trade organization incorporated in July 1985 that represents the most diverse group of individuals and companies in the foreign trade.
FFTA is an effective networking organization that provides everyone an opportunity to expand their business by visiting new markets, safely and economically through its outbound trade mission program.   In addition, the association holds workshops and seminars designed to train beginners and executives in import/export, franchise opportunities and other related topics. FFTA is also known by its successful business expos and other after-hour networking events.
FFTA created the inbound trade mission TRADE-USA program in 2000. The target foreign markets for several years have been countries in Latin America and the Caribbean all part of Miami's Top 50 Merchandise Export Destinations.  TRADE-USA's objectives are to increase U.S. exports, bilateral trade, sustain/expand current key export destinations, business and investment opportunities, and the development of products/services into new markets by offering free one-on-one business meetings with foreign prospects.
For more information visit: www.ffta.com or call 305-471-0737.
Florida Foreign Trade Association
1865 Brickell Avenue | Suite A2008 | Miami, FL 33129
Phone: (305) 471-0737 | Fax: (305) 471-7636
www.ffta.com | info@ffta.com | tradeusa@ffta.com