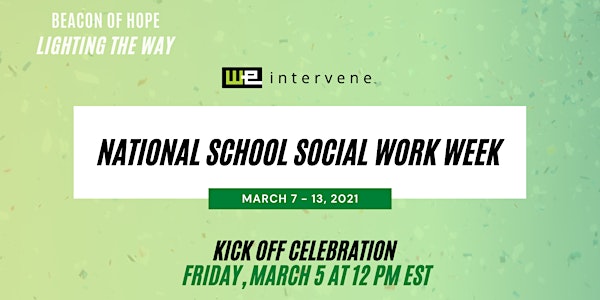 WeIntervene's Kick Off Event for School Social Workers
Social Workers Week "Beacon of Hope: School Social Workers – Lighting the Way" is the theme for 2021.
Refund Policy
Contact the organizer to request a refund.
Eventbrite's fee is nonrefundable.
About this event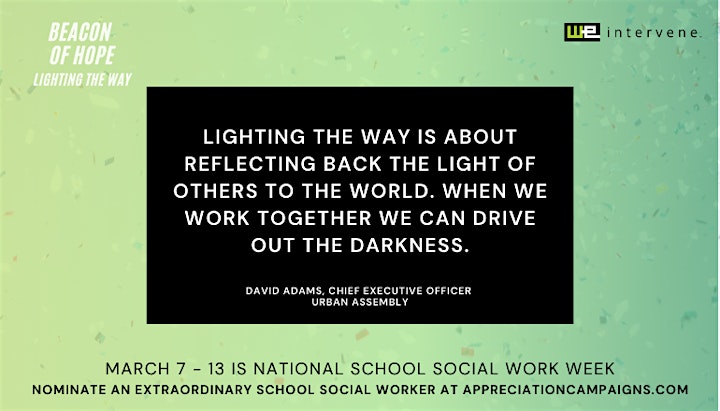 Join us for our first annual event in celebrating School Social Workers. The event will have amazing speakers, an ability to join a gift exchange, and a networking event in which you will meet others in your field.
A fun part of this event is the Social Media Appreciation Campaign. If you decide to join, you get:
Your own campaign to share with others. (You can have the campaign open for encouraging words & funds or only encouraging words. We can edit it.)
Posting of thanks on Social Media/Website (You can see our past postings under #appreciationcampaigns)
Lastly, the first 30 gets a $5 gift card from Amazon from our sponsor
The more we raise awareness about your week, the more you can share with people what you do in your day-to-day and advocate for the resources you need to be successful.
An example of a campaign is below and you can see the rest posted by end of week here: https://appreciationcampaigns.com/ssw-campaigns-2021/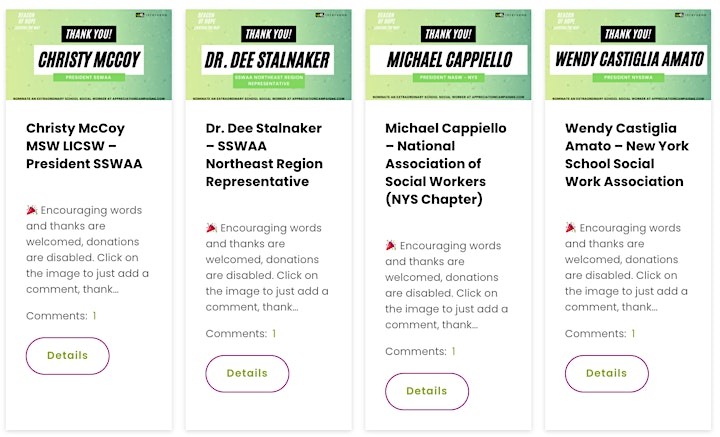 "The School Social Work Association of America is proud to promote National School Social Work Week, held the first full calendar week of March (Sunday - Saturday). SSWAA collects and shares resources to help you celebrate and promote School Social Work Week. We hope you will make some great plans to celebrate as well as receive much-deserved recognition for the vital role that you provide to students, administrators, teachers, educators, parents, and the community! " (https://www.sswaa.org/beacon-of-hope)
"Beacon of Hope: School Social Workers – Lighting the Way" is the theme for School Social Work Week 2021. In our role, School Social Workers are able to light the way, emphasizing the whole child, collaborating with other professionals, linking students and families with needed services, and advocating for our profession.
JOIN US AND THE ONLINE ACTIVITIES!
~~~~~~~~ 
Tentative Agenda for Friday, March 5, 2021 [YOU CAN JOIN AT ANY TIME & LEAVE AT ANY TIME - We understand!]
Part 1
11:50 am EST: Arrival time on Zoom
12:00 pm EST: Welcome remarks (Natasha Green); Talk about the gift exchange & sign up process
12:05 pm EST: Thank you Remarks from an NYS Elected Official
12:15 pm EST: Appreciation Campaign Info & Sponsors remarks
12:20 pm EST: Speakers from NYSSWA, NYC, NYS, SSWAA
12:35 pm EST: Transition
12:40 pm EST: David Adams, CEO @ Urban Assembly
12:55 pm EST: Break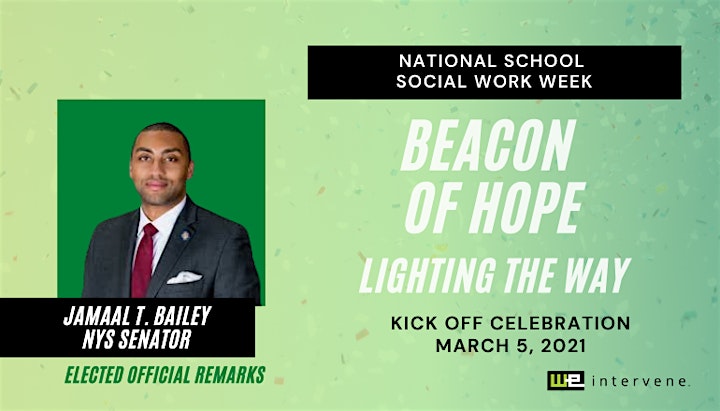 Panel: Beacon of Hope and to Continue to Light the Way
Dr. Dee Stalnaker LSW BCBA SSWAA Northeast Region Representative
Christy McCoy MSW LICSW SSWAA President
Michael Cappiello LCSW-R President NASW - NYS (National Association of Social Workers - New York State Chapter)
Wendy Castiglia Amato LMSW President NYSSWA (New York School Social Work Association)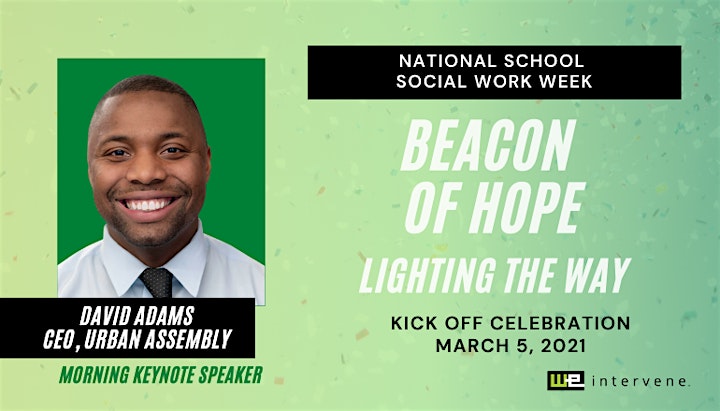 PART II
1:00 pm EST: Hena Ali, Supervisor of School Social Workers, Office of Safety and Youth Development/ NYCDOE
1:10 pm EST: Raul Garcia, UFT Functional Chapter Leader, Social Worker and Psychologist
1:20 pm EST: Breakout room 1
1:38 pm EST: Main room and split again
1:40 pm EST: Breakout room 2
1:58 pm EST: Come back in room, zoom pictures and "Good Byes"
2:00 pm EST: In theory, we are over, but I am willing to linger 🙂
~~~~~~~~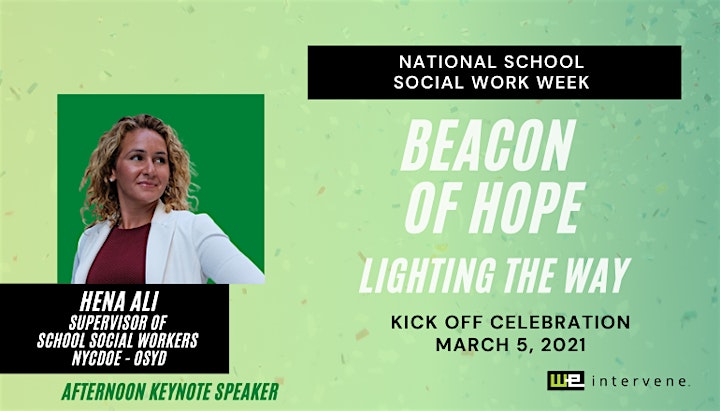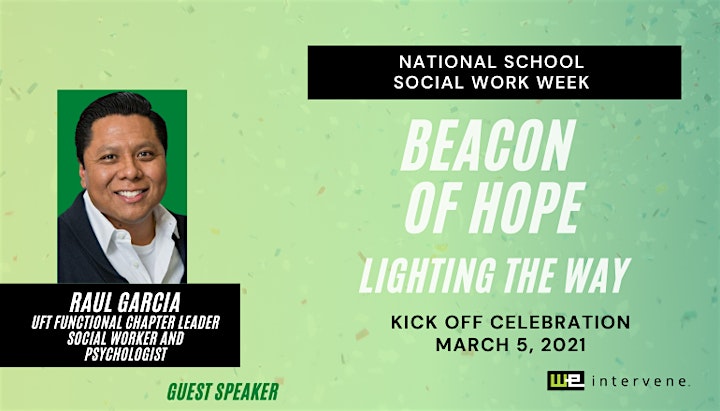 What can you do to support our School Social Workers? 
Learn what the school social workers' needs are in your school community and offer to help
Follow us on social media and reshare our posts (@weintervene, @NatashaGreen25)
~~~~~~~~
SPONSORED BY: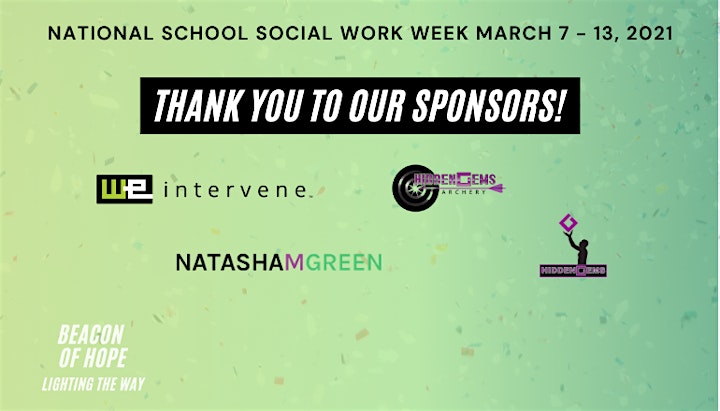 WeIntervene, an online application that allows schools to capture and maintain non-academic data points in one place. Things such as the number of referrals shared with families, parent engagement metrics, and the frequency in which services are shared with students to address their social-emotional needs allow schools to have an accurate portrayal of the services that need to be brought into the school community to support student learning. www.weintervene.com
Hidden Gems Archery, a mobile archery business contracted with NYC schools that teaches character-building skills through the sport of archery. www.hiddengemsarchery.com
Hidden Gems Inc., the nonprofit that provides educational and athletic programs for students in the NYC region
Natasha Green, a certified Project Manager with 10+ years of experience in EdTech Innovation and Professional Development around using Technology Tools to leverage impact. hey@natashamgreen.com
Follow us on Twitter or Instagram or Facebook to see the Social Posts showcasing the school counselors and the purpose behind their work. Postings will be made from Twitter Handle @weintervene #NSSW21