Event Information
Location
St. Francis College
180 Remsen Street
Brooklyn, NY 11201
Description
To kick off National School Counseling Week 2019, WeIntervene is hosting its 4th Annual Celebration of School Counselors on January 31st, 2019. National School Counseling Week, sponsored by ASCA, highlights the tremendous impact school counselors can have in helping students achieve school success and plan for a career. National School Counseling Week is always celebrated the first full week in February.
This year's theme, "School Counselors Providing Lessons for Life"
(https://www.schoolcounselor.org/)
You are invited to celebrate together in the MORNING or AFTER WORK!
Past events photos:
Photos from 2017 Kickoff to National School Counseling Week Event
Photos from 2016 Kickoff to National School Counseling Week Event
---
This event is totally free for School Counselors. We do ask that each attendee bring a Handwritten Thank You Card along with a $5 Gift Card inside from a shop of your choice. This will be exchanged with other school counselors on your behalf. So, when it is time to register just hand the card to the person checking you in. Feel free to add your contact information on the card - ideally, we would love for you to connect with one another long after the event is done. Some ideas for gift cards are Starbuck, Amazon, or Dunkin Donuts.
Thank you!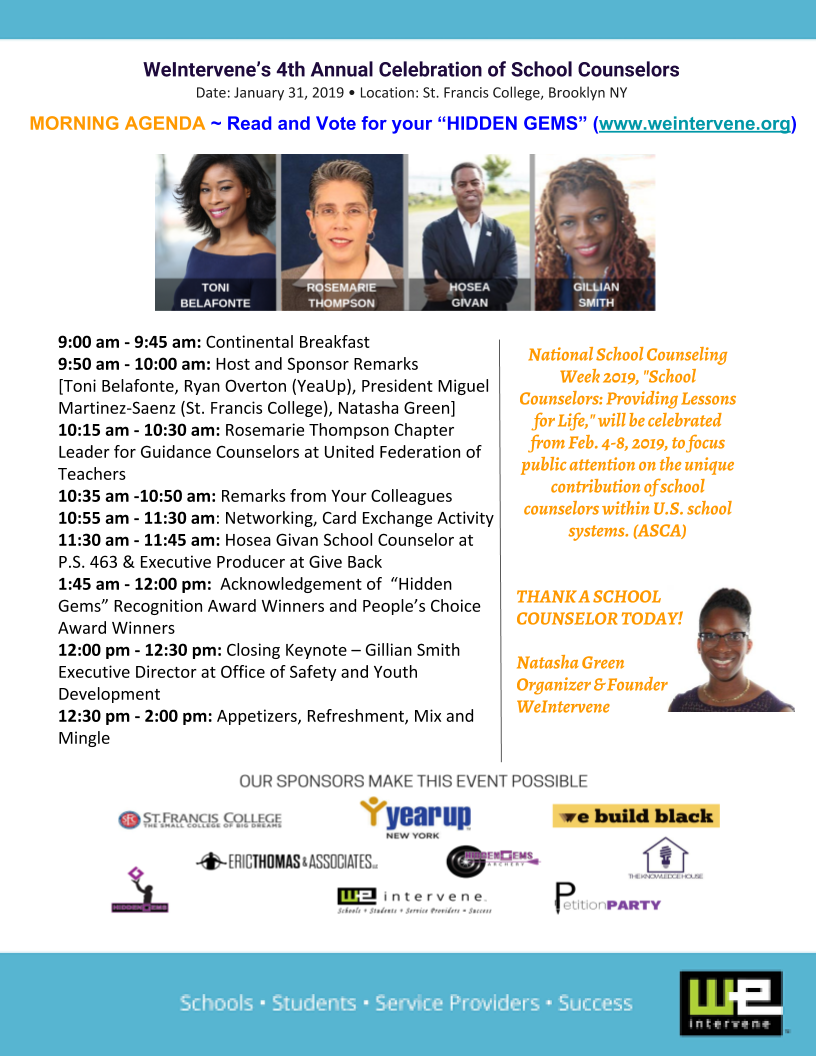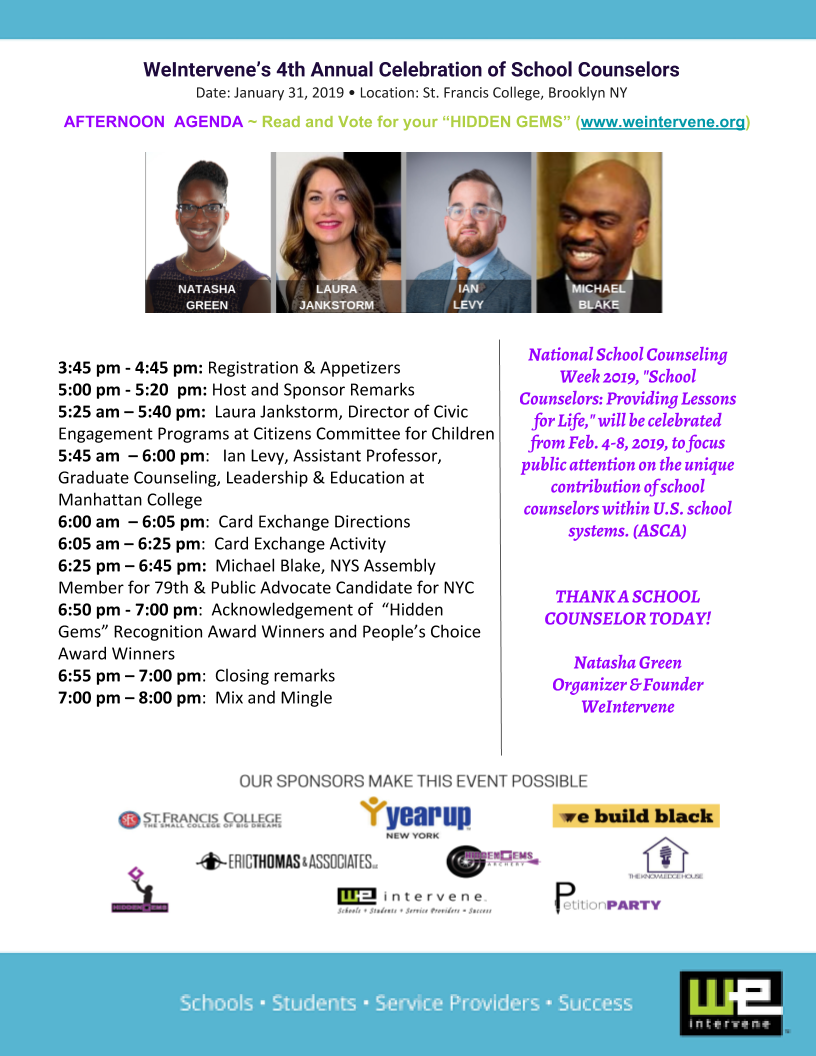 ---
We cannot do this without our Sponsors! We are grateful for their support.
Event Host & Investor Sponsor

For more than 150 years, St. Francis has provided an affordable, quality education to students of all racial, ethnic, and religious backgrounds. 97 percent of SFC students receive some form of financial aid, including federal and state grants, federal loans and newly increased amounts of institutional scholarships, making St. Francis one of the most affordable private colleges in New York City. Merit-based scholarships that cover near-full tuition for graduating high school students with a 1200 on their SAT's are the cornerstone of the College's financial aid program.
The Franciscan Tradition of the College ensures a welcoming environment that supports students and helps develop the whole person. St. Francis College challenges all students to expand their learning experience beyond the classroom and become an integral part of the community. They belong to more than 40 clubs, fraternities, sororities, and honor societies. Social responsibility and mutual respect are among the values that enable St. Francis students to achieve their dreams.
*Also, the founder and owner went to SFC :-) You can find out more information here: https://www.sfc.edu/about/contactsfc
Investor Sponsors
WeIntervene serves as an online Information and Referral Management System, empowering school counselors to find, share, manage and monitor the community resources needed by students and their guardians. The scope of resource provision spans health and wellbeing, counseling, and extra-curricular programs. WeIntervene also organizes workshops, events, and professional development the focuses on community mapping and resource management. (www.weintervene.com)

Please contact Natasha Green for more information: natasha@weintervene.com.
Like their facebook page for more info: https://www.facebook.com/weintervene

Partner Sponsors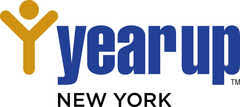 Are your students ready to launch a professional business or technology career?
Year Up is an intensive, one-year program that combines hands-on skill development and internships at some of America's top companies. As students work towards earning college credits and/or an associate's degree, we support them in launching a career. Upon completing the Year Up program, 90 % of alumni are employed and/or attending college full-time within four months of graduation and earn an average annual income of $38,000.
When Does the Program Begin?
New cohorts begin every Fall and Spring. Applications are considered on a rolling basis until the class is filled. We encourage students to apply early as space is limited.
What is the Internship?
All Year Up students who complete the first six months of the program will earn an internship and spend 35 hours/week for 6 months at a corporate internship while earning college credits and/or working on their associate's degree. Year Up internship partners include JPMorgan Chase, Bank of America, American Express, and many more!
Contact: AdmissionsNYC@YearUp.org & phone (646) 341-6800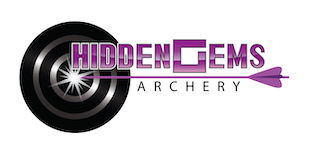 Hidden Gems Archery is a mobile archery unit that brings archery to all the communities of New York City. They set up indoor and outdoor mobile ranges that allow individuals of all ages and sizes to try the sport. They currently have 6 school programs and organize archery events in the Bronx, Brooklyn, & Manhattan. (www.hiddengemsarchery.com)
Please contact Q Pantin for more information: info@hiddengemsarchery.com

Like their facebook page for more info: https://www.facebook.com/hiddengemsarchery



Eric Thomas, Ph.D. is a critically acclaimed author, World-renowned speaker, educator, pastor and audible.com Audie Awards Finalist. ET, as he is better known, has taken the world by storm, with his creative style and high-energy messages. His words continue to impact tens of millions of people in several hundred countries across the planet! Through a significant social media presence and his recent domestic and international tours, "ET, The Hip Hop Preacher" has become a global phenomenon!
WE THANK ERIC, KARL, AND TEAM FOR THEIR GENEROUS DONATIONS OF BOOKS TO THE PEOPLE'S CHOICE AWARD WINNERS!
MORE INFO ABOUT ERIC THOMAS & ASSOCIATES
Supporter Sponsor

We are technologists educating and empowering the Black community to achieve socio-economic change. Our chat group, events, recruiting initiatives, and school STEM programs provide diverse engineers with everything they need. The tech landscape didn't feel right so we're here to change it. Email Devin: devin.jackson@webuildblack.com, to get the program in your school.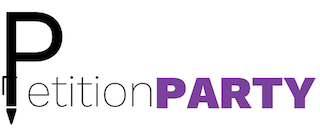 Petition Party is a political initiative that focuses on educating registered voters and anyone with an interest in the electoral process, (i.e. how did that person get on the ballot??!!"), on the importance of politics in their personal and professional lives. We advocate and strongly encourage citizens to be proactive when signing petitions to get a candidate on the ballot. Your signature matters! Your voice matters! email:info@petitionparty.org for next events.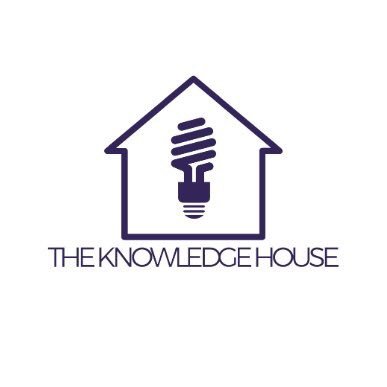 The Knowledge House empowers and sustains a talent pipeline of technologists, entrepreneurs, and digital leaders, who will uplift their communities out of poverty.
https://www.theknowledgehouse.org/about/
Interested in Having Hundreds of School Counselors Smile?
Be a Sponsor!
Your sponsorship allows this event to be free for school counselors, social workers, and other educators. This event will feature guest speakers, networking time, and opportunities for counselors to learn about vendors. We will be coming together to acknowledge and thank school counselors for the tremendous impact they have in helping students achieve school success and plan for a career that impacts and changes students' lives for the better.
See the sponsorship information here.

Date and Time
Location
St. Francis College
180 Remsen Street
Brooklyn, NY 11201