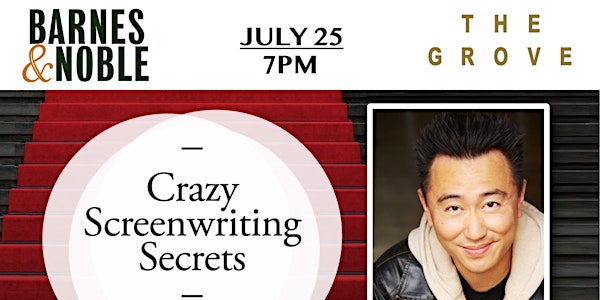 Weiko Lin joins us to celebrate "CRAZY SCREENWRITING SECRETS"
Meet writer and producer Weiko Lin when he joins us to celebrate "Crazy Screenwriting Secrets: How to Capture A Global Audience
When and where
Location
Barnes & Noble 189 The Grove Drive #Suite K 30 Los Angeles, CA 90036
About this event
Barnes & Noble, The Grove: Facebook Event Page
Weiko has written projects for the Mark Gordon Company, Ivanhoe Pictures, Walt Disney Parks and Resorts, Don Mischer Productions, the Unison Company (Taiwan), and Wanda Pictures (China). Fluent in Mandarin, he produced and wrote the original story for the Chinese-language romance film 100 Days
The "crazy" secrets unveil what it takes to launch successful global movies that reflect the modern world. Through a culinary approach, Lin helps readers understand narratives in feature films and tap into their own unique taste buds to create meaningful stories for the screen.
The first half of the book guides the reader in how to create and develop: Story Idea, Characters, One Page Step Outline, and the solid script. In the second half, the book covers professional business side of the ever-changing industry by taking the reader through the work flow of Hollywood and explores how to work creatively with international countries like China in producing movies that resonate with a universal audience.
FINAL DRAFT 11 Software - Will be raffling off a free copy during this event!
*From Barnes&Noble, The Grove:
The discussion is open to everyone. Only wristbanded guest will have access to the signing line and priority seating
A wristband will be issued on a first come, first serve basis to customers who purchase "Crazy Screenwriting Secrets" from Barnes & Noble at The Grove beginning July 25th
• Limit 1 wristband per book
• Check Back for more Details as they Become Available
For more information contact Barnes & Noble at The Grove at (323) 525-0270