Description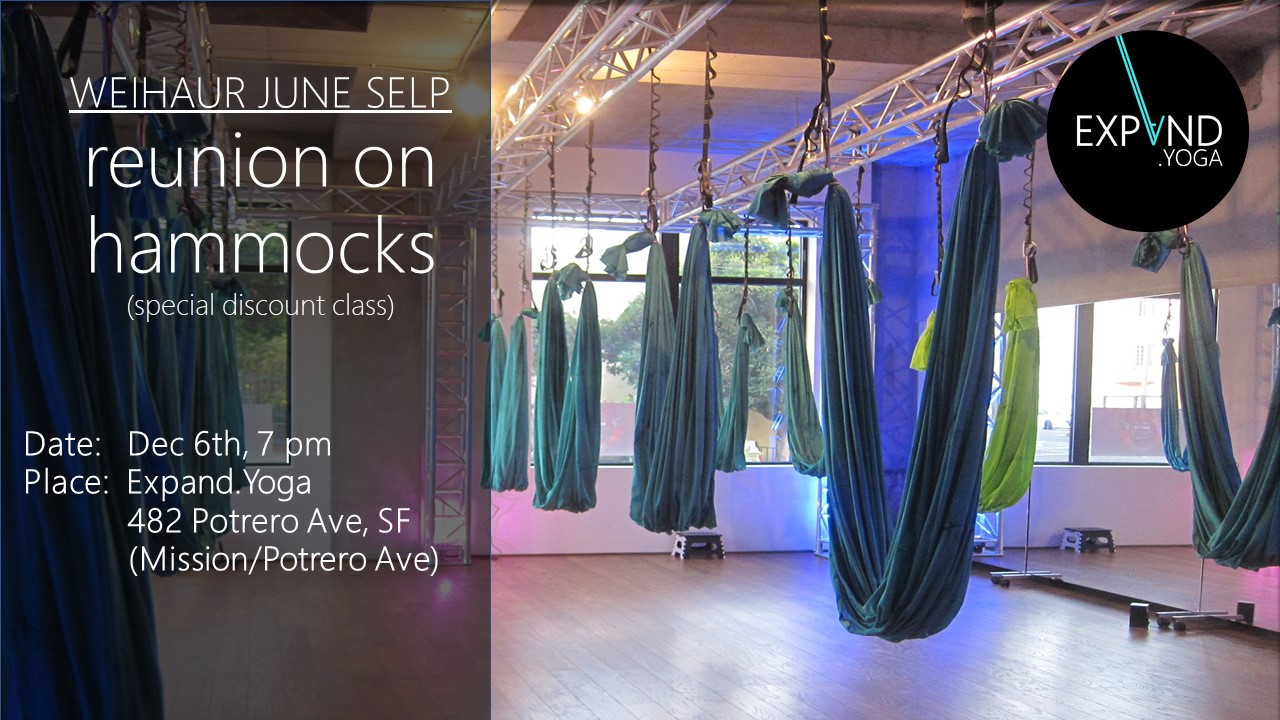 Dear June SELP graduate!
You are cordially invited to class reunion with Weihaur at Expand.Yoga studio opened by the graduate Elena Pimenova.

You are welcome to join for anti-gravity yoga class with our experienced teacher at 7 pm (just $10), or simply drop in at 8 pm for mindgling, treats and wine (entirely free!).
This is an amazing opportunity to catch up with your class mates before the holidays. We just can't wait to see what you've been up to and keep the ball rolling!
Message from Elena:
It was an incredible experience opening this studio and breaking through my psychological blocks as I was going through SELP curriculum with Weihaur. And of course, it wouldn't be possible without support of my class mates: Violet, John, Ralph - you guys were incredible and thanks so much for coming to the studio to support me in this endeavor! It would be my honor to host the reunion at my studio, and I can't wait to introduce more of you to this incredible practice that will leave you rejuvinated and ready to move mountains!
Here's some FAQ portion on AntiGravity yoga
Know Before You Come
Expand.Yoga is a licensed AntiGravity Fitness center, which means we comply with the highest standards of safety, and employ only AG certified instructors that will safely guide you through the process. Your class will be held by Megan Alexander, a current Crunch trainer who has been teaching AG class for 4 years (she is also a 3rd grade teacher!)
Please read the following to ensure a safe, fun and enjoyable experience for you.
The space
Our space is cozy and limits us to a capacity of 13 students per class. Please keep this in mind when reserving a space as we do tend to fill up.
We have 1 bathroom for changing purposes, as well as ample storage space for personal belongings and can fit a couple of bikes if needed. But please keep in mind again that we are small and space is limited.
The benefits
Decompress tight joints
Strengthen your core.
Increase muscular strength & flexibility
Relieve pressure while aligning the vertebrae
Increase kinesthetic awareness & agility.
Fine-tuning balance & increased proprioception
Low impact cardio-vascular conditioning
Perform advanced yoga & postural inversions without neck or back compression
Hold challenging yoga postures longer and in correct alignment
Stretch further with less strain
Muscular tension release through self-massage techniques
Self-esteem enhancement through conquering fears
Refreshes the lymphatic, digestive, & circulatory systems
Releases "happy hormones" i.e. serotonin, endorphins, oxytocin, dopamine
Increases the neuroplasticity of the brain (one's ability to learn)
Q: Can anyone do Aerial Yoga and Suspension Fitness?
A: Provided one does not have any of the contraindications listed herein and barring any physical abnormalities, anyone who can do at least 3 consecutive sit ups can do AntiGravity Aerial Yoga and Suspension Fitness. To do all of the exercises in AG® Fitness, it is easiest for someone who maintains a consistent fitness regimen and has a strong core.
Q: How hard is it?
A: First of all it depends on which AG® Fitness class you take and which instructor you have. No matter what, YOU monitor your own resistance, so each class is as hard as or as easy as you choose to work. If you can do 3 consecutive sit ups, you can do AG® Aerial Yoga or Suspension Fitness.
Q: What are the precautions for AG Fitness techniques?
A: Pregnancy, glaucoma, recent surgery (esp. shoulder, eyes, back, hips, hands or wrist), heart disease, very high or low blood pressure, easy onset vertigo, osteoporosis / bone weakness, recent head injury, cerebral sclerosis, propensity for fainting, carpal tunnel syndrome, severe arthritis, sinusitis or head cold, hiatal hernia, disc herniation or acute discogenic disease, recent stroke, artificial hips, radiculitis (inflammation of nerve root in spine), severe muscle spasms, botox injections (within 6 hours)
Q: Will I be successful in my first class?
A: Yes! Everyone leaves the class a success! Since this is a suspension class with deep philosophy, there is no competition nor ego encouraged. Everyone works at their own pace
Q: What should I wear?
A: Wear workout clothes that cover the shoulders (sleeve) and legs. Cotton or cotton blend fabric is best (non-slippery). Tops: sports bra for females. Not too loose for guys. Remember, you will be upside down. Bottoms: If wearing tights make certain they are opaqe (non-see through). If wearing sweats, tight around cuff of legs is best. No socks (unless they are sticky). You may need sticky gloves if you have weak grip. PLEASE NO JEWELRY.
Q: Do I need to be a yoga practitioner?
A: No, but you will need an open mind.
Q: Do I need to be physically fit?
A: Not necessarily. AG Fitness is easier than regular yoga because the AntiGravity Hammock supports you in your poses. However, AG Fitness is easiest for someone who maintains a consistent fitness regimen and has a strong core.
Q: Should I come on an empty stomach?
A: We recommend having something in the stomach to stave off dizziness. However, we do not recommend a big meal.
Q: Will I get dizzy?
A: This could be a challenge if one has a strong propensity for dizziness or a "hips over head" spatial awareness style dyslexia. Ginger candy before class can help.
Q: How will I feel after?
A: You will feel taller and lighter. Your muscles will have a pump and you will be refreshed!
Q: Are you sure the Harrison AG® Hammock will hold me?
A: Every portion of the Harrison AntiGravity® Hammock is rated for well over 2000 lbs. (9 Kn)(908kgs). The points in the ceiling in an AG Fitness approved center have been placed by a professional contractor and certified by an engineer and are rated to hold at least 1000 lbs (4.5kn)(454kgs) per set up.
Q: What if I am afraid of heights?
A: During an inversion you are only 3 inches off the ground. During 75% of the moves you are distributing your weight between the hammock and the floor.
Q: Can AntiGravity® Fitness make me taller?
A: Yes! Our promise to you is that after class you will be stretched to your maximum height, varying between ¼" to 1 ½" taller. Unfortunately, the effects are not cumulative.
Q: Can AntiGravity® Fitness techniques heal my back pain?
A: Our licensed centers, instructors and practitioners around the globe all have amazing testimonials of healing through our zero-compression inversions. We are currently having studies commissioned in order to gather concrete evidence. Until then, you will only know by coming to class.
Q: Is this the same apparatus that Pink flew on in the Grammy Awards?
A: Yes. The Harrison AntiGravity® Hammock (invented by Christopher Harrison) is often used in performance as well as fitness. In performance we often use it off of one point rather than two. Original Founding Member and AG® Associate Choreographer Dreya Weber created the set for Pink on the apparatus and combined it with the AntiGravity® Carousel originally used for AntiGravity's performance at the 2009 Presidential Inauguration.
Save