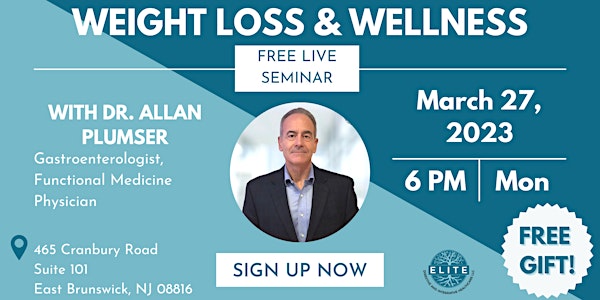 Weight Loss and Wellness
Learn to be "Vital, not Vulnerable", and finally get healthy for life.
By Elite Digestive and Integrative Healthcare
Date and time
Monday, March 27 · 6 - 7pm EDT
Location
465 Cranbury Rd 465 Cranbury Road Suite 101 East Brunswick, NJ 08816
About this event
Maintaining a healthy weight is essential to health, well- being, and a long, vital life.
Why do I have this problem?
How can I restore function?
Why can't I lose weight?
How can I slow down or prevent diseases as I get older?
After attending this free, live seminar with Dr. Plumser you can expect to have a better understanding of each of these questions.
Dr. Plumser's approach to weight loss:
Most people who want to lose weight properly, require a comprehensive medical weight loss program. Our programs include nutritional evaluations, genetic testing, exercise, and lifestyle changes.
We do not place our patients on a diet, rather we focus on guiding them through lifelong and permanent changes through our curriculum, which focuses on reducing body fat and increasing muscle.
Nutritional supplements are utilized in order to safely boost metabolism and encourage proper digestion.
If you are looking for a unique, effective approach to weight loss and wellness, this is it!
Sign up today to join us for Dr. Plumser's live seminar!
Event Details:
Free Gift: FREE 15 minute phone consult with Dr. Plumser to discuss health concerns and health goals!
Date: Monday March 27, 2023 @ 6PM
Location: 465 Cranbury Road Suite 101 East Brunswick, NJ 08816
Contact: Email: info@eliteintegrativehealthcare.com
Tel: 732-254-1003
Hosted by: Elite Digestive and Integrative Healthcare
Dr. Allan Plumser (MD, Gastroenterologist, Functional Medicine Physician, Medical Director)