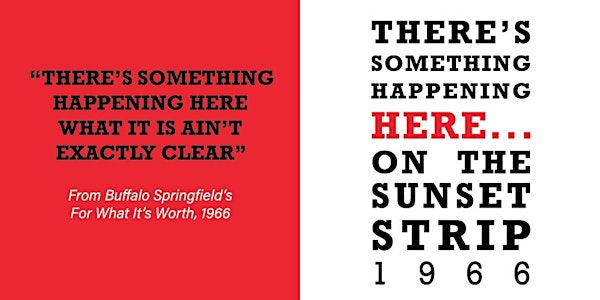 WeHo Arts: As Far As The Eye Can See-Sunset Strip Through the Eyes of Poets
When and where
Location
West Hollywood Library 625 North San Vicente Boulevard West Hollywood, CA 90069
Description
Join us for a reading of both original work and work by poets who captured a time we hold dear. Celebrate National Poetry Month and experience a rainbow of colors, emotions, and memories, through words that are certain to evoke your own electric visions! Organized by Kim Dower, West Hollywood City Poet Laureate as part of National Poetry Month and the City of West Hollywood's celebration of the 50th anniversary of the counterculture era 'There's Something Happening Here...' More info at: www.bit.ly/SunsetStrip66 and http://weho.org/residents/poetry-month
This reading features poets:Laurel Ann Bogen, Elena Karina Byrne, Brendan Constantine, Kim Dower, Yvonne Estrada, Bill Mohr, and Lynne Thompson and their bios can be found here:
Laurel Ann Bogen is a poet, teacher and performance artist who embodies the concept of a 30-year overnight sensation. The author of 11 books including Psychosis in the Produce Department, Washing a Language and The Last Girl in the Land of the Butterflies, Bogen has taught in the UCLA Writer's Extension Program since 1990 and is also a founding member of the celebrated poetry performance ensemble, Nearly Fatal Women. She lives in Los Angeles.
Best American Poetry recipient and Pushcart Prize Winner Elena Karina Byrne is a freelance teacher, editor, Consultant & Moderator for The Los Angeles Times Festival of Books, Literary Programs Director for the Ruskin Art Club and one of the final judges for the Kate & Kingsley Tufts Prizes in Poetry. Her most recent book Squander was released with Omnidawn in 2016. Her work has appeared in the American Poetry Review, The Paris Review, The Kenyon Review, Yale Review, Poetry, and the Anthology of Magazine Verse & Yearbook of American Poetry, among many others. She has just completed a collection of essays entitled Voyeur Hour: Meditations on Poetry Art & Desire.
Brendan Constantine's work has appeared in Prairie Schooner, FIELD, Ploughshares, Virginia Quarterly, and Ninth Letter, among other journals. His most recent collection is 'Dementia, My Darling (2016 Red Hen Press). He has received grants and commissions from the Getty Museum, James Irvine Foundation, and the National Endowment for the Arts. He currently teaches poetry at the Windward School and regularly offers classes to hospitals, foster homes, veterans, and the elderly.
Kim Dower is the City Poet Laureate of West Hollywood. She has published three collections of poetry with Red Hen Press, and her poems appear in several anthologies including Wide Awake: Poets of Los Angeles and Beyond, Beyond Baroque Books, as well as journals including Rattle, Barrow Street, Ploughshares, Garrison Keillor's, The Writer's Almanac, and Poem-A-Day. She teaches workshops Poetry and Dreaming and Poetry and Memory at Antioch University. Photo credit Elizabeth Lippman.
Yvonne M. Estrada is the author of the chapbook, My Name on Top of Yours, a crown of sonnets accompanied by original photographs. Her poems have recently appeared in Talking Writing, Lit For Life, Fourth & Main and in the anthologies, The Coiled Serpent: Poets Arising from the Cultural Quakes and Shifts of Los Angeles and Wide Awake: Poets of Los Angeles and Beyond.
Bill Mohr's books of poetry include a bilingual selection of poems, Pruebas Ocultas (Bonobos Editores, Mexico, 2015). His account of West Coast poetry, Holdouts: The Los Angeles Poetry Renaissance 1948-1992, was published in 2011 by the University of Iowa Press. He has edited or co-edited three anthologies of Los Angeles or West Coast poets. He has a Ph.D. in Literature, and is a professor in the Department of English at CSU Long Beach. Photo: (c) Alexis Fancher.
Winner of 2017 Tucson Festival of Books Literary Prize (Poetry), the Stephen Dunn Poetry Prize in 2016, and a Master Artist Fellowship from the City of Los Angeles for 2015-16, poet Lynne Thompson is the author of Start With a Small Guitar and Beg No Pardon, winner of the Perugia Book Award and the Great Lakes Colleges New Writers Award. Recent work appears or is forthcoming in Ecotone, Prairie Schooner, African American Review, Crab Creek Review, and, Poetry, among others. Thompson is the Chair-Elect to the Board of Trustees for Scripps College.