Description
#wehiketoheal is a month-long empowerment and wellness experience that culminates with group hikes all over the world on March 25, 2017.
If you are interested in signing up for the entire month, you can do so for FREE
HERE.
By signing up you will receive automatic and FREE access to countless wellness tools like webinars, journaling prompts, and self-care resources.
#wehiketoheal stands for Women Everywhere Hike(ing) to Heal – but it is also a play on words – "WE" also stands for we, as in humankind everywhere. Many people hike to heal anxiety, depression, stress, grief, sadness, disease, confusion, obesity, or perhaps for more connectedness, for fitness, or to feel alive. Healing doesn't imply that we are broken; it implies that there are many different streams to our wholeness.
The Hike
Stone Mountain Park is most well known for its's breath taking views. While on top, 1,686 feet above sea level, enjoy amazing views of downtown Atlanta, the North Georgia mountains and the surrounding area. On a haze-free day, you can see 60 miles from the mountain.
The hike itself is roughly a mile and is of easy to moderate difficulty.
+++GREAT NEWS! Our latest sponsor, The Healer's Collective will be on site and offering a mini yoga flow, Sun Salutation experience to all participants. This particular flow is proven to open up muscles and get blood flowing before

exercising

+++
The Wish Her Well Project
In honor of Women's Wellness Month, all hike participants will be provided with commemorative post cards that can be used to send notes of love support and encouragement to deserving friends and family. Join us in spreading wellness all across the globe!
The Fresh Pressed Juice Jam
Thanks to our sponsors at Kind and REI, there will be a small juice reception following the hike. We encourage all hike participants to join us in celebration and sisterhood. Cold pressed juice and smoothies have long been hailed for their restorative health benefits. So what better way to relax and recharge than with a refreshing liquid treat?
---
Support Women's Wellness with the Signature #wehiketoheal tee. A portion of proceeds to proceeds to benefit CARE, and the "Walk in Her Shoes" Program. Shirts can be picked up at 9:30AM at Stone Mountain Park preceeding the hike. VISIT WWW.WEHIKETOHEAL.COM to snag a shirt!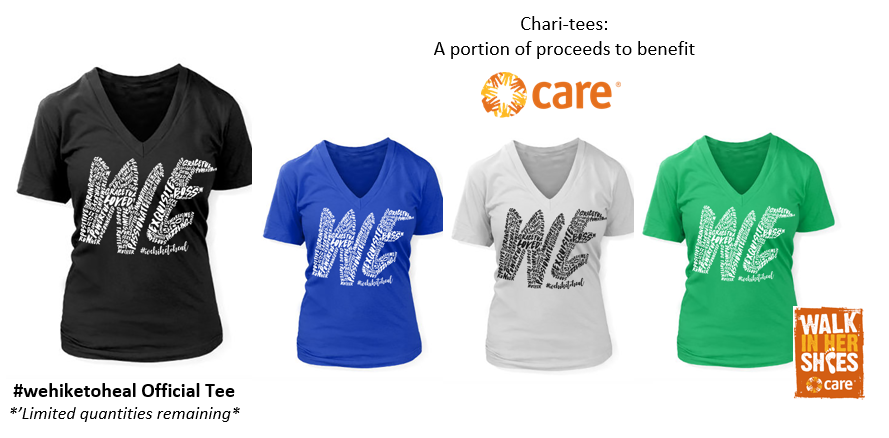 ---

---
Sponsored By: