Description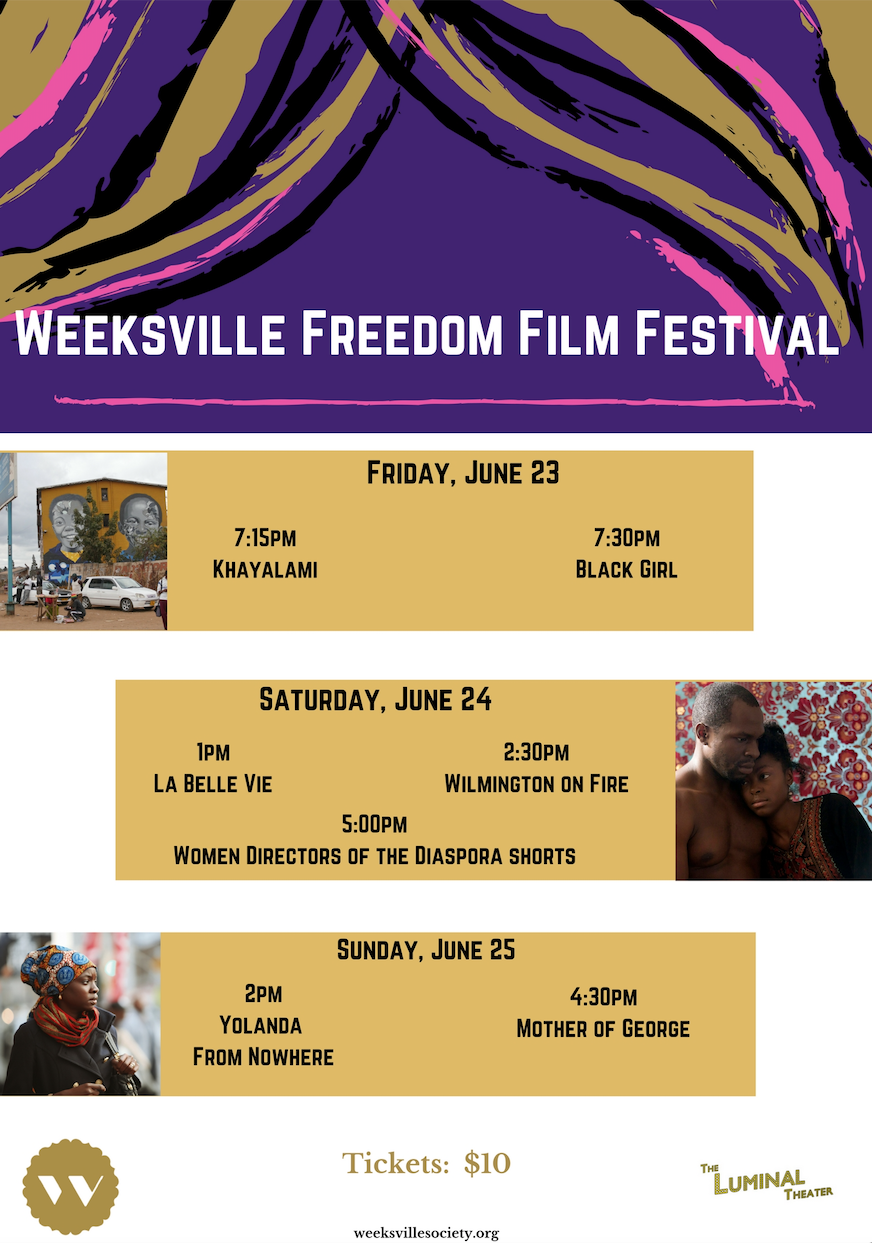 The Weeksville Freedom Film Festival is a cinematic expression of the history and ideals of Weeksville Heritage Center (WHC), Brooklyn's largest African-American cultural institution and one of America's first free Black communities. WHC is committed to providing a platform to voices that fight to preserve history through freedom-driven works.
Imbuing Weeksville's themes of sanctuary, self-determination, and activism, this Festival will present a multi-genre celebration of quality independent films, dialogues, and reflections of international immigrant culture. With works that inspire, inhabit, and activate the challenges of African diaspora societies, the Weeksville Freedom Film Fest jointly inhabits direct immigrant themes of freedom, displacement, abandonment, and human rights violations.
Among the films to be shown are Ousmane Sembene's classic film "Black Girl" (Senegal/France), Brooklyn-based filmmaker Nikyatu Jusu's "African Booty Scratcher" (USA/Sierra-Leone), Andrew Dosunmu's "Mother of George" and Martine Jean's border survival tale "Purgatorio" (Haiti/US).
Special thanks to our partner, The Luminal Theater!
FULL LINEUP:
BLACK GIRL, Senegal/France
Narrative Feature | 1966 – TRT: 59 min.
A young Senegalese woman who moves to France to work for a wealthy white family and finds that life in their small apartment becomes a prison, both figuratively and literally—into a complexly layered critique of the lingering colonialist mind-set of a supposedly postcolonial world. Featuring a moving central performance by M'Bissine Thérèse Diop, Black Girl is a harrowing human drama as well as a radical political statement—and one of the essential films of the 1960s.
*Special introduction by Boukary Sawadogo, Ph.D., Asst. Professor of Cinema Studies, Department of Media and Communication Arts, City College - City University of NY
FROM NOWHERE
Directed by Matthew Newton
With J. Mallory McCree, Octavia Chavez-Richmond and Raquel Castro, Julianne Nicholson, and Denis O'Hare
Narrative Feature | 2017 – TRT: 89 min.
Three undocumented teenagers — a Dominican girl, an African boy and a Peruvian girl — are just about to graduate high school in the Bronx. Like most teenagers, all they want to do is hang with their friends, fall in love, and figure out where to go to college; but unlike their American classmates, these three live with the threat of being discovered by the authorities and deported. When one of their teachers connects them with a lawyer to help them get their papers, the teens start to dig into their family histories to assist their immigration cases. As they continue to deal with the everyday problems of adolescence, the teenagers are forced to confront their past and, at the same time, fight for their future.
Winner of the SXSW 2017 Narrative Spotlight Audience Award.
LA BELLE VIE: THE GOOD LIFE
Directed by Rachelle Salnave
Documentary Feature | 2015 - TRT: 62 min.
La Belle Vie: The Good Life takes a personal look into Haitian-American filmmaker Rachelle Salnave's journey to discover her Haitian roots by examining the complexities of the Haitian society, chronicling her voyage to find hope in this nation on the brink of a new Haiti.
MOTHER OF GEORGE
Directed by Andrew Dosunmu
Narrative Feature | 2013 - TRT: 106 min.
with Danai Gurira, Isaach De Bankolé, Yaya Alafia, and Angelique Kidjo
Ayodele (Isaach De Bankolé) and Adenike (Danai Gurira) marry and start a new life. As months pass without a pregnancy, Adenike feels torn between her Yoruba culture and her new life in America, struggling to save her marriage.
WILMINGTON ON FIRE
Directed by Christopher Everett
Documentary Feature | 2015 - TRT: 89 min.
An in-depth chronicle of the Wilmington Massacre of 1898, a bloody attack on the African-American community by a heavily armed white mob with the support of the North Carolina Democratic Party on November 10, 1898 in the port city of Wilmington, NC. It is considered one of the very few examples of a violent overthrow of an existing government and left countless numbers of African-Americans dead and exiled from the city. This event was the springboard for the White Supremacy movement and Jim Crow segregation throughout the state of North Carolina and the American South. The film features Dr. Umar Johnson, Larry Reni Thomas, Dr. Lewin Manly, Faye Chaplin, Inez Eason, William Darity Jr., LeRae Umfleet, Kent Chatfield, Queen Quet, Sonya Patrick, and Daawud Muhammad.
SHORTS
*Q&A hosted by Melissa Lyde, founder of Alfreda's Cinema film series
AFRICAN BOOTY SCRATCHER
Directed by Nikyatu Jusu
with DeWanda Wise, Ebbe Bassey, Stephen Hill, Sofia Rodriguez
Narrative Short | 2007 - TRT: 14 min
Prom nears and things seem to be spiraling out of control for the typically composed Isatu. In this coming of age story, West African tradition conflicts with American idealism and Isatu is forced to reassess her alliances.
FAREWELL MEU AMOR
Directed by Ekwa Msangi
with Sahr Ngaujah and Nana Mensah
Narrative Short | 2016 - TRT: 10 min
The morning of the long-awaited reunion with his exiled family, a man ("Fela" stage play star Sahr Ngaujah) is faced with the heartbreak of a different type of parting - from his lover.
KHAYALAMI (My Home)
Directed by Denise Khumalo
USA/Zimbabwe
Documentary Short | 2015 - - TRT: 15 min
A story about an African woman's struggle to keep her traditions and customs alive while living in an increasingly Western world.
ORI INU: IN SEARCH OF SELF
Directed by Chelsea Odufu & Emann Odufu
With Helene Beyene, Trae Harris, Les Nubians, and Tonya Pinkins
USA (Guyanese Heritage)
Narrative Short | 2016 – TRT: 29 min.
A coming of age story about a young immigrant woman who must choose between conforming her identity and spirituality to the cultural norms of America or revisiting her roots in the Afro-Brazilian religion called Candomble.
PURGATORIO
Directed by Martine Jean
with Krystel Roche
Narrative Short | 2016 - TRT: 12 min
At the border between Haiti and the Dominican Republic, Rosa Jean-Louis fights for her life and the survival of her child. This film is a depiction of the impact of the DR Constitutional Tribunal's decision of September 2013 on Dominicans of Haitian descent. The ruling rendered thousands stateless.
SWEET, SWEET COUNTRY
Written & Directed by Dehanza Rogers
with Danielle Deadwyler + Gbenga Akinnagbe
Narrative Short | 2015 - TRT: 18 min
Sweet, Sweet Country is a short film written and directed by Dehanza Rogers. It's a refugee's tale set in the South, an exploration of the America Dream. This is an old tale, inspired by Southern landscape, family history and the ever changing definition of what it means to be American. Story: With her parents and younger siblings living in a refugee camp in Kenya, 20 year-old Ndizeye struggles to support not only herself, but provide for a family she's not seen in five years. Living in a small southern town, her struggle becomes so much more when her family literally shows up at her doorstep.
YOLANDA
by Cristian Carretero
Narrative Short | 2013 - TRT: 14 min
A single mother struggles to raise her children in the poverty stricken outskirts of Santo Domingo. She soon decides to risk it all and illegally immigrate in the search of a better life.
THE YOUTH
Written & Directed by Dehanza Rogers
with Feikamoh Massaquoi, Ntare Guma Mbaho Mwine, and Yolonda Ross
Narrative Short | 2013 - TRT: 16 min
A recent college graduate is frustrated that his life is going nowhere until an old friend offers him the opportunity to make a difference.
The Weeksville Freedom Film Festival is made possible by the New York City Council.