WEEKNIGHTS AT THE WAGNER: Sustainable Environmental Adaptation of the Maya
Explore how ancient Maya transformed their environments in innovative ways in this FREE online lecture with Dr. Stanley Walling.
About this event
WEEKNIGHTS AT THE WAGNER: Sustainable Environmental Adaptation among the Ancient Maya of Central America an online lecture with Stanley Walling, Ph.D.
Maya Archaeologist Stanley Walling recounts his voyage of discovery regarding the complexity of everyday life among the ancient Maya of Central America and the sustainable ways farmers and other "commoners" transformed their tropical forest environment. Until relatively recently, Maya archaeology focused its research efforts largely on the soaring ancient pyramid-temples and elaborate palaces of Maya nobility found in city centers in what is now the forests of Guatemala, Belize, El Salvador, Mexico, and Honduras. These areas supported perhaps tens of millions of Maya during that culture's Classic period from 150-900 CE. The unanswered question in Maya research for many decades was: how did this large population survive in a seasonally variable and otherwise challenging environment?
Dr. Walling and other Maya archaeologists have begun to research this question by turning their attention to deciphering the lives of the everyday Maya who constituted 95% or more of this ancient civilization - and particularly how they integrated their lives with natural rhythms of their environment. Dr. Walling's recent research on archeological sites in the unexplored forests of northern Belize has helped reveal the complex ways in which the ancient Maya transformed their forest environment. In particular, he has focused on explaining how the humblest among them, primarily farmers, modified landscape and ancient natural water systems with previously unappreciated levels of sophistication that permitted this civilization to thrive for centuries
About the Speaker: Stanley Walling is an Associate Professor of Anthropology at the Community College of Philadelphia and a Research Fellow at the University of Texas at Austin. He is the Associate Director of the Programme for Belize Archaeology Project, a regional research project in northwestern Belize, and the Director of the Rio Bravo Archeological Survey. As Director of the Rio Bravo Survey, he is investigating a 10-mile by 2-mile tract of unexplored forest in Belize near the Guatemalan border that contains ancient sites ranging in size from cities to farming hamlets. He has focused much of his research on the lives of Maya commoners, including their environmental adaptations, agriculture, sociopolitical structure, economic organization, ritual, and mythology. His work has contributed to the growing understanding that what were previously thought to be "simple farmers" in Maya culture were, in fact, active participants in Prehispanic Maya civilization with their own set of priorities and distinctive lifeway.
Image: Courtesy of Stanley Walling.
Organizer of WEEKNIGHTS AT THE WAGNER: Sustainable Environmental Adaptation of the Maya
Founded in 1855 in Philadelphia, the Wagner Free Institute of Science is dedicated to providing free public education in science. Its programs include free courses and lectures, field trips and lessons for children and museum tours for all ages.The evening science courses are the oldest program devoted to free adult education in the United States.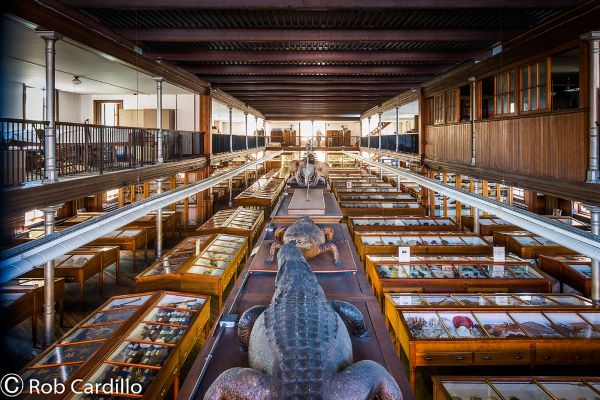 The Institute's Museum houses more than 100,000 natural history specimens, a collection begun by founder William Wagner in the early 19th century and expanded by the renowned scientist Jo
seph Leidy in the 1880s.Completed in 1865, the Wagner's National Historic Landmark building is essentially unchanged since the late 19th century and includes a Victorian exhibition hall filled with fossils, shells, minerals and mounted animal skeletons and skins displayed in original wood and glass cabinets. The Museum is typically open to visitors Tuesdays - Fridays, 9 AM to 4 PM but is currently closed because of COVID-19. In the meantime, we hope you'll join us online!