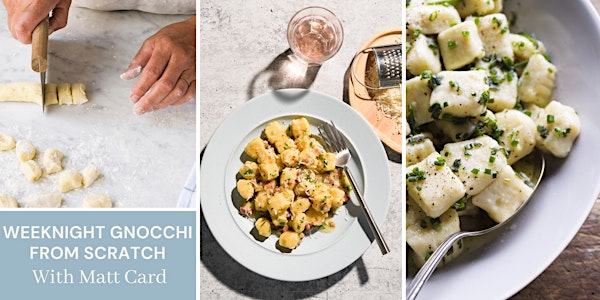 Weeknight Gnocchi from Scratch with Matt Card
Join Milk Street's Matt Card to whip up some weeknight gnocchi two ways!
Refund Policy
Contact the organizer to request a refund.
About this event
NOTE: iphone and ipad users, CLICK HERE to register for class.
What's on the menu:
Gnocchi de Farina
Gnocchi in an Instant
Browned Butter Sauce with Herbs
Gnocchi are one of the most popular quick pastas. And for good reason: you don't need specialty equipment or a lot of time, and there are seemingly endless variations: potato, pumpkin, spinach—the list goes on and on. Unfortunately, many gnocchi end up as leaden blobs not worth even the minimal effort. In this 75-minute livestream class, we'll show you how as we make two kinds of gnocchi — potato and wheat — that always turn out light as air, bouncy in the best way, and delicious. First, we'll show you how to make Gnocchi di Farina. Made from just wheat and water and incredibly delicious, these plump dumplings are cucina povera at its best: everyday, humble ingredients transformed into sensational meals. Next, we'll make a new gnocchi that uses a secret ingredient sure to make purists cringe: instant potato flakes. Perhaps not traditional anywhere, the consistent flakes are the only surefire way to make the softest, most pillowy dumplings every time you want homemade pasta. Once we have our both of gorgeous dumplings ready to eat, we'll show you how to make a simple browned butter and herb sauce. We love the deceptive simplicity of this luxurious sauce, but pesto and tomato sauces are equally good, if you want to have some on hand. After class you'll agree that homemade weeknight pasta is not only possible, it's easy.
Want to give this class as a gift? You can purchase gift cards here.
Bonus: All attendees of this class will receive a one-time 15% off coupon to the Milk Street Store after class.
This event has limited spots, and you must register in advance via Eventbrite. One sign-up covers one device. Closed Captioning is available for this event.
Immediately after registering, you will get a confirmation email that contains the Zoom meeting log-in information. One week prior to class (or within 48 hours of registering, if you sign up less than a week in advance), you will receive an email with the ingredients, equipment and prep you'll need to cook along with us, if you choose.
After class, you will receive a recording of the event, as well as a folder of recipes and resources that we discuss during the event. Class recordings are available to all registered attendees for two weeks following each event.
Payments for Milk Street live stream classes are non-refundable. If you find yourself unable to attend, you may transfer the ticket to someone else, but we are unable to refund fees and all payments are final. Classes are subject to cancellation at any time. In the case of cancellation by the event organizer, all paid tickets will be fully refunded.
Proceeds from live stream cooking classes support Milk Street's non-profit work with The Big Sisters Association of Great Boston, The Boys & Girls Club of Dorchester, and other partners.
If you have any questions about this class, please don't hesitate to get in touch via cookingschool@177milkstreet.com.