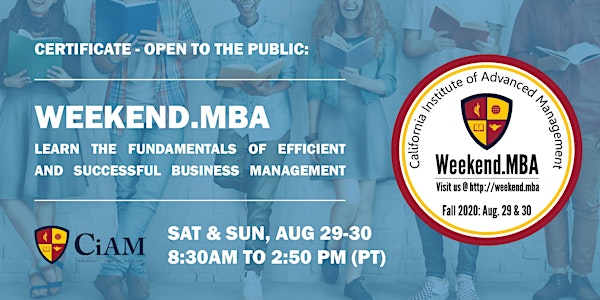 Weekend.MBA - Fall 2020
Be Prepared To Learn The Basic Disciplines Of Managing A Successful Business: A CiAM 9-course, 2-day, Non-for-Credit Certificate Program
About this event
On the weekend of Aug 29 & 30, the California Institute of Advanced Management (CiAM) is presenting the inaugural Weekend.MBA for Fall 2020; our 9-course, 2-day, non-for-credit certificate program. Register to save your spot now and be prepared to learn the basic disciplines of managing a successful business.
Learn the fundamental elements of efficient and successful business management
100% Online - Learn from the Comfort and Security of Your Own Home
Taught by Our Esteemed Faculty Experts
DON'T WAIT - Register now for this complimentary, unique learning experience!
Program Agenda - Day 1: Saturday ( 8:30am to 2:50pm)
New Student Orientation
Accounting for Decision Making – Dr. James Dorsett
Ethical Leadership – Dr. Richard Johnson
Management and Organizational Behavior – Dr. Elisa Magill
LUNCH BREAK [12:00-1:00pm]
Marketing Management – Dr. Gregory Zerovnik
Global Business Concepts - Dr. Byron Ramirez
Program Agenda - Day 2: Sunday ( 9:00am to 2:50pm)
Quantitative Analysis For Decision Making - Dr. James Dorsett
Corporate Finance – (TBA)
Operations Management – Dr. Richard Johnson
LUNCH BREAK [12:00-1:00pm]
Strategic Management - Dr. Byron Ramirez
Program Graduation - Certificate Awards Ceremony & Reception