Description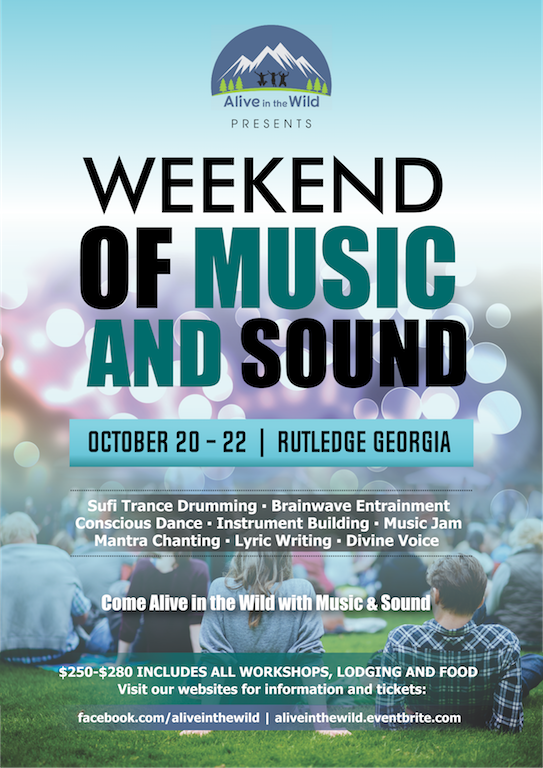 Alive in the Wild presents:
~ Weekend of Music and Sound ~
Uplift your spirit with a weekend of conscious & healing practices in nature. During this retreat you'll disconnect from technology, connect with others like yourself, and tap into the mystical through a variety of workshops and activities themed around music & sound.
Tickets are $250 and include six vegetarian meals and the option to sleep in a dormitory cabin or your own tent.
Between the sessions and the meals, go for a walk in the woods, canoe out on the lake, hang out at our own private (clothing-optional) swimming hole, or enjoy our nightly bonfires.
There is limited to no cell coverage. Also, in order that we may be more present with each other, cell phones must be left in your bed during the day.
Because we are here to heighten our awareness, alcohol consumption is discouraged.
Please plan to be with us for orientation (arrive Friday 4-6p) and closing circle (depart Sunday 2-3p).
Carpool caravans will be leaving from Walmart Supercenter @ 5401 Fairington Rd, Lithonia, GA 30038 on Friday at 4pm and at 5pm. Meet near the Fairington Rd entrance next to the Murphy USA [map link]
Find photos, discussion and more at our Facebook event: https://www.facebook.com/events/193250164542391/
If you have questions please email us at info@aliveinthewild.me.
SCHEDULE
Fri 04:00p-06:00p Arrival and Check-In
Fri 06:00p-07:00p Dinner
Fri 07:00p-08:00p Opening Circle, Orientation, and Introductions led by Moshe & Ellen
Fri 08:00p-10:00p Wild Spirit Conscious Dance, with Logan Ferrelle
Fri 10:00p-11:00p Unwind around the campfire
----
Sat 07:30a-08:30a Breakfast
Sat 09:00a-10:30a Modern Mantra and Yoga of Sound, with Maria Borghoff
Sat 09:00a-10:30a Meditation on Om, with Stacie Burmeister
Sat 10:45a-11:45a Time for a short hike, paddle or swim
Sat 12:00p-01:00p Lunch
Sat 01:30p-03:45p Sufi Trance Drumming, Chanting, Breath Work and Movement, with Danny Stern
Sat 01:30p-03:45p Make Your Own Bullroarer, with William Rodriguez
Sat 04:00p-06:00p Unlocking the Creative Divine through Musical Improvisation, with Flournoy Holmes
Sat 04:00p-06:00p Healing the Past through Lyric Writing, with Ellen Meadows
Sat 06:15p-07:15p Dinner
Sat 07:30p-09:00p Exploring Your Voice and its Connection to the Mystical, with Evan Marie Carr
Sat 07:30p-09:00p Crystal Bowl Brainwave Entrainment, with Aja Smith
Sat 09:00p-11:00p Bonfire with Drumming and music, led by Danny Stern and Flournoy Holmes
----
Sun 07:30a-08:30a Breakfast
Sun 08:45a-11:15a Shinrin-Yoku (Forest Bathing) Walk, with Robin Hancock
Sun 09:00a-11:00a Wild Spirit Conscious Dance, with Logan Ferrelle
Sun 11:00a-12:00p Packing
Sun 12:00p-01:00p Lunch
Sun 01:00p-02:00p Closing Circle
Sun 02:00p-03:00p Departure
WHAT TO BRING
If in cabin: Twin Size Bed Sheets and blanket OR sleeping bag

If tenting: Tent and sleeping setup

Pillow for sleeping

Warm clothes, Jacket (nights could be in the 40s)

Rain Jacket and/or umbrella

Toiletries and bath towel (showers available)

Yoga Mat




Yoga / Mexican Blanket




Comfortable and portable chair and/or cushion




Drums, musical instruments, shakers, etc.




Hammock if desired




Reusable water bottle(s) / bag(s)




2 gal water per person (else drink from the tap)




Towel to use as napkin

Notebook and pen (required for certain activities)




Book or other "unplugged" entertainment if desired




Canoe or kayak for the lake




Flashlight or head lamp, preferably with red light mode




Offline maps (limited/no cell coverage)




Timekeeping device other than your phone (optional)




Desserts and snacks to share
FOOD MENU
Friday dinner: Koshari (

brown rice, gf pasta, lentils, garbanzos, caramelized onions, spicy tomato sauce, house pickles); Molokhia vegan soup.

Saturday breakfast: Oatmeal Bar/Buffet (

oats, fresh and dried fruits, nuts, non-dairy milk, sweeteners)

Saturday lunch: Nicoise Salad (Greens, mushrooms, potatoes, tomato, red onion, green beans, olives, capers, red wine vinaigrette); La Puree (Vegetable Soup)

Saturday Dinner: Thali (Vegetable curry, cumin rice, carrot pudding); Green Pea Soup

Sunday Breakfast: Parfait Bar (yogurt (non-dairy available), fresh and dried fruit, nuts, jams, jellies, preserves

Sunday Lunch: Super Salad (kale, red onion, radish, seeds, avocado, dried berries, chickpeas, tahini vinaigrette), Vegetarian Ukranian Borscht