About this Event
You aren't the only one who has...
- Looked in the mirror and thought, "who is that?! Why do I look so tired, even after a full night of sleep??"
- Been frustrated because the makeup you did (or didn't do) in your 20s-30s doesn't look as good now, and you can't quite figure out how to fix that.
If you're struggling with what makeup products and application techniques to use in a way that feels realistic for your life now that you're over 40, then you need to join us for this unprecedented weekend of beauty!
Follain is partnering with Kristen Arnett, an international celebrity makeup artist, to bring you a weekend of classes designed specifically for women over 40* on how to revamp their makeup habits.
From daytime casual to professional to evening – we've got you!
You'll be treated to personalized, step-by-step guidance on the right products, techniques and colors. You will learn hands-on how to master your makeup in a safe*, intimate, group setting — while using the best natural and non-toxic beauty brands at Follain.
Class 1: Saturday morning
BEAUTY BASICS REFRESH
Now that you're over 40, it's time you learned some new tricks that make your basic makeup routine much easier. This class will show you how to nail a casual, everyday look that appears effortless.
You'll be shown:
- How to use the "Core Four" after 40 (foundation, lips, cheeks, eyes)
- How to combine skincare and makeup that gives you glow and highlights your best features
- Foundation selection: coverage, color and texture tips (so you don't look like you're wearing a mask)
- Contouring dos and don'ts
- How to brighten your under eye area
- Makeup tricks to give you an instant "eye lift" effect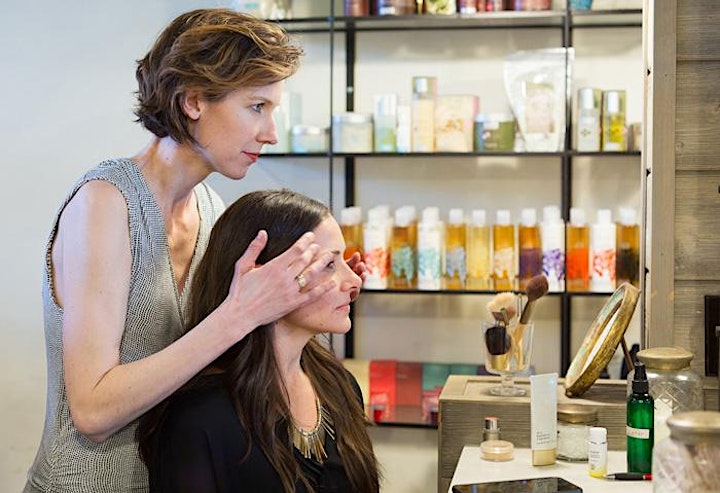 Class 2: Sunday morning
PROFESSIONAL & EVENING MAKEUP MASTERY
Building on the basics, you'll learn how to level-up your makeup for a polished and professional look, appropriate for the workplace in the first half, and for evening in the second half.
In Section 1 "Polished and Professional" you'll learn:
- Color and shade recommendations that keep the focus on you in a positive way
- Recommendations for various settings from conservative to creative
- Lighting compensation tricks
- Tips on helping your makeup last
In Section 2 "Evening and Special Occasion" you'll learn how to add an "extra touch" that evolves your professional or everyday look into a nighttime look that's sophisticated for dinner, date nights and parties.
We'll cover:
- How to add more, without looking scary
- The right balance of sparkle and shine
- Choosing colors that show up, but don't detract from you
- Avoiding the top three mistakes women make attempting a smokey eye after 40
NOTE: While you don't have to take Saturday's class to join this one, you'll get the most out of this more advanced technique class if you already feel comfortable with your makeup basics.
"I left feeling beautiful and much more confident about being able to incorporate a few things into my morning routine to help me feel confident and beautiful every day. I am also so inspired that everything was natural and many products took into account the whole being, spiritual, beauty, and health."
- Jenelle I., an over 40 business owner and mother.
In each of these classes, Kristen will teach you her pro secrets for looking glowing, lifted, alive - not cakey or like you "tried too hard."
This class series is right for you if you're willing to devote more than five minutes for your morning beauty ritual, but aren't looking to spend 30+ minutes in front of the mirror.
Isn't it time to hit the reset button on your same ol' beauty routine?
It's an experience in just one weekend that will serve you for a lifetime.
Sign up early and get your Full Weekend Beauty Pass for the best savings, and extra perks (a savings of over $150)!
The Full Weekend Beauty Pass includes:
1. Saturday's Beauty Basics Refresh Class
2. Sunday's Professional to Evening Class
3. Sunday's Private After Party
At the private after party, Kristen and the Follain staff will provide some sips and treats in an intimate group setting where we'll go even deeper, chatting about all things beauty, and strengthening our connection.
Grab a ticket now, because there are only a few spots for this exclusive weekend of beauty.
You can read more about Kristen HERE
*We welcome all women who wish to participate, including cisgender women, transgender women, and non-binary people.