| | |
| --- | --- |
| Weekend Navigator - April 16, April 23, 2016 | |
Event Details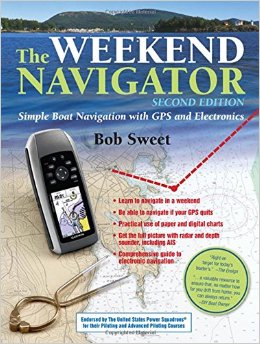 The U.S. Coast Guard Auxiliary's Weekend Navigation Course is a comprehensive course designed for both experienced and novice powerboat and sailboat operators. The course is divided into two major parts designed to educate the boating enthusiast in skills required for a safe voyage on a variety of waters and boating conditions. 
TOPICS INCLUDED IN PART I
What is navigation – Three steps of navigation and piloting without electronics

Fundamental of waypoint navigation – Practice using a sample cruise exercise, GPS, avoiding hazards, and using landmarks

The tools of navigation – Use of nautical charts including scales, chart symbology, ATONs, plotting tools, GPS, compass, and other electronics
TOPICS INCLUDED IN PART II
Planning with GPS and paper charts – Planning and paper charts, chart plotting, and entering waypoints into your GPS *

Planning with digital charts – Using digital charts, cruise planning software, chart planning software, working with digital charts, chart plotters, and Mobile Devices

Planning to avoid danger – Defining the area, marking obstacles, and marking landmarks

Underway with GPS and paper charts – Steps in waypoint navigation, staying on course, navigating a route with GPS, navigating in a region, marking objects, and keeping track

Underway with digital charts – Using a chart plotter underway, Mobile Devices, and the future of onboard computers

Double-checking with instruments – Making quick observations and more accurate bearings

Eye of the mariner – Use of headings, ranges, bearings, collision bearings, and rules of the road

What to do if the GPS quits – Knowing when to stop and regroup, plan before proceeding, and navigating without GPS

Planning as you go with GPS – Finding where you are and how to plot a safe path to a new destination

Tides, winds, and currents – Knowledge of tides and tidal currents, adjusting for tides and tidal currents, and winds, waves, and other unpredictable events

Navigating with radar – Range settings for recreational boaters, the radar display, collision avoidance, and navigating with radar

Using depth in navigation – Using depth sounders versus sonars and fish finders, and navigating with depth sounders

Using the radio in navigation – How to use a radio in an emergency, use of the weather radio, and fixed versus handheld VHF

Using an electronic compass – Types of electronic compasses and using the electronic compass for navigation

Using an autopilot in navigation – How to navigate with an autopilot

Navigating harbors and channels with electronics – Importance of good visibility and operating under limited visibility

Navigating under adverse conditions – Operating under limited visibility and influence of the wind and seas

A last word in avoiding danger – Importance and use of electronic alarms and visual observations

Other instrumentation in navigation – Use of weather instruments

Connecting it all together – Basic electronic interconnection and high speed connection
When & Where

Dixon Ahl Recreation Center
2200 Northeast 38th Street
Lighthouse Point, FL 33064


Organizer
US Coast Guard Auxiliary - Flotilla 07-03-07

The Auxiliary was formed by congressional act in 1939 as the Coast Guard Reserve. 14 U.S.C. 822 It aids the Coast Guard in its non-military, non-law-enforcement tasks, such as search and rescue, aids to navigation maintenance, environmental protection, public boater education, and private and fishing vessel examination.
Teams of Auxiliarists act in these mission areas under Coast Guard orders, and individual Auxiliarists supplement Active Duty and Reserve Coast Guard units. Auxiliarists under orders operate with the authority and under the direction of the United States Coast Guard. We wear Coast Guard uniforms with specific devices indicating that we are members of the auxiliary.
Weekend Navigator - April 16, April 23, 2016