Weekend in the Woods: Writing & Yoga Retreat with Dave Ursillo
When and where
Location
Whispering Pines Conference Center 27 Loutitt Lane West Greenwich, RI 02817
Description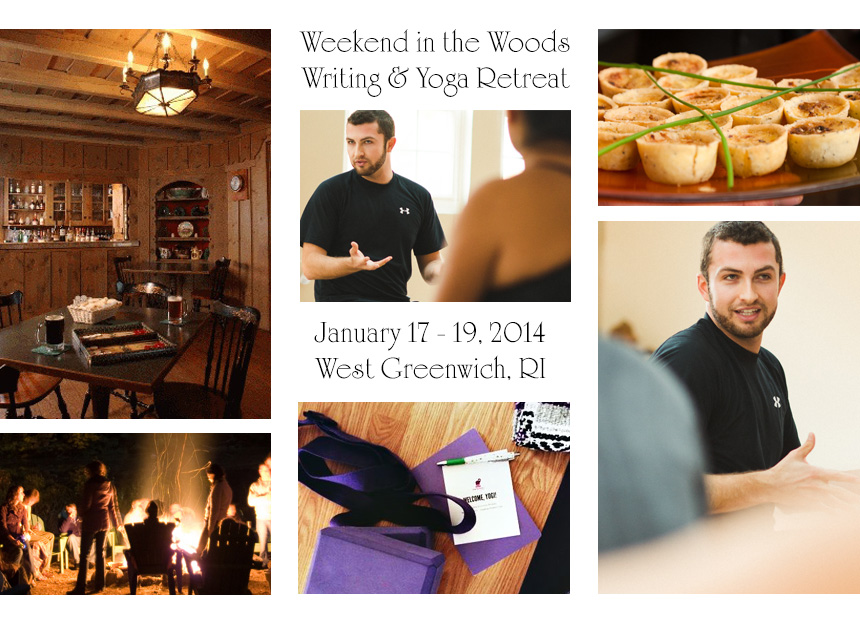 Have You Ever Given Yourself a Weekend
to Get into Your Creative Zone?
Do you even know how to give yourself the proper space (the physical space, the emotional space) to get into your creative zone?
What about dedicating a weekend to cultivating the natural creative energy that *always* resides within you? If you can pause and slow down for just long enough (even one weekend!), you give yourself the divine opportunity to tap into this energetic source. Have you ever tapped into that energy through body movement like yoga? Or self-exploring your goals and dreams through personal writing and journaling?
Imagine spending an entire weekend ebbing and flowing between fireside conversations, deep breaths on the yoga mat and writing powerful prose that pops off the page.
My name is Dave Ursillo, and I created Weekend in the Woods because I believe that you are a natural source of brilliant creative energy who is capable of writing the very story that you wish to live: drawing, sketching, painting the portrait of your life.
No matter who you are or "what you do," you forever hold this unique power: writing your own magnificent tale as you live it.
But it doesn't often feel that way.
As an eight-time published author and creative entrepreneur, I've experienced the many struggles of "being creative" firsthand. For me, "needing" to be creative started in May 2009 when I quit my job and abandoned my career in public service.
When I was 23, I opted for unemployment in a 100-year recession because I believed deep in my heart that I was capable of giving more to the world -- somehow, some way -- right now, today. I refused to wait for permission to help people, to inspire people, and to live the life that I dreamed of living.
But, to achieve those dreams, I was forced to discover some way to become "more creative." To channel imagination and heart. To harness vision and willpower. To become entirely "creative" on my own, somehow.
And now, with nearly five years of experience as a self-employed writer with several books, more than 100 clients to date and thousands of readers, I'm truly pouring everything that I have learned about what it takes to "be creative" into this retreat, Weekend in the Woods.
Before I explain what's happening during this retreat, let me give you an example of where we often go wrong with creativity:
The biggest problem is that we "try" to be creative!
And when we "try" to be creative, we're trying to become something that we're not: we subconsciously slip into a dangerous "lesser than" mentality that is filled with shame, guilt, and fear that we're "not enough." We say that we're not creative enough, not talented enough, not naturally gifted enough.
The solution is to stop trying to be who you're not.
To stop posturing. To stop attempting to become someone different than you.
The solution is to become as unapologetically you as you possibly can be.
Wholly you. Totally you. Fully you.
Creativity flows from this place.
And, when a group of people come together around this dedicated mission to channel their natural creativity amongst one another, magic happens. We open up our hearts and minds in remarkable ways. Suddenly, the "struggle" of our creativity starts to dissipate. Our writing becomes easier -- flowing.
The lives that we live become infused with greater love.
The lives that we live become objects of our giving to the entire world.
That's why I'm inviting you to join us for Weekend in the Woods!