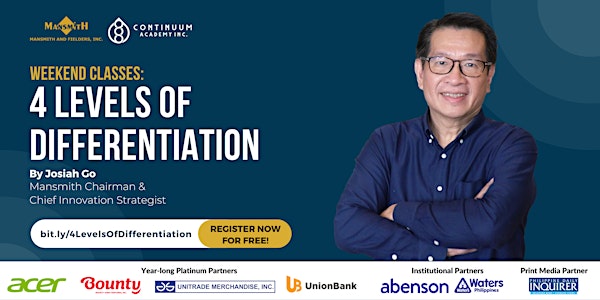 Weekend Classes: 4 Levels of Differentiation
Learn to think strategically by going beyond the marketing mix and market segment from the Marketing Mentor himself, Josiah Go.
About this event
Discover the 4 Levels of Differentiation and get the tools and knowledge you need to think holistically to thrive in a fast-changing environment.
KEY TOPICS:
Differentiation based on Marketing Mix is Inadequate
How to spot more sustainable differentiation
4 levels of differentiation: Where are you now (functional level vs business level differentiation)
The 1.5 hour-video can be accessed for FREE on any one (1) day only from September 30 to October 2, 2022.
Register NOW and secure your slot before you finalize your marketing plan. Get your FREE access here: bit.ly/4LevelsOfDifferentiation
Organized by Continuum Academy, Inc. & Powered by Mansmith & Fielders, Inc.