Weekend Certified Scrum Product Owner (CSPO) workshop - "Build-Play-Learn" Scrum - Toronto, ON

Saturday, July 29, 2017 at 8:30 AM

-

Sunday, July 30, 2017 at 5:30 PM (EDT)
Event Details
***Guaranteed to run, buy with confidence*** 
"Build-Play-Learn" Certified Scrum Product Owner (CSPO) Workshop
You don't just get to learn theory, but you get to apply what you learn by envisioning a product, translating that vision to a product backlog. You practice various Product Owner techniques that can bring alignment between various stakeholders. You also learn and practice techniques for discovering features that users want by applying Innovation Games (R). This novel brain-based active learning approach not only enables you to learn the concepts in a short amount of time but also gives you the opportunity to apply what you when you go back to work.
Scrum is simple but is not easy. So, this workshop is about more than just the basics. Beyond core Scrum practices, participants will learn techniques which will help them be an effective Product Owner. There will also be many opportunities to explore challenges faced by organizations when they embrace Agile processes.

3 Reasons why should you choose Ram's Scrum Seminar
Till date, Ram has participated/observed/co-trained/ with 24 unique CSTs (and has co-trained with many CSTs multiple times). He has also helped others become CSTs.  Ram believes in continuously sharpening his saw so his participants can get the best possible experience
He also has an extensive background in coaching, facilitation and working with leadership teams in helping organizations transition to Scrum. So you get to hear battle stories from which you can learn. (Tip - if you are looking to hone your coaching / facilitation / leadership skills, ask him about the various programs he has attended) 
Based on participant's feedback Ram's net promoter score is more than 98 (and 50 is considered excellent). If you are not satisfied, you get 100% of your money back, no questions asked !!
And best of all, Ram's past CSM participants get to attend a future refresher CSPO course (as an assistant) for free!! Good deal?
What previous participants have said about the workshop
Ram has more than 150+ LinkedIn recommendations for his workshops.  His workshops are highly recommended by his past participants. Here are a few select LinkedIn recommendations, you can see all the recommendations here
"I recently completed CSPO certification with Ram and highly recommend his Agile and Training expertise. His knowledge and experience with Agile is outstanding and supports the class materials very well. His facilitation skills helped make the class a success - the challenge was a broad range of agile skills and experience - yet he listened to all class needs, moderated, and found a way to keep all customers satisfied. I look forward to more Agile interactions with Ram in the future!" - Vito Wasniewski, Technology Program Manager
"I just finished taking the Certified Scrum Master (CSM) course with Ram, and just like when I took the Certified Scrum Product Owner (CSPO) course with Ram, it was excellent. Ram teaches his courses in an interactive, engaging way, using the fundamentals of scrum to structure the course. It is a great way to remember the concepts of the framework" - Zach Ludwig, Sr. Product Owner- Risk at  Intelex Technologies Inc.
"It was my pleasure attending 2 days in-class CSPO course with Ram in Toronto, found him great mentor & coach. He holds strong knowledge on Agile disciplines and has passion to build people & sharing his life experiences with team.
He impressed me with:
- Collaborative approach, sharing ideas, discussing questions on table
- Well organized booklet, training materials
- Providing forum of discussion, resolving practical world problems

He would be revolutionary leader for any organization he works. Thanks Ram for all great mentor-ship, please keep in touch." - Adnan Badar, Sr. Project Manager/Consultant at Citi
"I attended a CSPO training from Ram and he was a great coach. His teaching and methods were very engaging, filled with case studies and interactive group activities that offered much more than just learning Scrum theory off a book or website. I definitely recommend his course to anyone who wants to be more effective at their jobs in a product management environment." - Yiwen Sim, Product Manager at Self Care Catalysts
"Ram possesses an impressive skillset as a coach, trainer, facilitator. He effectively scales and adapts conversation to a specific audience, from beginners to coaching coaches. He is able to discern key points and get to the root cause of the problem in a very quickly fashion, which allows more focus and time to think about solution and creating added value.  Ram's extensive knowledge and profound understanding of the practices are an asset to any organization/individual who are on the path to adopt Scrum and install continuous improvement" - Anya Faingersh , Senior Project Manager at Scotiabank
"Ram is a very capable and experienced business educator who is knowledgeable about the curriculum and various facilitation methodologies. His insistence to stay away from power point use in the classroom makes learning interactive and relevant for his students not to mention the extra time he offers to guide and assist his students outside of class hours" - Farouk Visram, Senior Project Manager at Loblaw Digital
"Ram creates a great student-centered classroom environment where active learning takes place. He uses a wide range of skills, such as instructional technique, creativity, and a good classroom environment. I have had a two-days Scrum Master workshop with him and would recommend his training workshops to IT developers who are interested to be certified in Scrum Master, no doubt that his training sessions have lots to contribute to all departments who are migrating to Agile" - Alireza Shirazi, Telecomm Program Manager
"Ram is a excellent Agile trainer and coach. He has very deep knowledge of Agile frameworks and passes that knowledge very effectively. I highly recommend his coaching sessions" - Deepankar Sinha, BA4 at Barclays Investment Bank
"Ram is a gifted instructor. I had the opportunity to attend the CSM and CSPO trainings' conducted by him in India, that I found extremely valuable. He willingly gave his time to responding to questions thoroughly. Ram has his unique approach towards training. He ingrains the details of the process via introducing intuitive games. I am particularly impressed by Ram's ability to handle diverse audience in his training's, it seemed to come naturally to him. I was always in awe of Ram's ability to command a room and get people on board with ideas—even people who were initially on completely different pages" - Sai Durga Bhavani Pallothu, Lead Analyst at CGI
"Ram is an excellent Scrum trainer. Not only is he an expert at Scrum methodologies, he was also able to demonstrate/transform by giving his real time experience in ways that were engaging and were very informative. As a Certified Scrum Trainer, his connection with his audience is authentic, caring and even entertaining" - Abdul Rahim Mohammed, QA Manager at TELUS
"I attended a CSPO course taught by Ram. He made the two days very engaging using real world examples and interactive exercises. He presented the material in a manner and format that was easy to understand and gave us pointers from his many years of experience in the I.T. industry. The course assumes that one has basic understanding of scrum principles and Ram tried to keep us focussed on the Product Owner aspects of scrum. I would definitely recommend Ram as an agile / scrum coach for you or your organization." - Gopal Tumkur, Senior Business Analyst - HCL Technologies
You can read all the recommendations that Ram received about his course here - http://linkedin.com/in/ramvasan
Benefits of taking this course:
Participants get a 100+ page workbook. The workbook includes class exercises, reference materials, case study, and links to multiple case studies.

Access to free e-books, published white papers, articles written by experts, and other references that Product owners will find helpful

Acces to Excel templates for Release Reports, Burndown/Burn-up charts, and Release Scope calculator based on historic velocity.

Free access to Coaching Circles and Book Clubs run by the Ram.

References to other free tools, questionnaires, and inventories which can be used with teams and organizations towards assessing their Agile maturity.
FAQs
Does the course include the cost of certification?
Yes, the course fee includes the cost of certification
How do I get the certification after attending the class?
Your participation should be satisfactory to the facilitator. Based on your participation, he will recommend your name to Scrum Alliance for CSPO certification. Unlike CSM, there is no test associated with CSPO certification.
Is my registration/ticket transferrable to another person?
Yes, it is. You would have to let the organizer know about it ahead of time 
Can I update my registration information?
Yes. 
Do I have to bring my printed ticket to the event?
If you are transferring the ticket, please bring the original ticket to the event
What is the refund policy?
If canceled within 3 weeks (15 business days, not including the workshop start date) of the event, 80% of the registration fee will be refunded.  Else no refund will be issued
The name on the registration/ticket doesn't match the attendee. Is that okay?
If you are registering on behalf of someone else, please let the organizer know
Something came up. Can I attend the same course on a later date?
Yes you can (if registrations are still open for the other course). Transfer request received up to 15 business days (not including the workshop start date) will not incur any charge. Transfer requests received within 15 business days will incur a fee of CA$300
Have questions about Weekend Certified Scrum Product Owner (CSPO) workshop - "Build-Play-Learn" Scrum - Toronto, ON?
Contact Ram Srinivasan
When & Where

Chestnut Conference Center
89 Chestnut St
Toronto, ON M5G 1R1
Canada

Saturday, July 29, 2017 at 8:30 AM

-

Sunday, July 30, 2017 at 5:30 PM (EDT)
Add to my calendar
Organizer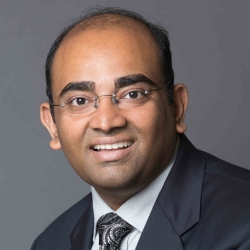 Ram has the unique distinction of being a Certified Scrum Trainer, a "LeSS friendly" Scrum Trainer, and a Professional Coach who specializes in coaching teams and organizations. He started as a developer and later moved to hold various roles including software architect, Project Manager, and Program Manager. Ram brings his in-depth experience in product development, technical craftsmanship, project management, coaching, facilitation, and conflict management to help participants understand how to apply Scrum.  In the recent past, he has been focusing on helping teams and organizations adopt Lean-Agile practices. Ram also holds multiple Agile/Project Management related certifications (PMP, PMI-ACP, SAFe Program Consultant, PSM, PSPO, IC Agile Professional). Ram regularly speaks at local meet-ups, user groups and conferences (see the complete list here). The slides of his presentations can he found here.