Weekend Certified Scrum Master (CSM) Seminar -(Toronto, ON)

Saturday, March 17, 2018 at 8:30 AM

-

Sunday, March 18, 2018 at 5:30 PM (EDT)
Event Details
Weekend Certified Scrum Master (CSM) Seminar, guaranteed to run !!
You see Scrum in action when the instructor uses Scrum to run the seminar.  By this you get to discover the fundamental principles of Scrum  through metacognitive learning. This novel brain-based learning approach  enables you to understand the concepts in a short amount of time. 
Scrum is simple but is not easy. So, this seminar is about more than just the basics. You learn other important concepts (facilitation, coaching, the mindset of a change agent), skills, tools, and techniques which good Scrum Masters should be familiar with to help their teams become high performing teams. Throughout the seminar, there will also be many opportunities to discuss and explore challenges faced by teams and organizations when they embrace Scrum.
Before you Register - This seminar is designed to be a bit more difficult/advanced than a regular CSM. Be prepared to do some homework before coming to the seminar. During the seminar, you will be using this information for your exercises and activities. 
All CSM seminars are run only by Certified Scrum Trainers as per Scrum Alliance's CSM Learning Objectives. And to help you succeed at work, as a participant of this course, you get post-seminar support by getting free access to Coaching Circles and Book Clubs which are run on a regular basis.  In the seminar, participants learn the following concepts:
The Basics - Lean, Agile and Scrum
Values and Principles

Scrum Theory and 

Overview of the Scrum Framework

The Scrum Team - Scrum Master, Product Owner and Development Team

Scrum Events - Sprint Planning, Daily Scrum, Sprint Review, Sprint Retrospective, Sprints and Product Backlog Refinement (activity)

Scrum Artifacts - Product Backlog, Sprint Backlog and Product Increment (built as per the Definition of Done)
Scrum Master
Scrum Master as a Master of Scrum Framework

Scrum Master's as a Servant Leader

Scrum Master's services to Development Team and Product Owner

Scrum Master as the Organizational Change Agent

Scrum Master as a Facilitator, Coach, Teacher and Mentor

Role of Scrum Master in various meetings
Product Owner
Product Owner's authority and responsibilities

Avoiding dysfunctional Product Ownership

Role of Product Owner in various meetings
Development Team
Size and attributes of the Development Team

Self-organization through Team self-design

Role of Development Team in various meetings
Product Backlog
Creating the initial Product Backlog from Product Vision

Product Backlog Refinement

User Stories as Product Backlog Item
Definition of Done
Building the Product Increment as per Definition of Done

How "Technical Debt" increases cost of change

Value of good Engineering Practices
Estimation
Usefulness and limits of Estimation

Relative Estimation techniques (Planning Poker®, Affinity Estimates, T-Shirt Size)
Sprint Execution
Sprint Planning - capacity and velocity based planning

Sprint Backlog

Tracking progress during Development

Daily Scrum

Sprint Review

Sprint Retrospectives

Abnormal termination of Sprints
Release Management
Release Planning- Balancing Scope, Time and Cost when using Scrum

Managing and Tracking Progress
Scaling Scrum
Scaling Scrum using Large Scale Scrum

Multi-team coordination and collaboration

Multi-team Release (scope/date) projections
About the seminar:
The seminar fee includes a two-year membership with Scrum Alliance, and costs associated with the CSM test. Participants will earn 16 PDUs towards their PMP certification. This seminar also provides 16 (of the required 21) contact hours needed for PMI-ACP examination.
Benefits of taking this seminar

Ability to attend a "refresher" CSM seminar for free. 

Participants 100+ page workbook. The workbook includes class exercises, reference materials, case study (and links to multiple case studies) and a practice CSM test

Access to free practice test to help you take the CSM test with absolute confidence. To date, none of Ram's students have failed the CSM test (this is not a guarantee,but if you follow the steps, the likelyhood of you passing the test with flying colors are high).

Access to free e-books, published white papers, articles written by experts, and other references that Scrum Masters will find helpful

Acces to Excel templates for Release Reports, Burndown/Burn-up charts, and Release Scope calculator based on historic velocity.

Free access to Coaching Circles and Book Clubs run by the Ram.

References to other free tools, questionnaires, and inventories which can be used with teams and organizations towards assessing their Agile maturity.
FAQs
Does the seminar include the cost of certification?
Yes, the course fee includes the cost of certification
When can I take the test after attending the seminar?
You can take the test within 2 -3  business days after completion of the seminar
Where do I take the test?
You can take the test from any place you like. Starbucks, office, home, park, beach... 
What is the duration of the test?
It is recommended that you allocate about 1 hour to take the test. 
Is my registration/ticket transferrable to another person?
Yes, it is. You would have to let the organizer know about it ahead of time. There is no charge for transferring your registration to another person
Can I update my registration information?
Yes. 
Do I have to bring my printed ticket to the event?
If you are transferring the ticket, please bring the original ticket to the event
What is the refund policy?
Due to the administrative overhead involved in refunds, these tickets are non-refundable.  But you can always send a friend/colleague/family member in your place.  If there is an extremly extenuating circumstance (e.g. death of a family member) that prevents the participant from attending, you may be able to transfer your ticket to later event for a fee. 
The name on the registration/ticket doesn't match the attendee. Is that okay?
If you are registering on behalf of someone else, please let the organizer know
What about food?
A light breakfast and an afternoon snack will be provided. Participants are encouraged to make their own arrangements for lunch based on their dietary restrictions. Coffee and tea will be available throughout the day
What can/can't I bring to the event?
Please bring a notepad and pen to take notes (some locations supply it, some locations do not). Please also bring your water bottles so that you can avoid water spills.  While we try to accommodate food allergies/preferences as much as possible, unfortunately, not all venues can accommodate all requests. So if it is a concern to you, please feel free to bring a snack bar / juices. 
You DO NOT need a laptop/tablet for the seminar
Where can I contact the organizer with any questions?
Yes, you can. Please email  "Ram+ScrumSeminar@InnovAgility.com".  (yes, it is a plus sign. I use GSuite and  Gmail lets you use "+" sign in the email to create email filters. And I use this so that I can respond to you faster)
When & Where

Chestnut Conference Center
89 Chestnut St
Toronto, ON M5G 1R1
Canada

Saturday, March 17, 2018 at 8:30 AM

-

Sunday, March 18, 2018 at 5:30 PM (EDT)
Add to my calendar
Organizer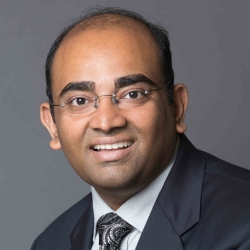 Ram has the unique distinction of being a Certified Scrum Trainer, a "LeSS friendly" Scrum Trainer, and a Professional Coach who specializes in coaching teams and organizations. He started as a developer and later moved to hold various roles including software architect, Project Manager, and Program Manager. Ram brings his in-depth experience in product development, technical craftsmanship, project management, coaching, facilitation, and conflict management to help participants understand how to apply Scrum.  In the recent past, he has been focusing on helping teams and organizations adopt Lean-Agile practices. Ram also holds multiple Agile/Project Management related certifications (PMP, PMI-ACP, SAFe Program Consultant, PSM, PSPO, IC Agile Professional). Ram regularly speaks at local meet-ups, user groups and conferences (see the complete list here). The slides of his presentations can he found here.