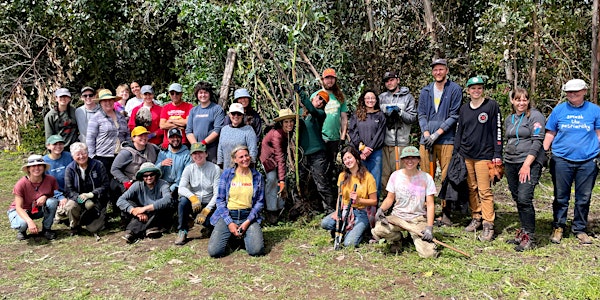 Weed 'Em Out! Cascade Creek Stewardship, Pie Ranch & Amah Mutsun Land Trust
Join Pie Ranch and Amah Mutsun Land Trust to remove eucalyptus saplings and other invasive species from Cascade Creek!
Date and time
Saturday, June 10 · 9:30am - 2:30pm PDT
Location
3100 Cabrillo Hwy 3100 Cabrillo Highway Pescadero, CA 94060
About this event
PURPOSE
Pie Ranch and Amah Mutsun Land Trust are seeking volunteers to help to remove young exotic invasive eucalyptus trees from Cascade Creek on Año Nuevo Point. Eucalyptus saplings have become established densely since the 2020 CZU wildfire, and without removal they will crowd out native streamside vegetation and create a significant fire hazard. We will also be removing other invasive plant species and tending native willows that are being propagated along the creek to work towards enhancing the ecosystem and increasing populations of native plants.
Spend time outdoors, meet new people, learn about invasive plants and creek habitats, and help us to care for the ancestral lands of the Quiroste Tribe. This event will also be a great opportunity to learn about how Indigenous perspectives and approaches to land stewardship are being revitalized in open spaces today.
Riparian (streamside) restoration is now more important than ever. Indeed, healthy riparian ecosystems promote ecological and climate resilience both within and beyond riparian zones, promoting the sequestration of carbon and accrual of nitrogen in soil, as well as buffering organisms against extreme temperatures.
Cascade Ranch, leased and operated by the nonprofit organic farm Pie Ranch, is within an area of high biological richness, surrounded by protected open space. The 1.2 miles of Cascade Creek within Cascade Ranch represents an important habitat connectivity area for a wide array of plants and animals and a potential traditional food source for people.
Unfortunately, the riparian zone of Cascade Creek continues to be affected by the spread of invasive plant species, causing loss of biodiversity and ecosystem services. The 2020 CZU complex fire further contributed to the increase in number, variety, and rate of spread of invasive species along Cascade Creek.
DETAILS
Agenda:
9:30 AM - 12:00 PM: Convene and begin invasive species removal work / willow watering and tending.
12:00 PM - 1:00 PM: Lunch (provided by Pie Ranch, with vegan / vegetarian options)
1:00 PM - 2:30 PM: Continue invasive species removal / tending willows.
Important Notes:
Please plan ahead and make an effort to arrive a few minutes before 9:30 AM, and not to arrive late! We will have an orientation and information sharing session at the beginning of the event, and if you are late you will miss part or all of this.
Please only register to attend the event if you are able to participate for the entire duration of the event. Event capacity is limited, and the event will be filled to capacity. If someone registers who is only able to participate for part of the event, it will prevent someone who could have participated for the entire time from joining us, and we won't be able to accomplish as much land stewardship work!
The work we will be doing is somewhat physically demanding, and the areas we will be working in will contain numerous tripping hazards, uneven terrain, dense brush, and other obstacles. This event may not be well suited to those with limited mobility.
This event is best suited for participants age 16 years and older, please do not plan to bring children under 16 years of age.
When you arrive at Cascade Ranch, Pie Ranch / AMLT staff will direct you from the parking area (next to the first white barn) to the work area. If you are late, you can follow the event signs to the area of the creek we will be working on.
Previous experience is not necessary. We will teach you how to identify the target species and how to remove and process them.
Volunteers may bring their own tools, as long as the tools are cleaned prior to bringing them on site. Useful tools to bring include loppers, pulaskis / picks, and hand saws. If you do choose to bring a tool, please only bring one tool, plan to keep it in your possession and to personally use it during the event (so that it will not be lost), and make sure it has your name on it or some other method of identifying it in case it gets away from you.
We will also be providing tools for participants to use.
Please be aware that the areas in which we will be working may contain poison oak and ticks.
What to bring:
Work gloves
Water bottle and water
A shirt with long sleeves
Hat
Sunscreen
Backpack
Sturdy work boots or closed-toed shoes
Snacks or personal lunch if preferred
Lots of energy and a desire to weed out invasive species!
Your hard work and participation will help shape the future of this land! Thank you!