Location
Park Inn by Radisson Toledo, OH
101 North Summit Street
Toledo, OH 43604
Description
Join us for the 2nd Annual celebration for Toledo 2019 International Women's Day. The future is exciting. Let's build a gender-balanced world. Balance is not a women's issue, it's a business issue.
This Year's Theme: The race is on for a gender-balanced boardroom, a gender-balanced government, gender-balanced media coverage, a gender-balance of employees, more gender-balance in wealth and gender-balanced sports coverage. Collective action and shared responsibility for driving a gender-balanced world is key.
International Women's Day is a global day celebrating the social, economic, cultural and political achievements of women - while also marking a call to action for accelerating gender balance. For more info: https://www.internationalwomensday.com/
Menu: Meals will be served with a salad, appropriate sides and non-alcoholic beverages
Choose one:
Lemon Pesto Chicken
Portobello Mushroom Ravioli (Vegetarian)
**Gluten Free and Vegan Meals are available upon request.
Ticket: $25/per person including parking (No Women Left Behind scholarship available upon request, please email us at info@womenoftoledo.org)
Preliminary Agenda**
11:30am Check-in & Open Networking
11:40am Welcome & lunch served
11:50am Opening Remark
12:00pm Introduction to the panelists & moderator
12:50pm Q&A
1:00pm closing
**subject to change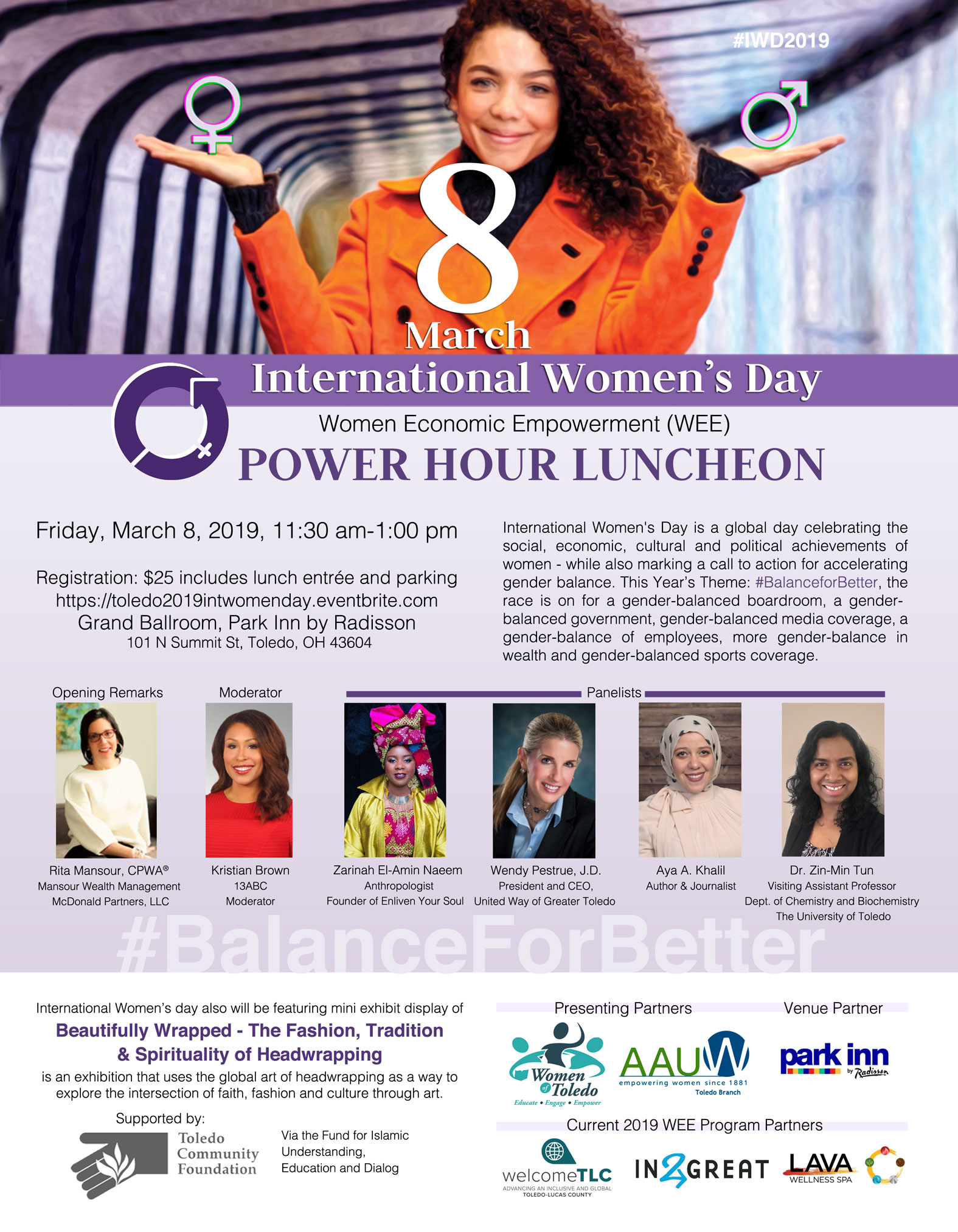 Opportunity to Pay it Forward & Partnership:
Partnership Choices:
Leader – 8 seats w/ reserved VIP table $500
Community – 8 seats w/ reserved table $250
Supporter – 1 seat, Circle of Friend and No Women Left Behind contributor $100
1 + 1 NWLB – 1 seat and 1 seat for No Women Left Behind contributor of $50
*Each table in Grand Ballroom seats 8 people.