Description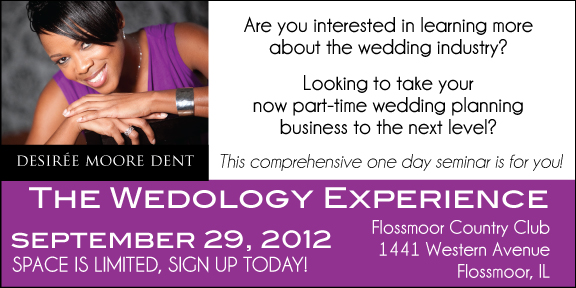 Desireé Dent, the President and Lead Planner of Dejanae Events, has been a wedding industry professional for over 12 years. As the instructor of the wedding and event planning certification course as well as the Preston Bailey Signature Event and Design course at Elgin Community College, she's passionate about educating men and women on the "real deal" behind being a professional wedding & event planner.
While in the mist of authoring WEDology Notebook: For The Budget-Chic Bride, Desiree developed a training seminar for those men and women aspiring to become or who would like additional training from a seasoned certified wedding & event planner.
***Class size is limited for more interaction with attendees. Register early and quickly to ensure your space. Payment plans available.
Topics below are included for Full Day Experience. Half day session topics are noted:
The role of a wedding/event planner and the various hats they wear (morning)
How to turn your passion into a profitable business (morning)
The potential client approach and initial meeting (morning)
Contracts and how to receive compensation (morning)
Who's your ideal client (afternoon)
Marketing efforts and public relations for your wedding/event business (afternoon)
Benefits of social media and blogging (afternoon)
Expanding your wedding/event business offerings (afternoon)
Registration includes:
Continental Breakfast (from 8:30am-9:00am) and the first session will begin promptly at 9:00am. For Full Day attendees and Morning Only attendees.
A delicious lunch and dessert provided by Flossmoor Country Club. For Full Day Attendees ONLY.
A copy of WEDology Notebook: For The Budget-Chic Bride. For Full Day attendees and Morning Only attendees.
Training Certificate for hours attended for all attendees.
Planning worksheets to get your business moving in the right direction for all attendees.
***Please note, registration fees are non-refundable. If you order Notebooks, they will be delivered to you at the seminar. Additionally, there is a dress code for this venue. No jeans or gym shoes allowed. No recording devices of any kind allowed.***
Additional seminars will be launched in the future. Please check Dejanae Events regularly.
********************************************
See what people are saying about WEDology Experience Training Sessions:
"The seminar exceeded my expectations (which were high to begin with). I found the information extremely useful, the interaction to be intimate and fun, and the event was both inspiring and empowering!" ~ Nicole S.
"Desiree was so welcoming of questions and never made you feel that your question was not bright!" ~ Shari S.
"I am so glad I could be apart of such a phenomenal educational event. I obtained lots of valuable information. I so appreciate you!" ~Vanessa A.
"Thank you! I'm beating myself up and trying to get my social networking life up to par now based on your teaching!" ~Christy T.
"I truly enjoyed attending your training session! It' was such a wonderful experience!" ~Amber S.
Organizer of WEDology Experience - Fall 2012
Desireé established Dejanae Events, an award-winning wedding & event planning company, in April 2000.  She has since coordinated numerous weddings employing her knowledge and research to assist couples with their special day while maintaining their specialized budget.

Additionally, Desireé is the former Instructor of Elgin Community College's Wedding Planning Certification Program and Preston Bailey's Signature Event Design course hosted in conjunction with The Wedding Planning Institute, a division of Lovegevity, Inc.  She is recognized as a "wedding industry professional" and "academic leader" in the latest textbook edition of "Professional Wedding Planning - How To Start A Wedding Planning Business" used in the Certification course. 

Desireé's greatest achievement is authoring, WEDology Notebook: For The Budget-Chic Bride, released on March 1, 2011, and creating a series of seminars and educational materials for aspiring wedding and event planners called the "WEDology toolKIT".  And Desireé has received the "Best Of Weddings Award" by The Knot 2014, 2013, 2012, 2011, 2007 and is officially apart of The Knot's Hall of Fame!