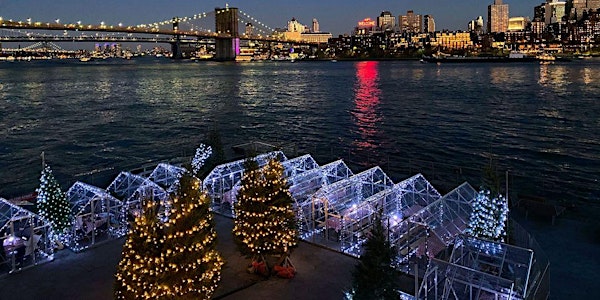 WEDNESDAYS: Winter Wonderland @ WATERMARK! HEATED "GLASSHOUSES" @ PIER 15
Sales Have Ended
Ticket sales have ended
SEATING IS FIRST COME, FIRST SERVE. TO RESERVE A PRIVATE EVENT WITH GUARANTEED SEATING PLEASE EMAIL: CELINE@MERCHANTSHOSPITALITY.COM
Event Information
Refund policy
Refunds up to 7 days before event
Sales Have Ended
Ticket sales have ended
SEATING IS FIRST COME, FIRST SERVE. TO RESERVE A PRIVATE EVENT WITH GUARANTEED SEATING PLEASE EMAIL: CELINE@MERCHANTSHOSPITALITY.COM
EXPERIENCE WINTER WONDERLAND @ WATERMARK - PIER 15 NYC! ENJOY WATERFRONT DINING, COCKTAILS & NYC VIEWS IN OUR HEATED PRIVATE "GLASSHOUSES"
About this event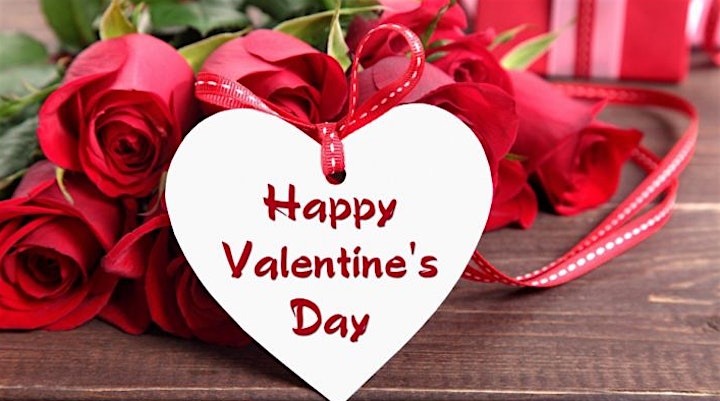 WATERMARK IS PROUD TO PRESENT: OUR ANNUAL "WINTER WONDERLAND" EXPERIENCE.
YOU ARE LOOKING AT WEDNESDAYS ONLY. FOR ALL OTHER DAYS OF THE WEEK CLICK HERE
ENJOY A ONE OF A KIND CURATED WEATHER CONTROLLED EXPERIENCE ON THE WATER @ PIER 15 IN THE HISTORIC SEAPORT DISTRICT.
EXPECT MUSIC, MAGICAL TWINKLING LIGHTS, DECORATIONS, DELICIOUS COCKTAILS & CUISINE, WITH AMAZING "BMW VIEWS" OF THE BROOKLYN, MANHATTAN & WILLIAMSBURG BRIDGES FROM PIER 15!
OPEN TO ALL AGES! - DATE NIGHTS - BIRTHDAY PARTIES - SPECIAL OCCASIONS - HOLIDAY & COMPANY EVENTS WELCOMED.
Join us as we transform the Pier into an Immersive Winter Wonderland experience filled with decorations, illuminated trees & water views!
Once you step through the Illuminated Wonderland Tunnel, you know you have arrived somewhere special. Grab a Spiked Hot Chocolate or Cider at our new "GINGERBREAD BAR" and dont forget to try our "Make Your Own S'mores" and Cheese Fondue!
NEW FOR 2021/2022:
We thank those of you who stopped by last year and welcome those who are coming for the first time. Some new things you can expect from this years festivities include:
BRAND NEW HOT CHOCOLATE / CIDER BAR
BRAND NEW ENCLOSED WATERFRONT COCKTAIL LOUNGE
LARGER & MORE LUXURIOUS GLASSHOUSES
ABILITY TO RESERVE BOTH PRIVATE & SEMI-PRIVATE EXPERIENCES
NEW & EXCITING DINING & COCKTAIL OPTIONS
NEW GROUP & BIRTHDAY PACKAGES
EXCITING ACTIVATIONS ALL SEASON
SCROLL DOWN TO THE BOTTOM OF THIS PAGE TO VISIT OUR FAQ SECTION.
RESERVATIONS FOR GLASSHOUSES CLOSE ONE HOUR BEFORE DOORS OPEN
HOW IT WORKS:
-GENERAL ADMISSION & WALK INS ARE ALWAYS WELCOME - WALK ON IN AND SEE A HOST FOR ANY AVAILABLE SEATING FIRST COME FIRST SERVE. PROOF OF VACCINATION IS REQUIRED TO BE SAT IN A GLASSHOUSE OR TO ENTER OUR HEATED WATERFRONT CRYSTAL LOUNGE.
PLEASE NOTE: GENERAL ADMISSION GUESTS CAN ENJOY SPIKED HOT CHOCOLATE, HOT TODDYS & COCKTAILS OUTDOORS WITHOUT THE NEED FOR PROOF OF VACCINATION.
TAKE A STROLL THROUGH OUR ILLUMINATED TREE GARDEN, TAKE PICTURES WITH SANTAS GIANT SLAY & HANG OUT BY THE JUMBO SCREEN!
-TO RESERVE A *PRIVATE* HEATED GLASSHOUSE & HAVE IT GUARANTEED UPON YOUR ARRIVAL
PICK A DATE
PICK AN AVAILABLE TIME & RESERVE - (PRICE INCLUDES RENTAL ONLY)
THEN SHOW UP & HAVE YOUR GLASSHOUSE WAITING FOR YOU!
YOU CAN ORDER OFF THE MENU OR BROWSE ONE OF OUR PRIX FIXE PACKAGES. (SCROLL DOWN TO SEE THE MENUS) - DECIDE UPON ARRIVAL.
YOUR DEDICATED SERVER WILL ASSIST YOU WITH ANY QUESTIONS.
Questions? SEND A TEXT MESSAGE ONLY: 917.862.1181
PLEASE NOTE: PRIVATE GLASSHOUSE RENTALS DO NOT REQUIRE PROOF OF VACCINATION AS THEY ARE CONSIDERED PRIVATE OUTDOOR DINING.
*TWO SIZES OF PRIVATE GLASSHOUSES AVAILABLE:
STANDARD GLASSHOUSE - (FITS 2-6 GUESTS SEATED COMFORTABLY + STANDING SPACE FOR UPTO 2 MORE GUESTS)
DELUXE JUMBO VIP GLASSHOUSE - MORE SPACE & ACCOMMODATES MORE GUESTS MORE COMFORTABLY. IDEAL FOR GROUPS OF 5-10 - BUT SEATS 12 PEOPLE MAX.
-------
-TO RESERVE *SEMI-PRIVATE* GLASSHOUSE SEATING: (NEW FOR 2021/2022)
TO ACCOMMODATE SMALLER GROUPS OF 2-4 GUESTS, WE NOW OFFER RESERVED SEMI-PRIVATE SEATING IN A JUMBO GLASSHOUSE. ENJOY ALL OF THE SAME BELLS & WHISTLES WITHOUT THE NEED TO FULLY RENT A PRIVATE GLASSHOUSE.
OTHER SMALL GROUPS WOULD ALSO BE DINING IN THE GLASSHOUSE AT THEIR OWN TABLES. (JUST LIKE DINING AT A REGULAR RESTAURANT).
PLEASE NOTE: SEMI PRIVATE RESERVATIONS REQUIRE PROOF OF VACCINATION
OF-COURSE YOU CAN STILL RENT A FULLY PRIVATE GLASSHOUSE IF YOU WISH. ALL TABLES ARE SANITIZED IN BETWEEN SEATINGS.
WARNING: OUR SPIKED HOT CHOCOLATE TENDS TO LEAD TO SOCIALIZING! :)
SEE FULL MENU BELOW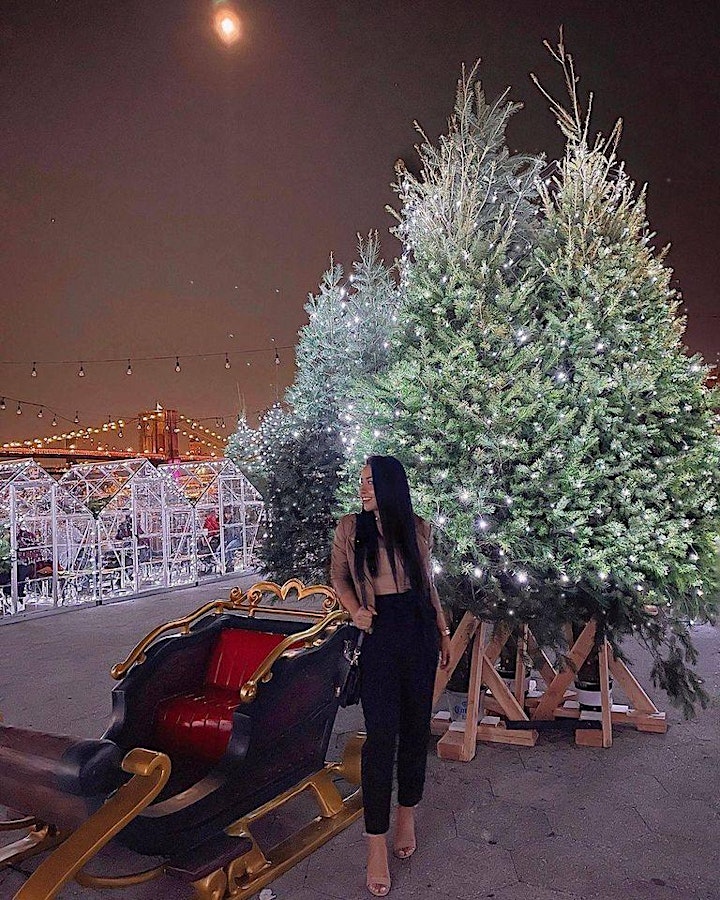 Enjoy the sights and sounds at our 7,500 square foot WATERFRONT venue which features amazing views of the Brooklyn and Williamsburg bridges and Brooklyn skyline. FULL BAR AND MENU AVAILABLE. BIRTHDAYS WELCOMED!
CLASSIC MOVIES AND WINTER IMAGERY PLAYING ON OUR JUMBO PROJECTION SCREEN AND MUSIC ALWAYS ROCKING! (PLEASE NOTE THE JUMBO SCREEN IS THERE FOR AMBIANCE AND IS NOT VISIBLE FROM ALL GLASSHOUSES)
ANY QUESTIONS? PLEASE TEXT MESSAGE: 917.862.1181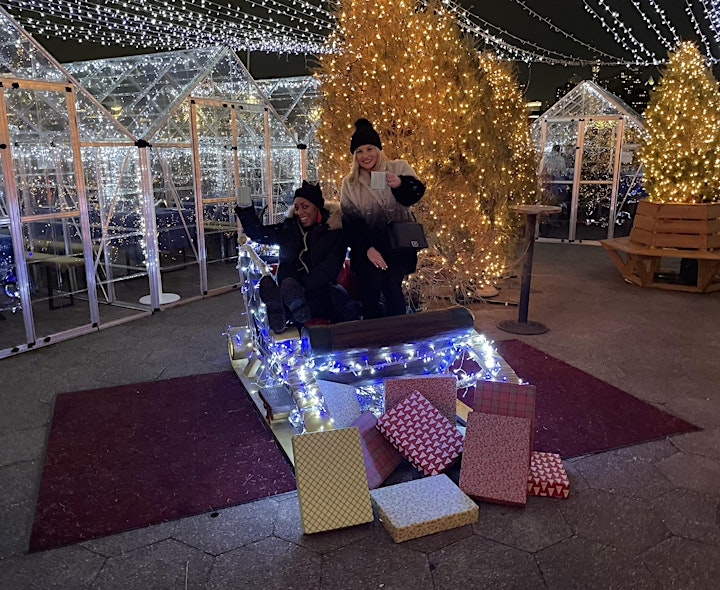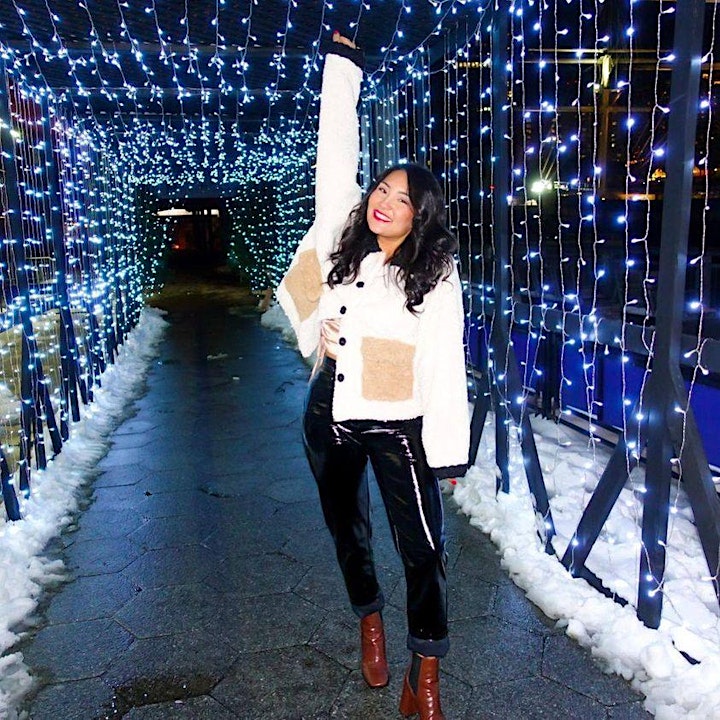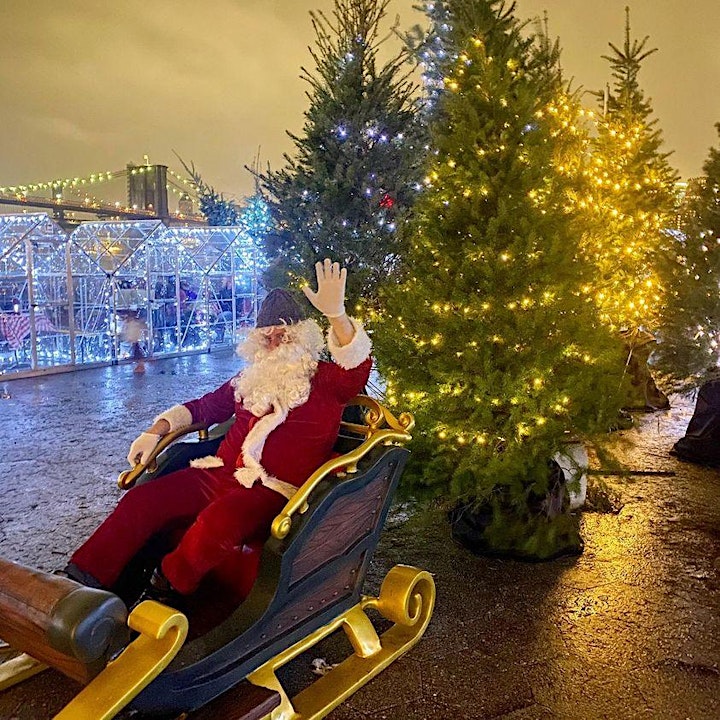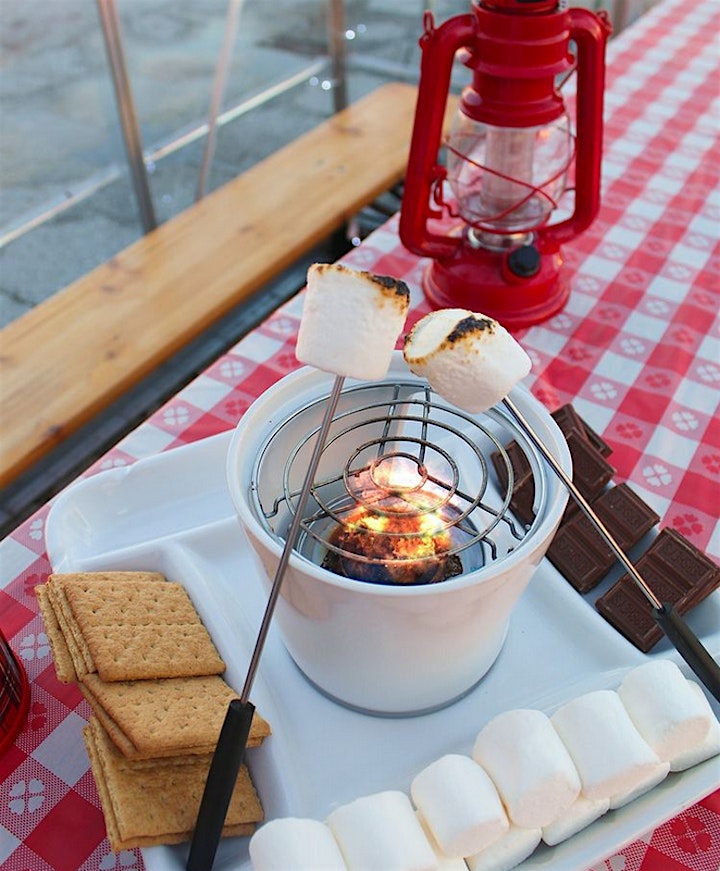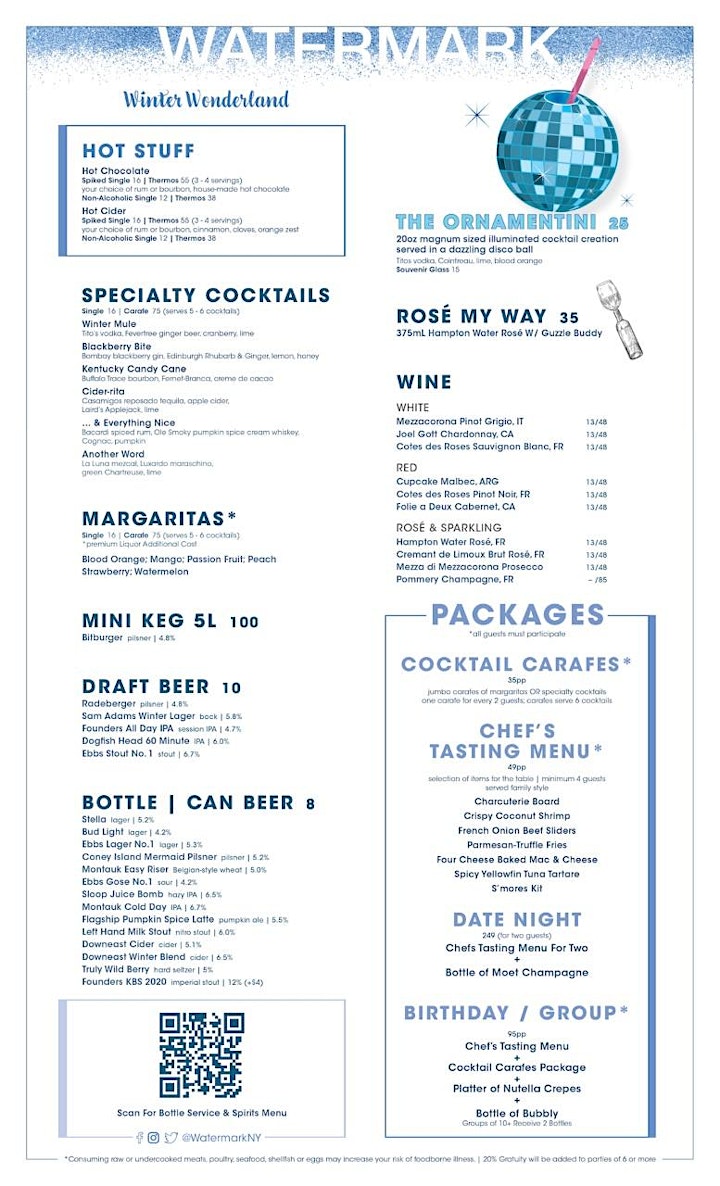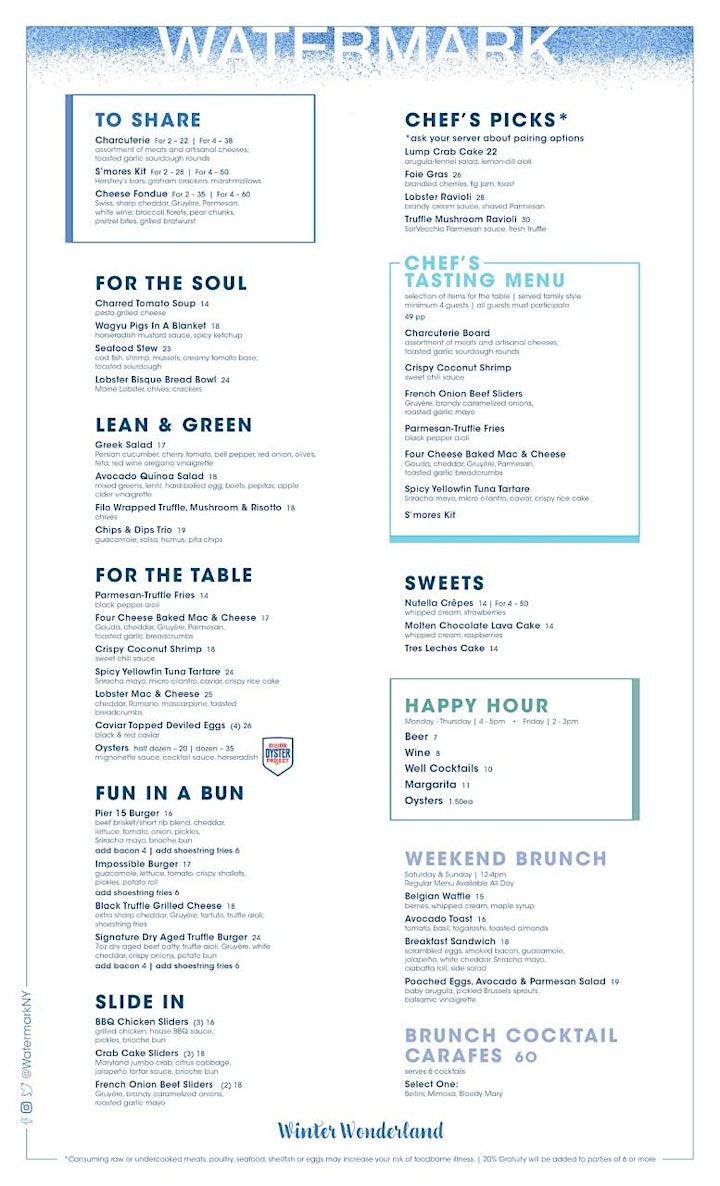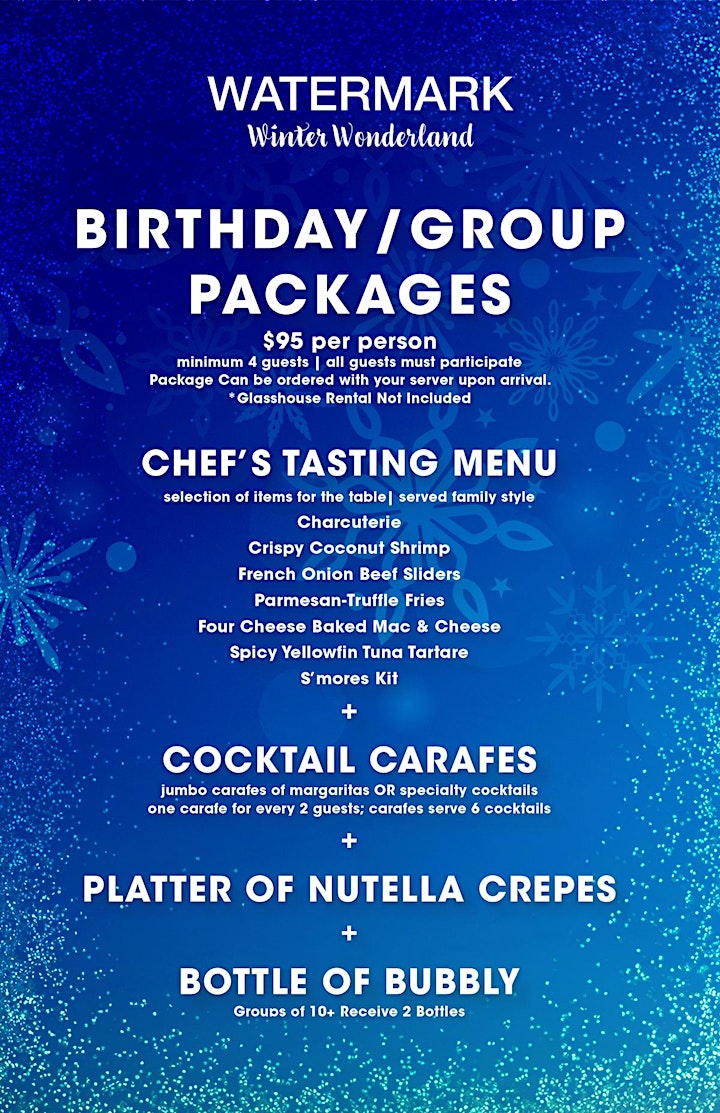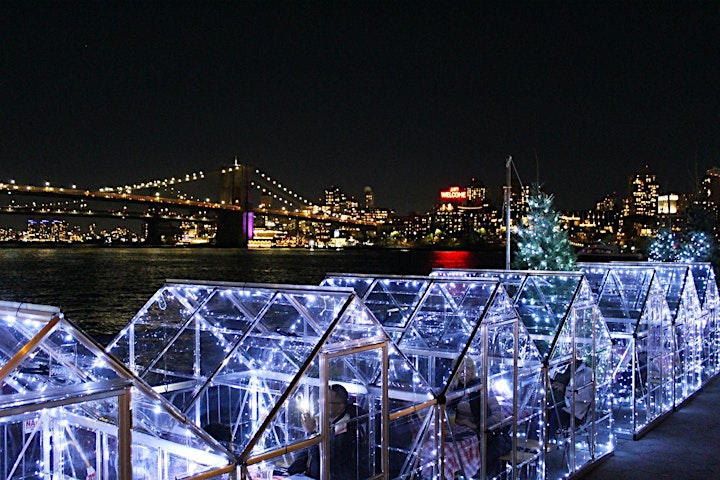 FREQUENTLY ASKED QUESTIONS:
Q: Are kids allowed? A: Absolutely! Bring the whole family!
Q: Are the Glasshouses HEATED? A: Absolutely, we have heaters in all the Glasshouses, however we do recommend guests still dress warm, it is a NYC winter after all. Heaters help, and many of our guests take theIr jackets off inside, but it can still be chilly at times for some. Plan accordingly.
Q: Do you have Cocktails & Food? A: Absolutely! We offer a Full Food Menu along with exciting winter themed cocktails and a full bar.
Q: Do you have Birthday and Group Packages? A: Absolutely, please see our menu for package options.
Q: What is the capacity in the PRIVATE Glasshouses? A: We have 2 options for guests for Private GLASSHOUSES. The STANDARD GLASSHOUSE is for 2-6 seated guests & the DELUXE JUMBO Glasshouse can seat 5-10 very comfortably and upto 12 max. (You can always have less guests if you wish).
Q: What is a SEMI PRIVATE Glasshouse Reservation? A: To accommodate as many guests as possible we are offering Semi-Private Reservations at a fraction of the cost of a Private Rental of a Glasshouse. Guests will still wine and dine inside of a Glasshouse, however other guests MAY also be dining in there with them at their own tables. Tables are all private, never shared and are in their own corners.
Q: How does Free General Admission Work? A: Guests can Walk in and see a host for any available seating that has not been reserved. This is offered free of charge on a first come first serve basis and is not guaranteed on busy days where we are booked up. We highly suggest making a reservation to secure your table and avoid missing out.
However if no glasshouses are available all is not lost, we still have two BARS available to purchase food and drinks and enjoy the experience with outdoor heaters.
Q: If we just want to grab a drink is there a bar? A: Glad you asked! This year we have our brand new ENCLOSED HEATED CRYSTAL LOUNGE. You can order drinks and enjoy the water views. This is available first come first serve and there is no charge. Guests must show proof of vaccination to enter the Crystal Lounge. We also have our COCKTAIL CHALET where you can orer Spiked Hot Chocolate, Hot Toddy's and other Cocktails!
Q: What if I have a large group, can i reserve several glasshouses? A: Yes, you can reserve multiple glasshouses and we will do our best to put them next to each other if possible.
Q: Where are you located? A: Watermark is located at 78 South St. at the South st seaport in Downtown NYC.
Q: Do you have Parking? A: We do not have onsite parking, however there are several garages in a 3 block radius. We suggest looking on google.
Q: Do you serve Brunch? A: Yassss! We serve Brunch Sat & Sun 12-4pm.
Q: What is the Refund Policy? A: We allow guests to receive a FULL REFUND as long as it is 7 days or more before the event date. Once it is 7 days or less all sales are final and we do not refund or reschedule. As we have very limited Glasshouses & high demand the policy is applied to all guests. You can however transfer your reservation to anyone else if you cannot make it and are inside of the REFUND timeframe.
Q: Can I change the time of my reservation for the same day? A: YES. You can purchase a new ticket for the time that you wish to come for and then contact us to refund the original reservation.
Q: What if it rains or snows? A: Our glasshouses are weather proof and we will be open rain or shine!
Q: Do we need to be vaccinated to attend? A: Please scroll up to the top of the page to see the policy for each time of ticket and glasshouse rental.
Q: Can we bring in outside food? A: Watermark has a full cocktail and food menu available and outside food or drinks are not permitted.
IF YOU HAVE ANY FURTHER QUESTIONS, PLEASE SEND US A TEXT MESSAGE TO 917.862.1181
SEE YOU AT WINTER WONDERLAND!
Date and time
Location
Refund policy
Refunds up to 7 days before event
Organizer of WEDNESDAYS: Winter Wonderland @ WATERMARK! HEATED "GLASSHOUSES" @ PIER 15
A stunning 3,500 square foot venue perched at the end of the beautifully proportioned double level Pier 15, Watermark restaurant and bar offers an exceptional panorama of the Brooklyn and Williamsburg bridges and Brooklyn skyline. Floor to ceiling windows encased in steel house the sleek indoor bar. Guests won't miss a beat of entertainment while watching our outdoor HDTVs. Wooden tables and benches provide outdoor seating under the protective overhang of the second floor greenspace and beyond.
Take in the eye-catching views of the South Street Seaport and historic vessels docked nearby while indulging in libations from our full service bar and lite fare from the kitchen. Gatherings and celebrations can be accommodated outdoors according to NY State social distancing protocols.