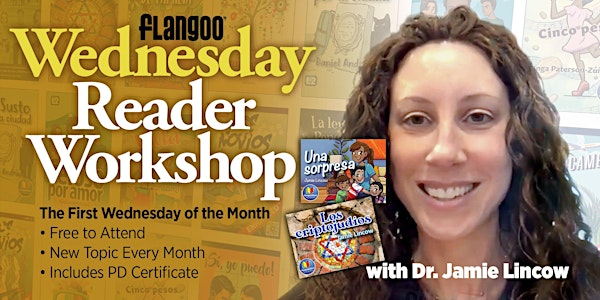 Wednesday Reader Workshop with Jamie Lincow | For World Language Teachers
A FREE monthly workshop event for World Language teachers on ways to use readers and stories with high school and middle school students.
About this event
Presented by Flangoo Digital Readers
Hosted by Dr. Jamie Lincow
A FREE MONTHLY WORKSHOP EVENT FOR WORLD LANGUAGE TEACHERS
We meet the first Wednesday of the month at 7:00 p.m. ET.
Each session will focus on a new set of world language stories from various levels. Topics will include grammar ideas, learning how to incorporate readers for enrichment or review, exploring how culture can be incorporated with stories, presenting different approaches for engaging your students individually and as a whole class, discovering new extension activities, expanding speaking/listening skills using readers, and more!
The workshop is free, and is ideal for teachers who are new to readers and stories, but will also be full of helpful tips and strategies for teachers who already use stories.
Up next:
Linking a Reader to Your Current Cultural Curriculum
Wednesday, June 1, 2022
7:00 p.m. ET
Are you looking for some innovative ways to include more culture in your World Language classroom? Flangoo has readers for all learners, from beginners to more advanced students, and they present opportunities for additional ways to teach culture and traditions in the target language!!
In this month's workshop, we will look at various ways to link your current curriculum to diverse cultural topics. We will focus on readers at each academic level and look at various tools to sharpen your students' skills as they deepen their understanding of traditions, customs, and culture. Join me on June 1 at 7:00 p.m. for our sixth Wednesday Workshop when I'll share some tips and tricks about how the Flangoo readers can connect with cultural topics that your students will love!!
WHO IS DR. JAMIE LINCOW?
Jamie Agins Lincow, Ph.D., is a high school teacher who teaches AP® Spanish courses in language and literature. In addition to a bachelor's degree and master's degree in Spanish, she earned her doctoral degree in Spanish language and literature with concentrations in Golden Age literature and contemporary Latin-American literature. She has more than 20 years of teaching experience and holds a master's degree in education.
Her publications include The AP Spanish Literature Handbook and Cultural Connections in the Spanish Classroom, available now at Teacher's Discovery®. You can also check out her readers, Una sorpresa, Andrés quiere amigos, and Los criptojudíos on Flangoo!
Register for These Upcoming Wednesday Reader Workshops!
Wednesday, July 6, 2022 • 7:00 p.m. ET
Using Readers to Create Partner/Small Group Activities
Wednesday, August 3, 2022 • 7:00 p.m. ET
Using Readers for Review: Topics to Start Off the School Year
Wednesday, September 7, 2022 • 7:00 p.m. ET
Using Readers to Support and Enhance the AP® Themes
WHAT IS FLANGOO?
Flangoo is a web-based service that streams a library of CI readers to your students to use in class and at home. You choose the title and assign it or let them access from the full library for free voluntary reading and listening! Subscriptions work with any device, from laptops to desktops, tablets to smartphones. Wherever your students are, Flangoo is at their fingertips.
Over 150 Spanish, French, and German stories with more being added all the time
One account includes 180 student logins so all of your students can access Flangoo from anywhere on any device
Native-spoken audio so students can follow along
Mouse-over glossary for the tough words in Levels 1 and 2, with the option to show less or more glossary words
Various levels to meet your students' needs—Levels Pre-1, 1, 2, and 3+
Browse titles by language and level or by categories like comprehensible input, biographies, holidays, graphic novel excerpts, and more
Search for titles by theme, topic, country, author, or keyword
Best-selling authors Blaine Ray, Mira Canion, Jennifer Degenhardt, Theresa Marrama, Deb Navarre, Bryan Kandel, Paula Twomey, Tom Alsop, and now DC Comics!
Comprehension questions included (auto-graded and short-answer questions)
Enhanced® Readers featuring video, audio, cultural notes, and comprehension questions
Learn more at flangoo.com