About this Event
WEDNESDAY NIGHT TITANS
Drummer Zach Danziger and bassist Kevin Scott are two of the baddest and busiest musicians on the global music scene. Wednesday Night Titans is their baby, a Championship Wrestling-fueled extravaganza that's one-part NASA-like brain challenge (Google "Zach Danziger TED Talk"), two parts video shock treatment, and three parts future-music language lesson.
Using the theatrical in-the-ring taunts of such 1980s-era wrestling icons as Hulk Hogan, Ric Flair, Dusty Rhodes, and Randy "Macho Man" Savage as their video-projected inspirations, Wednesday Night Titans create a proto-cosmic, fusion-fueled soundtrack accompaniment to the combatants' chest-pounding declarations, manipulating their speech and images to further derange the proceedings. It's an over-the-top mind-gasm of roid-warrior madness and instrumental profundity.
Breaking ground is nothing new for Zach Danziger. As a fifteen-year-old at New York City's Drummers' Collective, the boy wonder could be heard jamming with Dave Weckl and Dennis Chambers, leaving the older drummers dumbfounded. At age seventeen, Danziger joined Latin pianist Michel Camilo's groundbreaking trio before stoking guitarist Wayne Krantz's blitzkrieg band in a four pioneering albums. Danziger currently mans the drum chair with saxophonist Donny McCaslin's (of David Bowie's Darkstar fame) genre-busting band. Danziger has scored many soundtracks (and recorded David Holmes' long-running Oceans . . . series), and co-designed Zildjian cymbals Re-Mix, Kerope, and Avedis lines.
Alabama native bassist / producer Kevin Scott has an equally impressive resume, including longtime collaborations with Colonel Bruce Hampton, Bernard Purdie, Jimmy Herring, John McLaughlin, and Wayne Krantz; the mighty Matador Soul Sounds and FORQ currently benefit from Scott's dynamic bass and extreme presence.
Staking visionary turf in today's decentralized music business is tough. The trials are enormous, the gamble real, the obstacles daunting. Like Jake "the Snake" Roberts says in one massive WNTs' reel, "Some people are imitators and some people are innovators and I am an innovator!" Join Wednesday Night Titans as they step into the ring and drive their innovative sounds deep into your brain.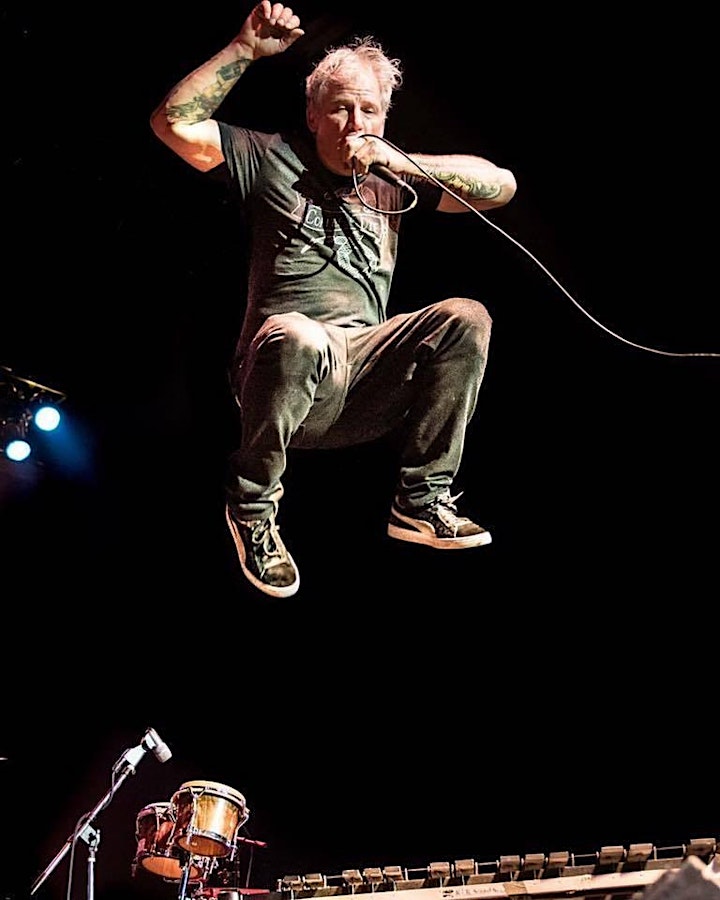 MIKE DILLON BAND
How many artists have been praised a "punk rock provocateur," "jazz vibraphone visionary," and "percussion virtuoso" in the same sentence? There's only one: Mike Dillon. Whether through his affiliation with artists like Les Claypool, Primus, Rickie Lee Jones, Dean Ween Group and Ani Difranco, and collaborations such as Nolatet, Garage a Trois, The Dead Kenny G's, Critters Buggin or bands he has led, including Mike Dillon Band, Mike Dillon's New Orleans Punk Rock Percussion Consortium, Billy Goat and Hairy Apes BMX, the Texas-native has set his own standard for 25 years now.
Over the past decade, Mike Dillon has released a number of acclaimed albums, intertwining a range of influences from Zappa-esque eccentricity to Fishbone punk funk, D.C. Go-Go to Milt Jackson-influenced vibraphone majesty. Never before, however, has he recorded music so personal and committed to a sustained mood as his latest album, Functioning Broke. The recording finds Dillon solo on vibraphone and various percussion, building each track into its own minimalist, but multi-dimensional auditory landscape.
The current version of the Mike Dillon Band features guitarist Cliff Hines, Bassist Nathan Lambertson and a rotating cast of drummers including Claude Coleman Jr. (Ween), Simon Lott, G. Maxwell, Doug Belote and Paul Thibodeaux. With this line up, Dillon has continued exploring the connection between New Orleans street beats, Ska, funk, Hardcore and jazz. The band will release a new record in February 2017 titled, "Life is not a Football." Produced in New Orleans by Richard Maloney and Dillon with engineers Rick Nelson and Robert Mercurio, this album sounds like a Spotted Cat trad band that grew up playing Dead Kennedys and invited Captain Beefheart over for a dinner cooked by Thelonious Monk. The Mike Dillon Band has supported acts like Galactic, The Revivalists, Clutch, Primus, and Fishbone, while continuing to play music festivals and in cities across the U.S.
In 2016, the Gambit's Big Easy Awards named Mike Dillon "Performer of the Year" and the Mike Dillon Band "Best Punk/Metal Band" in New Orleans. Living in New Orleans for over 10 years now, when not on the road with Rickie Lee Jones, Nolatet, or the Mike Dillon Band, Mike resides in the Musician's Village.
Mike's latest release, Life Is Not A Football, released April, 2017 (Royal Potato Family) is "A recording with the Big Easy coursing through its veins and equal parts Frank Zappa and The Butthole Surfers in its DNA. Life Is Not A Football, is a no-holds-barred affair, complete with rallying cries for justice, truth-to-power political and existential rants and plenty of inside jokes.
Performers
Date and Time
Location
Refund Policy