About this Event
This show is growing to be the most exclusive comedy night in Miami; happening only once a month and located inside the Miami Improv.
Food and drinks are provided as you experience a unique line up of comedians flying from out of town.
Your host Kyle Grooms selects a very special variety show of hilarious comedians from Miami, NY, LA, Chicago, ATL and more!
Get ready to laugh, A LOT! Bring your friends, your co-workers, your family, hubby, boyfriends and girlfriends because this event is going to create a memorable and fun Wednesday night!
Wednesday October 30th 8PM (Doors Open at 7:30)
2 drink minimum during showtime
Purchase your tickets early and save
$5 tickets before 10/13
$10 tickets before 10/20
$20 tickets before 10/29
$25 day of the show 10/30
$25 at the door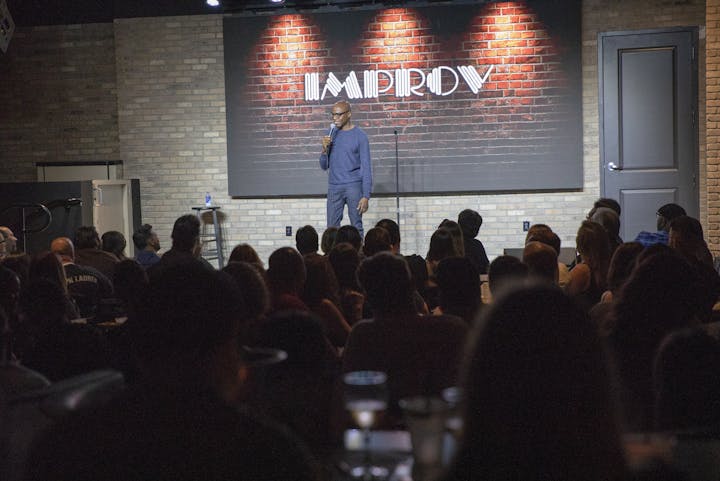 About Kyle Grooms:
Kyle has proven to be one of the industry's must-see comics on the scene.
He's had his own Half-Hour special on Comedy Central, Made an appearance as "Lyle" in film "I Feel Pretty!" starring Amy Schumer, and has made multiple appearances on VH1, NBC , BET and famed "Chappelle's Show."
With his many accomplishments as an comedian,actor, and writer ,
A regular on the New York comedy scene, Grooms has performed at several top clubs, including Caroline's, Comic Strip, Comedy Cellar and Gotham. He has been featured on several television, radio and internet broadcasts, such as P-Diddy's "Bad Boys of Comedy," Jamie Foxx's "Laffapalooza," "Tough Crowd with Colin Quinn," "The Byron Allen Show," "BET Comic View," and "Red Carpet Fashion." Having even brought his act overseas, he performed at the " Grande Journal" in France and has made several appearances in national TV ad campaigns for companies including T-Mobile, Sears, Career Builders and Holiday Inn Express. Grooms continues to grow as a stand-up comedian, writer and actor, and can currently be seen performing worldwide.
Headliner: Talent Da Comedian
As seen on New York Kings of Comedy
Purchase your tickets today!

About Miami Comedy
MiamiComedy.com has produced independent comedy events for years. Often imitated, but never duplicated. We are the original Miami Comedy production company finding authentic performers and curate entertaining live shows for people who love to laugh it up and enjoy the true art of stand up comedy in Miami. As seen on Amazon Prime Video "Respect the Light" the Miami New Times, Culture Crusaders, the Miami Improv and UNATION. We do pop up shows all over the Magic City, in all your favorite bars, restaurants, lounges and theaters! We make each experience unique with its own environment, drinking and dining menus!
About Miami Improv
Located at the Doral City Place Plaza, the Miami Improv is the city's only comedy club theater. Presenting locals celebrity comedian appearances in a large seating venue and offering attendees a full drinking and dining menu to elevate your laughing experience!
Questions? Special Occasions?
Get them answered here:
Email: manny@miamicomedy.com
Phone / SMS / Text: 305-498-7739
Chat: miamicomedy.com