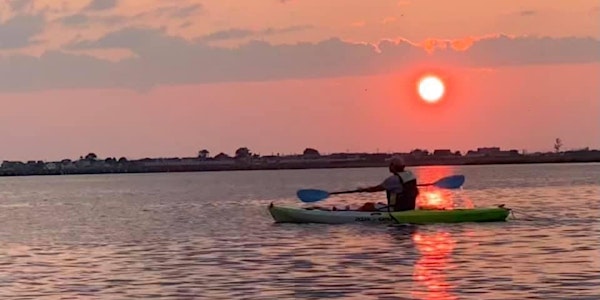 Wednesday Guided Sunset Paddle (Beach 88th St.)
Join us for a sunset paddle on Jamaica Bay leaving from Bay Breeze Park!
When and where
Location
Bay Breeze Park Beach Channel Drive Queens, NY 11693
About this event
For experienced paddlers only. All paddlers must be 18 years or older
Please join us for a guided, group kayak tour of the coast and marsh areas of Jamaica Bay. We will meet at the launch site at 6:30 PM and leave by 7:00 PM sharp (meet at 6, leave at 6:30 in August). Our excursion will take approximately 1-2 hours depending on day light, weather and water conditions, and the pace of the group. We will explore the coast and have opportunities to take photos.
Please note that we have a number of single seat and double seat kayaks and the registration process helps us prepare for how many paddlers to expect on a given day so that we can try to have an adequate number of boats, paddles, life jackets & volunteer paddle leaders on hand. We are a volunteer run non-profit! Due to that, we tend to get busy on days with great weather, so please also bring some patience along with your water and sunscreen.
Our Volunteer Paddle Leader's will try to accommodate all requests for attendees who want to have a "single" kayak to themself and for attendees who would like to have a "double" kayak together, but due to the limited number of boats that we have on hand and the popularity of some of our events we cannot guarantee your seating requests will be able to be accommodated. All decisions will be up to the Volunteer Paddle Leaders at any individual event and their decisions are final. Also, if you would like to volunteer with us, please be sure to let us know!
Paddler's Responsibilities
All Attendee's / Registrant's / Paddler's agree to the following:
Assist in the moving of the kayak or SUP and all ancillary equipment (PFD/Life Jacket) and Paddles from the Boathouse to the shoreline and back. (With the help of any available Volunteer Paddle Leaders who may be on hand)
Wipe down and/or hose-off the seat, paddle, and PFD with supplied cleaning materials (with the help of any available Volunteer Paddle Leaders who may be on hand)
Follow all Volunteer Paddle Leader instructions​
Volunteer Paddle Leaders Discretion
The Volunteer Paddle Leaders running an event are focused on safety first for ALL and have complete discretion as to who meets or doesn't meet these guidelines. Volunteers on-site make all the decisions and they are final.