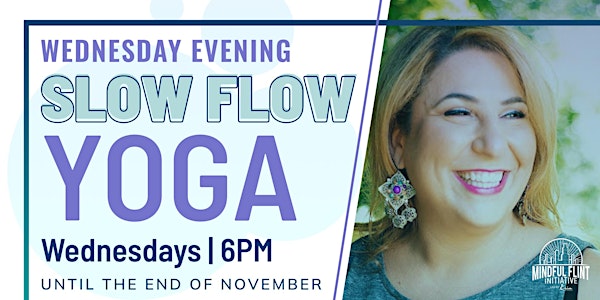 Wednesday Evening Slow Flow Yoga
Wednesday Evening Slow Flow Yoga with Nadia Zerka
About this event
Join the Crim Fitness Foundation for FREE virtual evening yoga for adults. End your day with mindful movement. All skill levels are welcome. Classes will be led by Mindful Flint Community Yoga Teacher, Nadia Zerka. End your day with a clear mind.
De-stress after a long workday by joining community yoga instructor, Nadia Zerka for Evening Slow Flow Yoga! Every Wednesday at 6 pm join Nadia for a night full of yoga to help relax after work. Yoga has been known to reduce stress, lower blood pressure, increase flexibility, and improve sleep.
This class will be an intermediate slow flow class (some yoga experience is helpful, although not required) - all are welcome to join Crim Yoga! We encourage you to listen to your body; adaptations and variations will be offered. Join us on your mat to practice some mindful movement and share positive, healthy energy! You will be muted upon entering the class. Please leave your device on mute. See you on your mat at 6pm!
You will get the Zoom link upon registering.
If you are interested in helping us deepen and sustain this work, in order to grow to serve more youth and adults in the future, please donate here: crim.org/donate