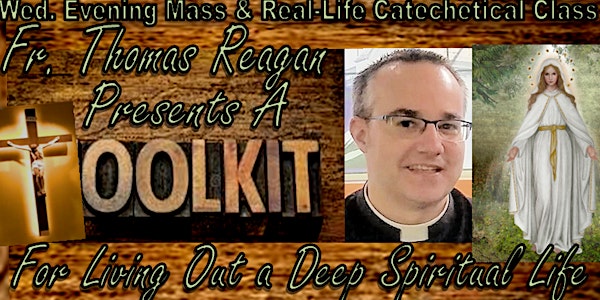 Wednesday Evening Mass and Catechetical Class with Father Thomas Reagan
Location
The National Shrine of Our Lady of Good Help - Marian Apparition Site in the United States of America
4047 Chapel Drive
Champion, WI 54229
Refund policy
Contact the organizer to request a refund.
Eventbrite's fee is nonrefundable.
Wednesday Evening Mass and Catechetical Class: A Toolkit for Living Out a Deep Spiritual Life
About this event
Adele Brise, the See'er at Champion, was instructed by the Blessed Mother, during her encounter with her in 1859, to "Gather the Children in this wild country and teach them what they need to know for salvation."
Adele did just as she was instructed by the Blessed Mother, building a foundation of faith among local town folk by traveling in a 50 mile radius of the Shrine grounds on foot just to take on chores at area homesteads so she could teach the children about how to approach the sacraments , how to make the sign of the cross and teach all what they needed to know for salvation.
It is in that spirit that Father Thomas Reagan is reintroducing a Catechetical class with Mass every Wednesday evening in Mother of Mercy Hall at Champion. In this Mass and Real-Life Catechetical Class you will learn how you, your family members and friends can live out a deeper & more meaningful faith life in the imitation of Jesus and Mary.
Many of us have heard various terms and concepts in reference to our Catholic spiritual and prayer life, but we may have been too embarrassed to ask or too busy to take the time to learn what they mean or and how they can be lived out.  This course presents a "real life toolkit" for Catholic spirituality in a "how to" format that will include the following topics:  praying, surrendering, abandoning, detaching, fasting, making reparation and acts of penance, suffering well and fruitfully, acting with humility, in humble service, trusting in God, and discerning, obeying, and living out His divine plan for us as His adopted children. 
Classes are offered free and will focus on the meaning of concepts and, more importantly, address how we can live these concepts out in a deeper & more meaningful way --in real life--with all of its associated challenges and distractions.  Join us at 5:45 PM for Mass and stay for a Real-Life Catechetical Class that follows.
Join Fr. Thomas for evening Mass every Wednesday at 5:45 PM , followed by Catechetical Class to help you and your family have a deeper understanding of your faith and meaningful encounter with Christ while practicing it.
Enjoy evening Mass each Wednesday at 5:45 PM Nov. 4-Dec. 16, 2020 (excluding Wed. , Nov. 25_ prior to Thanksgiving). Evening class concludes at 8:15 PM.
Bring your friends and family.