Description
Are you indecisive about what kind of dessert to have? Do you know the cost of creating a dessert table? Have you ever wanted to learn different ways to pipe a cupcake?
If you've ever asked yourself these questions, this workshop is created for you. In partner with Annie of Annie's Cakes, she will be educating us on different types of desserts suited to various wedding visions. You'll have fun tasting your way through this session while learning if you're team fondant or team buttercream, getting to know decorative dessert styles, and even how to do it yourself! We will end this session learning how to colour, pipe, and design two cupcakes each!
Key Points:
Gain knowledge on dessert options suited to different wedding styles

Understand the difference between different ingredients and their purpose

Learn about price points from individual pieces to a full dessert table

Learn basic piping decorating tools/tips

Design two cupcakes with guided instruction
Please RSVP by July 22. Tickets are limited to ensure workshop sizes are intimate and friendly for Q & A and hands on interactions.
About Wedding Workshops
Hosted by event planner and owner Sarah of Our Jonrah Events, these workshops are designed to be educational and inspirational. Sarah has a passion to share her years of planning experience with brides and curated this series of bridal workshops to help couples make informed decisions while gaining a solid understanding to best navigate their wedding plans and visions. She hopes you will find them enjoyable, enlightening and edu-spirational.
Every workshop is two hours and is hosted in the lovely space envisioned by Chantelle of The White Gallery. With a design and fashion background, Chantelle has a keen eye for detail and loves to support local collaborations. Her intimate space focuses on one on one appointments and welcomes these workshops to provide brides with an opportunity to learn about the wedding industry and make well planned decisions.


About Annie Murphy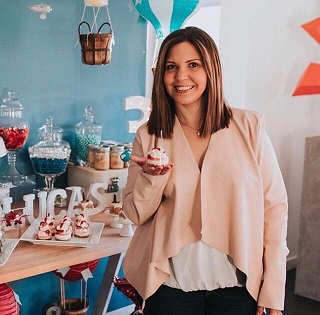 Annie's passion for baking ignited when she was a young girl- her fondest memory was making chocolate mousse with her sister when she was ten years old. Born in Venezuela, Annie moved to Canada six years ago and has flourished as a web designer and a baker! Her two jobs are complementing to each other with her keen eye for design and artistic expression.
Annie officially launched Annie's Cakes in Edmonton last year and is delighted to share this passion with you. She finds great joy in being able to be a part of people's celebrations and life milestones; the support from her clients continually drives her to learn and perfect her craft. Annie is praised for her signature stacked mini cakes and delicious dessert shots- you'll have to try it to believe it!
Photo Disclosure
Please note that by taking part in this event, you grant the event organizers full rights to use the images resulting from photography on site for any printed and online marketing, publicity, and promotional purposes. If you do not wish to be photographed, please email to inform us.
Please contact Sarah at ourjonrahevents@gmail.com for any questions or concerns.