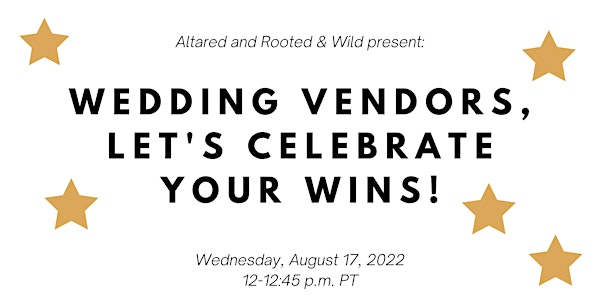 Wedding Vendors, Let's Celebrate Your Wins!
Take a short break to celebrate a win from your 2022 wedding season. Bring a review, client story, photo, video, or thank you note to share.
About this event
Wedding vendors, you're in the thick of wedding season. No doubt, the five-star reviews, epic galleries, and thank-you cards are rolling in from your clients. Have you paused to let that gratitude sink in?
Being your own boss often means that you might feel like you don't have time or it's not a priority to stop and celebrate the impact of your work on your clients but what is more valuable than filling your cup?
At Altared, we're all about providing support and connection for our vendor community, so join your fellow wedding vendors as we take an informal mid-week break pause to celebrate our businesses and ourselves.
Bring a review, client story, photo, video, or thank-you note to share with the group that makes your heart sing. We will witness you, uplift you, and pause to feel the gratitude that flows from our clients back to us.
Sound uncomfortable? That's normal. This isn't a muscle that many of us are used to flexing. You don't have to prove anything. This is about sharing joy, so just bring one anecdote that makes you feel all the warm fuzzies, and we'll start practicing celebrating ourselves in community.
All wedding vendors are welcome to join this free event on Zoom. The informal gathering will include mindfulness, small group sharing, and reflection time in community. The event will be facilitated by Celebrant and wedding officiant Emily Sterling of Rooted & Wild in partnership with Altared.
This session will not be recorded. It will have subtitles in English.
Emily Sterling (she/her) is a Celebrant and wedding officiant. She is a co-founder of Altared as well as a regular facilitator of vow writing workshops and officiating classes. Learn more at rootedandwild.co.
Altared is a space for wedding vendors who want to change the wedding industry. Beyond events like this one, Altared sends a monthly newsletter about resources for wedding vendors. See an example here and subscribe here. Learn more about Altared at altaredpdx.com.