Description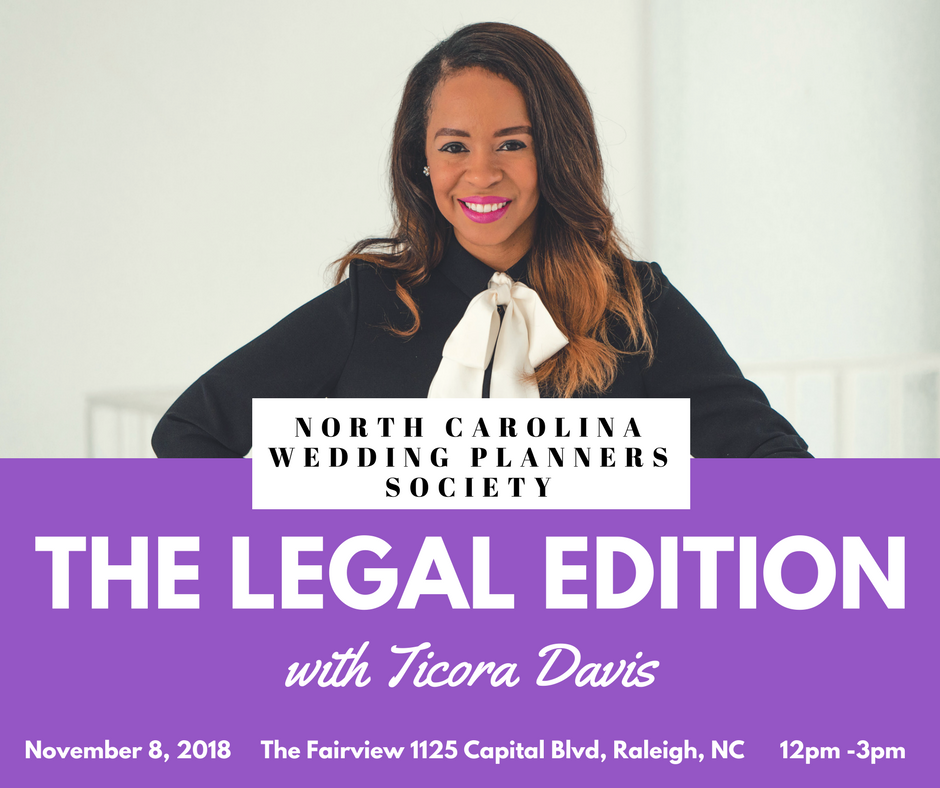 Join us as for "The Legal Edition" of the 2017 North Carolina Wedding Planners Luncheon with keynote speaker, Ticora Davis, ESQ founder of The Creators Law Firm from Charlotte, NC.
Ticora Davis founded The Creator's Law Firm, a boutique intellectual property and business law firm, to help creative entrepreneurs and small business owners build, grow, and protect their business by providing legal service in the areas of contracts, business, advertising, consulting, trademark and copyright matters. Ticora is committed to empowering creatives with the knowledge and tools to not only understand their intellectual property, but to leverage their intellectual property for ultimate profitability.
Her clients include TV celebrities, award-winning wedding professionals, artists, creative entrepreneurs, designers and business coaches, and TED/TEDx speakers. Because of her innovative work, she's been featured on VH1, WBTV Charlotte, WeddingWird World and The Session Magazine. In addition to her love for the Law and Entrepreneurship, Ticora enjoys being a wife and role as a new mother. Recognizing the unique struggles parents have with raising businesses and babies, she decided to bring her passion for motherhood into her firm. She holds innovative seminars specifically for mompreneurs - mothers who are current or aspiring business owners. She creates a safe space where mothers can bring their children and receive help with their business in a warm and welcoming environment.