WEDDING CINEMA WORKSHOP

Tuesday, November 15, 2011 from 9:00 AM to 5:00 PM (PST)
Event Details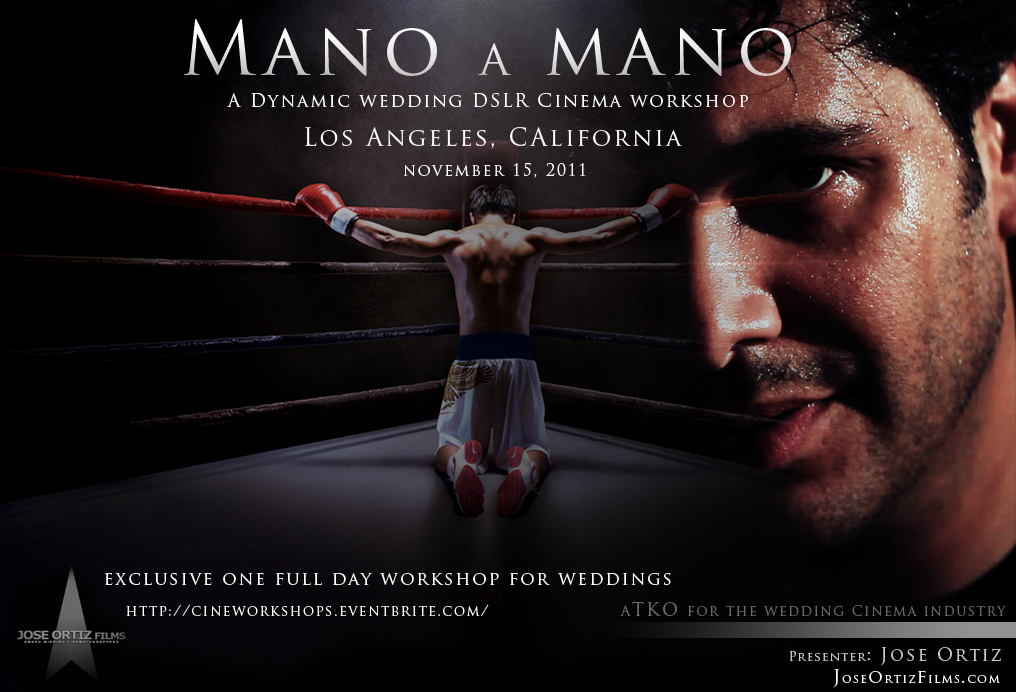 presents:
 "MANO A MANO"
A workshop by Jose Ortiz Films
click here to see workshop promo
The "Mano a Mano" workshop by Jose Ortiz Films
A LIMITED SEATING EVENT
EXCLUSIVE ONE FULL DAY WORKSHOP FOR WEDDING 
CINEMATOGRAPHERS AND PHOTOGRAPHERS.
ARE YOU READY FOR 2012... DON'T BE LEFT BEHIND, THE VIDEO INDUSTRY IS CHANGING.
"Mano a Mano"  international workshops with Jose Ortiz from Jose Ortiz Films. This workshop will provide you with real hands on tools and new DSLR video shooting skills to allow you to keep learning more about the future of DSLR wedding video industry. This exclusive workshop is for the cinematographer and non traditional photographer looking to learn more about the future of the DSLR wedding video and how to take benefit of it in your bussines. You will learn how Jose Ortiz films provides their clients a maximum enjoyable experience from the initial Bride consultation up until the final product delivery.  
Jose Oritz has  built an in-demand business, already gaining a national reputation with brides and fellow filmmakers alike, through his compelling and cinematic Wedding Story productions. 
A WEVA Creative Excellence Award Winner
and  featured in EVENT DV Magazine.
TOPICS:
Learn how to apply new workflows and different video tools based on the wedding culture or event type.  Learn how to apply these new workflows without interfering in the work of photographers and vise versa.
Shooting Techniques to diversify product.(Outdoors of the Hotel will be utilized for some of the explanations) Learning how to make your product unique. From shooting  to Editing style to how to improve the story telling of the movie.
Marketing techniques to sell your product in your market area. Look for ways to make your service standout from others.
Same Day Edit  "Mano a Mano" in your computer. Computer tricks and tools that can be used more often on-site during wedding events.
All attendees will have the opportunity and the option to share on of their works on a more personal level with Jose Ortiz for ideas, new suggestions, and to provide you with the tools you need to improve the product
  Join us for an educational experience, a full day of hands on training 
In Los Angeles!
A full day of learning from the best.
Lunch included.
This is a very limited workshop...please register early
bring your equipment
$199 pre registered
$250 regular price at the door.
to make other payment arrangements call 562-375-5001
contact: monique@puntomagazine.net
 ____________________________________________________________________________________
MANO A MANO  un Taller de Cinematografia para Bodas.
Estas listo para 2012?  La Industria de Video esta cambiando...no te quedes atraz.
Jose Ortiz Films Y Punto Magazine presentan un taller de practica en vivo
-Aprende a cobrar mas por tus trabajos en 2012
-Como hacer dinero con Ediciones del mismo dia
-Tecnicas Nuevas de Filmacion
-Tecnicas Nuevas de Edicion
-Como crear una Historia
-Como usar las camaras y equipo nuevo y herramientas
Registrate por internet $199
En la Puerta $250
Preguntas?  562-375-5001
When & Where

DoubleTree by Hilton
Commerce
5757 Telegraph Road
Commerce, CA 90040


Tuesday, November 15, 2011 from 9:00 AM to 5:00 PM (PST)
Add to my calendar
Organizer
Punto magazine,  the leading publication for the professional or aspiring Hispanic photographer and filmmaker in the United States. 
puntomagazine.net
Punto Magazine, la principal publicacion,para el fotografo y cinematografo Latino, en Estados Unidos.
Sigue a Punto Magazine en Facebook! para ultimas noticias de seminarios y talleres y ve la ultima edicion de Punto Magazine.
PUNTO Magazine, bringing the very best workshops available for emerging and established professionals.
For updates on new seminars, workshops, and to see the latest issue of Punto, follow us on Facebook PUNTO MAGAZINE-WEVA