Description
About the Show

This event is unlike any other bridal expo you've ever attended, with integration of artistic elements to get your juices flowing for your special day. See magical pieces from local artists, live display of photos during the event, a body painted model, and more. During the reception, you'll have an opportunity to meet and shop with vendors (securing amazing advance booking deals), as well as qualifying to win pretty cool prizes. Be inspired by new ideas and enjoy the festivities.
Come dressed to impress, and be prepared to party like it's 1999! We've planned every type of wedding you can imagine from integrating belly dancers into the fun at the reception, to a massive pizza buffet. Or, thrones and ancient chanting during the wedding ceremony to beachfront and destination weddings. Our planners will be available for consultations for full scale planning and Day of Coordinator (DOC) services as well. Our vendors and sponsors have so much in store for you! You'll be sure to walk away feeling energized and filled with fresh concepts.
Not getting married? No problem. There's plenty of fun to be had for all adults. Our vendors are a great resource for many of your needs. Join us!
For Vendors and Sponsors: Network with local providers and promote your best deals to future newlyweds and families. This is an expo with a twist, so don't miss this opportunity to be part of the experience! Leave no stone unturned. Vendors, sign up here. For sponsorship opportunities, contact us.

Why are we hosting this event? This event is brought to you by Divinity Affairs. Learn more about us by visiting our sites and social media profiles. Divinity Affairs was launched with one goal... to bring people together through our marketing and event initiatives for social event types and provide an experience like no other. From weddings to expos, we strive to bring in elements of fun, innovation, and celebration...period! We know the importance of community and collaboration, and have been managing events, marketing and business management strategies for more than 2 decades! Oh, and this division likes to party so prepare yourselves for a funky good time!!

What will the event entail? We're glad you asked!

An art-filled wedding show, including live entertainment and models
Reception with elite wedding service vendors, partners, and sponsors!
Door prizes, swag bags, and more!

Come Out to Meet and Shop Your Vendors
We are looking for the following vendor and sponsor types: jewelry, makeup, stylists, barbers, cosmetologists, caterers, bakeries, entertainers, hotels, bed & breakfasts, daycare providers, clothing, accessories, technology, fashion designers, dance instructors, personal trainers, bartenders, videographers, officiants, florists, artists, venues, and more!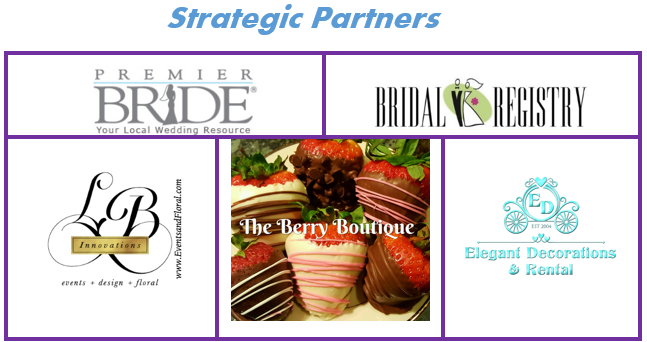 Join us on the Facebook Event Page!

A huge expression of gratitude to all of our vendors, strategic partners and sponsors!
Additional door prize and other sponsorship opportunities are available. Email Tya Bolton with your interest at Tya@ExceptionalBizSolutions.com.
FAQs
What are my payment options for purchasing goods from vendors?
Every vendor will have a variety of ways to pay for their offerings so be sure to bring cash, credit cards, and checks.
What are my transportation/parking options for this event?
This location is accessible via the Landover metro station. Plenty of free parking is available onsite.

Where can I contact the organizer with any questions?
You may contact Tya Bolton at Tya@ExceptionalBizSolutions.com or by phone at 877.410.3249, ext. 201.
How do I share this event on social media?
Click the social media icons on the top of this registration page and share via your profiles and pages. Be sure to use the event hashtag, #divinityexpo.
Please note, in the spirit of ensuring we have an exciting, fun-filled, drama free event, we may exercise the right to decline / refund vendor signups whenever there is a conflict of interest of any sort. Registration fees are non-refundable. However, you may provide a substitute or move your credit to a future event to occur within a year as long as you provide a written request more than 7 days prior to the event date.

See you there!
Save
Save
Save